WASHINGTON, DC — A drug that includes an agent commonly found in cough medicine is showing promise for the treatment of agitation in patients with Alzheimer's disease (AD), new research shows.
A multicenter, randomized, double-blind, placebo-controlled stage 2 trial of AVP-923 (dextromethorphan/quinidine, Avenir Pharmaceuticals Inc) that used a study design unique in neurology trials showed the drug significantly reduced AD-associated agitation with no negative effect on cognition.
Lead investigator Jeffrey Cummings, MD, told delegates attending the American Academy of Neurology (AAN) 67th Annual Meeting that agitation is common and burdensome for patients with AD and their families, increasing caregiver burden as well as the risk for institutionalization.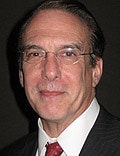 AVP 923, he noted, is currently approved for the treatment of pseudobulbar affect (PBA). The drug's formulation includes low-dose quinidine, which prevents the metabolism of dextromethorphan and results in a 20-fold increase in its bioavailability.
Interesting Origins
Dr Cummings, who is director of the Luo Ruvo Center for Brain Health, Las Vegas, Nevada, said the story of AVP-923 is an interesting one. Initially tested as a potential treatment to slow disease progression in amyotrophic lateral sclerosis, patients in those trials observed that it helped PBA.
Subsequently, during the course of the PBA studies it was noted that the drug also reduced agitation. In addition, said Dr Cummings, a large safety study that included patients with AD as well as those with traumatic brain injury also signaled that the drug had a favorable effect on agitation.
"So it was really an empirically driven, as opposed to a theoretically driven hypothesis, based on an observation of what was happening to the patients," said Dr Cummings.
The current study used a sequential parallel comparison design (SPCD). The SPCD, he noted, is "an extremely interesting trial design and gives our field a new tool."
Dr Cummings explained that a high placebo response is often seen in drug trials and the SPCD may be one way around this problem.
"The question is how can we test our drug if simply putting patients in a trial results in an improvement in outcome? The SPCD is one answer to that problem. This design has been used widely in psychiatry but has not previously been used in neurology," said Dr Cummings.
The 2-stage 10-week study included 220 adults aged 50 to 90 (average age, 77.8 years; 58% women) with probable AD and moderate to severe agitation. Approximately 75% of patients were taking cholinesterase inhibitors and almost 25% were receiving antipsychotics.
In stage 1 of the study (weeks 1 to 5), 220 patients were randomly assigned to receive placebo or AVP-923 titrated to 30/10 mg twice daily in a 4:3 ratio. In stage 2 (weeks 6 to 10), patients originally assigned to AVP-923 continued on the same dose and placebo recipients were stratified according to their response to placebo. Placebo nonresponders (n = 89) and placebo responders (n = 30) were again randomly assigned to active drug or placebo, with the result that the investigators now had a group who did not specifically respond to placebo in stage 1, said Dr Cummings.
The study's primary endpoint was change from baseline on the Neuropsychiatric Inventory (NPI) agitation/aggression domain, using standard SPCD methods.
Secondary endpoints included change in total NPI, individual NPI domains/domain clusters, NPI caregiver distress, Clinical and Patient Global Impression of Change, Caregiver Strain Index, Mini-Mental Status Examination (MMSE), and Cornell Scale for Depression in Dementia.
Of the 220 patients randomly assigned and analyzed for safety, 194 completed the trial. Seventeen in the AVP 923 group discontinued the study, 8 because of adverse events. Nine participants in the placebo group dropped out of the study, 5 because of adverse events.
According to SPCD analysis, the NPI agitation/aggression domain improved significantly with AVP-923 vs placebo (P ≤ .001). The results were also significant for stage 1 and 2 analyzed separately (analysis of covariance; P < .001, P = .021, respectively).
"The primary endpoint is highly significant in both stage 1 and stage 2," said Dr Cummings.
"This clinical trial met its primary outcome. There was a reduction on the NPI aggression score of 47% in stage 1 and 26% in stage 2 in the active treatment compared to 22% and 6.7% for the placebo, so it was a robust effect size," he said.
"I also want to call attention to the fact that longitudinal data from the10-week analysis shows the onset of action was very early. There was a statistically significant difference between the treatment and placebo arms by week 1 and that is a very useful thing in the management of agitated patients to have an early response to therapy," he added.
No Cognitive Decline
Results also revealed AVP-923 had a statistically significant effect on a number secondary endpoints, including caregiver stress and depression. However, he added, the drug had no effect on quality of life or activities of daily living.
Importantly, noted Dr Cummings, AVP-923 was not associated with cognitive decline as measured by the MMSE or the Alzheimer's Disease Assessment Scale-Cognitive.
"This is very important because in the antipsychotic trials and citalopram trials [for agitation] patients paid a price of at least 1 MMSE point for a reduction in agitation. There is no compromise in MMSE here," said Dr Cummings.
No patients died during the trial. Serious adverse events occurred in 7.9% of the AVP-923 group compared with 4.7% of the placebo group.
Dr Cummings noted that there were more falls in the AVP-923 group than in the placebo group. However, he noted, the fall rate was higher in the active treatment group compared with the placebo group at study outset. Other adverse effects associated with the drug included diarrhea, urinary tract infections, and dizziness. However, he noted, in general AVP-923 was well tolerated.
The investigators plan to move to a larger, phase 3 trial of AVP-923 to see whether the phase 2 results stand up.
During a question-and-answer session, one of the meeting delegates noted that the cost of the drug is high, estimating it to be about $700 USD per month. Dr Cummings noted that while he wasn't able to comment on its cost he did note that in general new agents are expensive.
Encouraging News
Commenting on the study for Medscape Medical News, David Knopman, MD, professor of neurology at the Mayo Clinic College of Medicine in Rochester, Minnesota, said the results are "encouraging."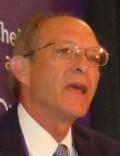 Dr Knopman note that agitation, especially physically aggressive behavior is a major management problem in some patients with dementia. He added that while antipsychotics are widely prescribed to treat agitation in this patient population, "the evidence that they work is mixed to poor. Thus, any trial that shows benefit is welcome, and especially if the agents are safe."
"This was a fully powered study that seemed to have a sound, though novel, design that tested whether this combination reduced agitation/aggression. The two-stage design was an interesting one, in which placebo responders were handled differently in the second phase.
"The novel design addressed one of the vexing issues in the conduct of studies like this in that placebo response is a particular issue in agitation, presumably because the agitation is so environment-dependent and therefore likely to be modified by the simple fact of being observed in a clinical trial.
"This study should prompt further studies including ones with comparison to older agents, and ones with novel designs."
Dr Knopman also noted that "unfortunately the cost of any new agent is also an issue."
Also commenting on the findings for Medscape Medical News, Thomas Wisniewski, MD, director of the Center for Cognitive Neurology at NYU Langone Medical Center in New York, said the study "shows promising results. The treatment of agitation in AD is a very important issue that is often difficult to fully address, requiring a combination of both pharmacological and nonpharmacological interventions.
"The reported study needs to be repeated in a larger cohort. If validated in the planned future studies, an agent that is least partially effective and is well tolerated, with few cognitive side effects, would be very welcome."
Dr Cummings reports he has served as a director, officer, partner, employee, advisor, consultant, or trustee for ACADIA Pharmaceuticals Inc, Adamas Pharmaceuticals Corporation; Anavex; Avanir Pharmaceuticals; Boehringer Ingelheim; Bristol-Myers Squibb Company; Eisai Inc; EnVivo; Genentech Inc; Eli Lilly and Company; Lundbeck; Merck & Co Inc; Novartis Pharmaceuticals Corporation; Otsuka Pharmaceutical Co Ltd; Pfizer Inc; Prana Biotechnology Limited; QR Pharma; Resverlogix; Roche; Sonexa Therapeutics Inc; Suven; Takeda Pharmaceuticals North America; Toyoma Chemical; GE Healthcare; MedAvante Inc. He owns stock in: Adamas Pharmaceuticals Corporation; Prana; Sonexa Therapeutics Inc; MedAvante Inc; Neurotrax; Neurokos. He received research grants from Avid Radiopharmaceuticals and Teva Pharmaceuticals. Dr Knopman and Dr Wisniewski have disclosed no relevant financial relationships.
American Academy of Neurology (AAN) 67th Annual Meeting. Abstract S16.007. Presented April 21, 2015.
Medscape Medical News © 2015 WebMD, LLC

Send comments and news tips to news@medscape.net.
Cite this: Cough Medicine Ingredient May Improve Alzheimer's Agitation - Medscape - May 01, 2015.