Clinical Presentation
A 35-year-old black woman presents to urgent care, reporting a severe unilateral decrease in vision that she noticed upon waking 2 days ago. Six days prior to onset she had been released from the hospital following a 5-day course of IV methylprednisolone for optic neuritis in her right eye. No oral steroids were prescribed or administered at her dismissal. She reported that her vision had gotten much better following IV steroid treatment but has since worsened and is now more severe than at initial presentation.
Her systemic history included hypercholesterolemia, recent nasal sinus pressure, and weight gain of 25 lb over the past year.
Examination findings included the following:
Best-corrected visual acuity: 20/500 right eye, 20/20-2 left eye

Pupil testing: Positive afferent pupillary defect (APD) > 1.8 log right eye

Color vision using Ishihara plates: 0/14 right eye, 14/14 left eye

Confrontation fields: Full to finger counting in the right and left eyes and a large central scotoma > 30º centrally in the right eye

Red cap desaturation: 70% desaturation right eye, 0% desaturation left eye

Brightness desaturation: 70% desaturation right eye, 0% desaturation left eye

Extraocular muscle (EOM) testing: Full and smooth in right and left eyes, with right eye pain greatest in superior and right gazes

Dilated fundus exam (Figure 1)

Blood pressure: 108/76 mm Hg

Humphrey visual field (Figure 2): Large dense central scotoma, approximately 30º right eye, and unremarkable left eye

Optic coherence tomography: Significant neuroretinal rim and retinal nerve fiber layer (RNFL) thickening in right eye, mildly thickened RNFL left eye; average RNFL thickness: 394 right eye, 124 left eye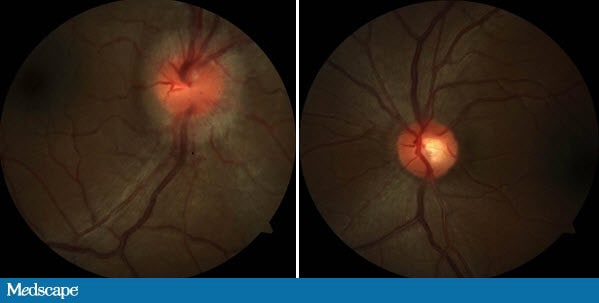 Laboratory studies are as follows:
Both serum and cerebrospinal fluid unremarkable

Neuromyelitis optica testing negative
Radiology studies are as follows:
MRI of brain, orbit, face, and neck with and without contrast: No evidence of white matter lesions. Subtle asymmetric enhancement of the right optic nerve noted, but the scan was suboptimal due to motion degradation.

CT of the orbits with and without IV contrast: Diffuse smooth peripheral enhancement along the right optic nerve sheath.
Medscape Optometry © 2015  WebMD, LLC

Cite this: Patient Returns to Hospital With Continuing Vision Loss - Medscape - Apr 20, 2015.