Editor's Note: Staci A. Mandrola, MD is a palliative care and hospice physician who was invited to speak at the American College of Cardiology 2015 Scientific Session. She is also the wife of our regular columnist, John Mandrola, MD.
Author's Note: The following are observations and a heartfelt wish, not criticism. I like cardiologists. I looked up to cardiologists during residency training. I even sleep with a cardiologist.
Dear Colleagues,
I went to the ACC meeting in San Diego last week. The sunshine was a revelation after a long, cold winter in Kentucky. Another revelation was how hungry many cardiologists are to regain a human connection with the people they serve. Abraham Verghese, MD, gave the opening plenary address, and he spoke about the need to connect with the real heart of our patients. He quoted e.e. cummings' beautiful poem "[i carry your heart with me(i carry it in]."
I attended many lectures on heart failure focusing on HFpEF, HFrEF, new drugs like LCZ696, new devices like the MitraClip, and even beet-root juice. I noticed two themes in regard to the end of life from heart failure. Cardiologists call death a bad outcome and they consider palliative care the end of the road. I think a change in perspective on these two themes may give cardiologists more of the heart, humanity, and connection they seek.
Many of the talks focused on the benefits of new drugs and devices. Positive outcomes included improvements in function, increased ejection fraction, decreased hospitalization, and increased survival for a percentage of patients. Bad outcomes were no increased survival, also called a hard outcome, also called death.
Calling death a bad outcome places blame for death on the physician. If we had employed just the right mix of drugs and interventions in just the right order and timing, death could have been avoided. We deny death as a natural process, as the only possible conclusion to birth into our human forms. Focusing only on the next intervention and not giving patients pause to consider their desires regarding death forces physicians into the technician role.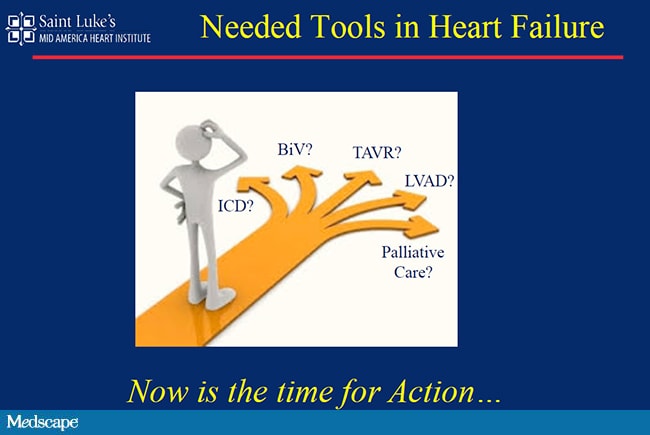 Figure. Courtesy of John Spertus, MD
The slide (Figure) is from an excellent talk by John Spertus, MD, on challenges in estimating risk and prognosis. This heart-failure patient is faced with a choice between invasive, possibly life-prolonging and symptom-improving interventions or palliative care. However, palliative care can and does run concurrently with life-prolonging care. Our palliative-care teams support patients and families as they navigate the world of choices while living with serious illness.
Palliative-care teams treat distressing symptoms like dyspnea and anxiety, which often make life not worth living. We facilitate decision-making based on what gives that person's life meaning, what they are willing to go through to stay here longer, and what their deal breakers are. We support patients and families spiritually, psychologically, and socially. And yes, we do recommend and facilitate hospice care when goals are focused on comfort and remaining at home rather than entering our system of medicalized dying.
The NIH-funded PAL-HF trial[1] of palliative care for people with advanced heart failure and a high likelihood of death or rehospitalization over the ensuing 6 months is ongoing at Duke University. The trial compares usual heart-failure care with usual care plus palliative care, and the primary end point is quality of life. Secondary end points are changes in anxiety and depression, spiritual well-being, caregiver satisfaction, cost, resource utilization, and a composite of death, HF hospitalization, and quality of life. I have no doubt that the results will mirror a similar study[2] in people with metastatic lung cancer, which found that early palliative care led to significant improvements in both quality of life and mood. The patients who received early palliative care had less aggressive care at the end of life but actually lived longer.
I hope cardiologists and palliative-care teams can join together at the bedside to provide quality care to people struggling with serious illness. Together, we could go a long way in bringing the "heart" back to heart care.
Staci Mandrola, MD
© 2015 WebMD, LLC

Any views expressed above are the author's own and do not necessarily reflect the views of WebMD or Medscape.
Cite this: Should We Call Death a Bad Outcome? - Medscape - Apr 06, 2015.