A robust association between hippocampal volume and disease burden in patients with Alzheimer's disease (AD) has been determined using the new "gold standard" harmonized hippocampal segmentation protocol (HarP) that measures hippocampal atrophy, a pathologic validation study indicates.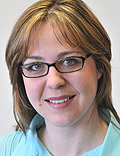 "I was one of the five master tracers that developed the gold standard protocol," Liana Apostolova, MD, PhD, from the Mary S. Easton Center for Alzheimer's Disease Research, University of California, Los Angeles, told Medscape Medical News.
"And as the final building block in this lengthy process, we scanned the hippocampi of cognitively normal patients and those with pathologically proven AD and measured the burden of the proteins that accumulate abnormally in AD and counted the neurons as well," she said.
"And all three of these measures were highly corelated with the hippocampal volumes we were getting using HarP."
The study was published in the February 2015 issue of Alzheimer's and Dementia.
Large Variations
During the past few of years, laboratories from around the world have developed multiple protocols that define the boundaries of the hippocampus and identify various structures using MRI, from which hippocampal volumes are computed.
However, some groups working in the field have chosen to arbitrarily exclude certain subfields and subparts of the hippocampus, including the hippocampal tail.
"Of course, excluding one third of the tissue you are examining leads to very different volume measurements, so the literature in this field was very incoherent," Dr Apostolova observed.
The European Alzheimer's Disease Consortium–Alzheimer's Disease Neuroimaging Initiative was established to develop a harmonized protocol and to arrive at a standardized, definitive method for measuring hippocampal atrophy through structural MRI in relation to AD.
In what was an exacting and laborious process, experts from around the world scrutinized the multiple protocols that had been advanced by different laboratories and evaluated them for inclusion into the final "gold standard" protocol.
This final "gold standard" protocol ― HarP ― was the result of a collective effort of the final five master tracers, who established that the only allowable variance in any computation of hippocampal volume was the variance they themselves exhibited between them.
"Now, anybody else who wants to learn the protocol will have to fall within our variance, so this is how the protocol was standardized, and unless everybody else meets our standard, they cannot be certified to apply this protocol," said Dr Apostolova.
However, this is still a long way from validating that changes in hippocampal volume correlate with the pathology in the brain of AD patients, and it was important to have pathologic validation of the harmonized protocol, she noted.
To do so, investigators scanned the temporal lobes of autopsy brains for 60 hours on a 7 Tesla MRI scanner.
Volumes for the hippocampal formation and any cerebrospinal fluid pockets, as defined by the HarP, were computed.
Valuable Tool for Clinical Trials
After applying the protocol to measure hippocampal structures, researchers then analyzed the concentration of two cardinal proteins that characterize AD ― amyloid beta, which forms the plaques, and tau, which forms the tangles.
They also computed neuronal loss in each of the autopsy brains.
Analyses were performed on nine autopsy brains from AD patients and seven autopsy brains from cognitively normal persons.
"We found significant correlations between hippocampal volume and Braak and Braak staging (P = .001), tau (P = .034), amyloid beta burden (P = .012), and neuronal count (P < .001)," the researchers state.
Unlike the presence of amyloid and tau in the brain, changes in hippocampal atrophy provide a dynamic measure of disease progression as well, said Dr Apostolova.
"This dynamic range of change makes these measurements especially valuable for clinical trials, because this is the metric we need to prove that we have slowed the rate of atrophy down [by using an investigational drug] and that a new drug is doing its job," she said.
Atrophy in the hippocampus is the most established disease proxy measure for AD and reflects loss of neurons and their connections that occurs as neurodegenerative changes accumulate in AD.
Important Step Forward
Commenting on the study for Medscape Medical News, Heather Snyder, PhD, director of medical and scientific operations, Alzheimer's Association, noted that the association has played an important funding role right from the beginning to develop a harmonized protocol to its validation and publication several years ago.
"This study is the next step forward," she said.
By applying the harmonized protocol to a specific dataset consisting of individuals who had AD and those who did not, "investigators saw this tight correlation between neuronal loss as well as brain changes in amyloid and tau buildup, so this is one of the first times that we are seeing this protocol put into practice," she added.
It is still too early to expect that the harmonized protocol will be able to diagnose AD in living patients, she added.
Nevertheless, "we're very excited about the progression that these efforts have taken and to see it go forward," Dr Snyder said.
"It's now a resource for the community, and we look forward to other investigators incorporating it into their clinical studies."
The study was funded by the National Institute on Aging, the Jim Easton Consortium for Alzheimer's Drug Discovery and Biomarker Development, the National Institutes of Health, and the Alzheimer's Association. Dr Apostolova and Dr Snyder have disclosed no relevant financial relationships.
Alzheimers Dement. 2015;11:183-192. Abstract
Medscape Medical News © 2015 WebMD, LLC

Send comments and news tips to news@medscape.net.
Cite this: New 'Gold Standard' Protocol Sizes Up Alzheimer's Burden - Medscape - Apr 01, 2015.