Editor's Note: Today, the White House released a comprehensive plan to tackle antibiotic resistance, titled the "National Action Plan for Combating Antibiotic-Resistant Bacteria." Medscape talked with President Obama about the key components of the strategy that most affect healthcare professionals. You will find his answers here.
Readers, please leave your questions about the national plan in the comments section, and we will make every effort to get selected questions answered in a follow-up article.
Medscape: A recent survey on WebMD/Medscape found that 95% of healthcare professionals said they sometimes prescribe antibiotics when they are not sure they are needed. More than half said it was because they weren't sure of the diagnosis. How will your plan address overprescribing? Will there be penalties for not adhering to the plan?
President Barack H. Obama: Overprescribing is a serious problem. Using antibiotics when they aren't needed is one of the main causes of antibiotic resistance. So we need to give doctors the information and guidance they need to make the right call in hard situations. My plan does that in a few ways.
We're going to provide real-time data about antibiotic resistance to doctors and hospitals nationwide, so they can monitor the rates of drug resistance in their area. We're setting national goals for improving antibiotic use, and we're asking doctors and hospitals to help us meet them. And we're going to help health departments across the country achieve these goals.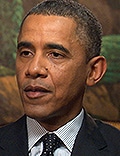 We also want to spur innovation to create diagnostics for the most serious drug-resistant bacteria. And we want to help healthcare providers be able to rapidly tell the difference between a bacterial infection, for which antibiotics will work, and a viral infection, for which antibiotics will not.
Tools like these will give healthcare professionals the information they need to diagnose and treat their patients safely and effectively. And that will take us a big step closer to our goal of stopping drug-resistant bacteria.
Medscape: A common theme in the plan is to beef up efforts to track the use of antibiotics. How much do we currently know about how antibiotics are used in the United States? Why don't we have better data?
President Obama: Data is critical. And we have some valuable data already. We know that five out of six Americans are prescribed antibiotics each year. That adds up to 262 million antibiotic prescriptions annually. We also know that some doctors prescribe antibiotics far more frequently than others. And studies have consistently shown that a lot of America's antibiotic use is unnecessary.
But we need to know more. We need to track antibiotic use and the spread of drug-resistant bacteria even more closely. Ideally, we'd be able to see in real-time where the cases of drug resistance are being reported, so we can take swift action. The same goes for rates of antibiotic use: if we can see where these drugs are being overprescribed, we can target our interventions where they're needed most.
Medscape: The pipeline for new antibiotics is relatively dry. Despite a US Food and Drug Administration program (Generating Antibiotic Incentives Now, or GAIN) to encourage their development, a recent report found that of the 700+ antibiotics in development, very few of them work in a new way. What incentives will there be to get better results?
President Obama: A lot of drug development comes down to market signals. Pharmaceutical companies want to know that if they spend the time and money to develop new drugs, those drugs will sell. This National Action Plan is a huge market signal. The federal government is making a long-term commitment to fighting drug resistance. That doesn't just mean producing one batch of new antibiotics — it means creating a stronger drug pipeline, so American drug companies will keep producing new antibiotics well into the future. That's key to staying ahead of drug resistance for the long run.
Additionally, my budget includes significant new investments in drug development, both at the National Institutes of Health and at a government agency called the Biomedical Advanced Research and Development Authority. Those dollars would go directly to developing new antibiotics. So that will help us in the fight against drug resistance, too.
Medscape: How much will the plan cost, and where will the money come from?
President Obama: The budget I introduced earlier this year nearly doubles our investments in combating and preventing antibiotic resistance.
Some of that money will go to the Department of Health and Human Services, for things like developing new antibiotics and new tests to rapidly diagnose drug-resistant bacteria. Some of it will go to the Department of Agriculture to clarify and strengthen the responsible use of antibiotics in livestock. And some of it will go to two agencies that deliver healthcare to many Americans: the Department of Veterans Affairs and the Department of Defense.
There are parts of this plan that we can implement on our own right now, and wherever we can act without Congress, we will. But to get the whole job done, we need Congress to step up.
Medscape: Is antibiotic resistance a threat to global security?
President Obama: Effective antibiotics are vital to our national security. They save the lives of servicemembers wounded in battle. They prevent infections in one community from spreading far and wide. They're also a critical defense against bioterrorism. They are, quite simply, essential to the health of our people and people everywhere. So we should do everything in our power to ensure that antibiotics remain effective. These vital drugs have saved countless lives over the past century. It's up to us to make sure they keep saving lives for years to come.
For more news and clinical guidance on antibiotic resistance, see our special report, Antimicrobial Resistance -- Time for Change.
Medscape Infectious Diseases © 2015  WebMD, LLC

Cite this: President Obama: The Antibiotic Resistance National Action Plan - Medscape - Mar 27, 2015.