SAN DIEGO, CA — Long-term results from the Ablation vs Amiodarone for Treatment of Atrial Fibrillation in Patients with Congestive Heart Failure and an Implanted ICD/CRT-D (AATAC-AF) suggest that the procedure is significantly superior to the medication in relieving persistent AF[1].
At a late-breaking clinical-trials session at the American College of Cardiology (ACC) 2015 Scientific Sessions, investigators reported that 70% of the study participants who underwent catheter ablation had freedom from AF recurrence more than 2 years later compared with 34% of the participants who received amiodarone. The ablation group also had significantly lower mortality and hospitalization rates.
"I believe ablation should be performed in these patients," lead author Dr Luigi Di Biase (St David's Medical Center and Albert Einstein College of Medicine, Montefiore Hospital, New York, NY) told heartwire from Medscape.
"Maybe not everybody can achieve the success rate of the trial, but even if half can achieve it, it's better to stay in sinus rhythm— especially if you have heart failure," he added.
Session discussant and deputy editor of the New England Journal of Medicine Dr John Jarcho (Brigham & Women's Hospital, Boston, MA) noted that the findings are potentially practice changing.
"This can't help but influence people who are taking care of patients in this situation. It certainly affects my own thinking as a clinician in this area," Jarcho said to heartwire . "I'm probably more ready to think in terms of recommending ablation for a patient who has [AF] who's in heart failure."
Recurrence-Free AF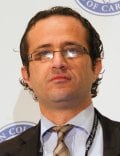 Di Biase noted that most past studies of catheter ablation have included patients with AF and preserved left ventricular (LV) systolic function. "However, many of our patients with AF also have LV systolic dysfunction."
For the current study, which included eight centers in the US and Europe, the investigators enrolled 203 adult patients who had a dual-chamber implantable cardioverter defibrillators (ICDs) or biventricular pacemakers with defibrillators (CRT-Ds), NYHA class 2 or 3 heart failure, <40% LVEF, and symptomatic persistent or permanent AF.
All were randomly assigned to receive either catheter ablation (n=102; 75% men; mean age 62 years; mean AF duration 8.6 months; LVEF 29%) or daily oral amiodarone (n=101; 73% men; mean age 60 years; mean AF duration 8.4 months; LVEF 30%).
"The main goal of the ablation procedure was pulmonary-vein antrum isolation [PVI]," report the investigators. "Additional linear lesions . . . and elimination of non-PV triggers were advised but performed according to the preference of the center or the operator."
In fact, "PVI plus posterior wall and non-PV trigger ablation" were performed in 80 of these patients, whereas PVI only was performed in the remaining 22 members of the ablation arm.
The primary end point was freedom from AF. Secondary end points included all-cause mortality, change in LVEF, posttreatment hospitalizations, and quality of life measured by the Minnesota Living with Heart Failure questionnaire (MLHFQ), and a 6-minute-walk distance test.
Results showed that 71 of the ablation-group members vs 34 of the amiodarone-group members were AF recurrence-free 26 months' posttreatment (P <0.001).
Within the first group, significantly more of those receiving PVI supplemental ablation achieved freedom from AF recurrence than did those receiving PVI alone (78.8% vs 36.4%, respectively; P<0.001).
"Clinicians should be aware that if you limit ablation only to the pulmonary vein, the success rate is very low," noted Di Biase.
Predictors of AF recurrence in the univariate model showed a hazard ratio [HR] of 3.0 (95% CI 1.96–4.61; P<0.0001) for amiodarone treatment and an HR of 2.22 (95% CI 1.31–3.75; P=0.003) for having diabetes mellitus. Multivariate analysis (after adjustment for sex, age, hypertension, and diabetes) showed an HR of 2.5 for taking amiodarone (95% CI 1.5–4.31; P<0.001).
The ablation group had significantly lower hospitalization rates than the amiodarone group (31% vs 57%, respectively; P<0.001), as well as lower all-cause mortality (8% vs 18%, P=0.04).
Seven members of the amiodarone group discontinued use because of adverse events. Of these, four had thyroid toxicity, two had pulmonary toxicity, and one developed liver dysfunction.
There were no significant differences between the two treatment groups in LVEF changes, MLHFQ measures, or 6-minute-walk distance scores.
"Clearly, Ablation Is Better"
Jarcho noted that looking at ablation in this particular patient population is important, especially because AF in patients with heart failure is a distinct issue.
"Although we can extrapolate things we've learned about [AF] outside the heart-failure world to this population, there's always the question: is it different? Because the problem is different in these patients," he said.
"Here, we have something that hasn't been done much before, which is a concrete study of how to manage [AF] in heart failure," he added. "There have been a couple of other small studies, but this is a reasonably sized trial that makes this comparison of ablation vs a drug. And clearly, ablation is better."
Jarcho pointed out that this isn't exactly new information, and ablation is already being used somewhat to treat AF in patients with heart failure. However, "maybe the use will increase in this population as a result."
"Always, as with any clinical intervention, what you have to do in a given situation is going to depend partly on the circumstance of the given patient. But yes, I would say that if you have a patient who has [AF] and has heart failure, it's important to be cognizant of this trial and to consider that it may apply to your patient and may be appropriate," he concluded.
Di Biase reports being a consultant for Biosense Webster and St Jude Medical, and receiving speaker honoraria/travel expenses from Atricure, Biotronik, Medtronic, Boston Scientific, and Epi EP. Disclosures for the coauthors are linked to the abstract. Jarcho reports no relevant financial relationships.
Heartwire from Medscape © 2015 

Cite this: Ablation Bests Amiodarone for Treating AF in Patients with Heart Failure - Medscape - Mar 20, 2015.