SAN DIEGO, CA — Routine thrombectomy with PCI for acute ST-elevation MI (STEMI) does not confer an advantage in CV death, recurrent MI, shock, or severe heart failure over 6 months compared with primary PCI alone, suggests a huge randomized trial of a strategy that has become a popular primary-PCI adjunct around the world[1].
Moreover in the study, with >10 000 patients, called TOTAL, those who underwent thrombectomy showed a significantly elevated risk for stroke within 30 days and within 180 days, both prespecified safety end points.
The findings argue against "up-front" thrombectomy as a routine part of a PCI procedure in patients with acute STEMI, said Dr Sanjit Jolly (McMaster University, Hamilton, ON) when presenting the study here at the American College of Cardiology 2015 Scientific Sessions.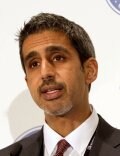 Although intuitively, thrombectomy might be most effective with larger clots in the infarct artery, the primary finding also applied to patients with high thrombus burden, Jolly observed. But that wouldn't preclude thrombectomy as a safety net when standard direct PCI doesn't take. Although that strategy wasn't prospectively tested in TOTAL, he noted, 7% of the PCI-only group received bailout thrombectomy.
"My take-home message from this is that it's very reasonable to try a balloon first. In some cases with a heavy thrombus burden, that clot disappears. In a small number of cases, that vessel occludes and you really can't proceed. In those patients where clearly your strategy with PCI alone is failing, in that small subset, maybe thrombectomy as a bailout option is reasonable," said Jolly, who is also lead author on the trial's online publication March 16, 2015 in the New England Journal of Medicine, released to coincide with his presentation.
Panelists speaking after Jolly's presentation essentially agreed that the technique could still have at least a narrow role in primary PCI. Possibly, Dr David Kandzari (Piedmont Heart Institute, Atlanta, GA) advanced cautiously, "it was maybe ambitious to hold thrombectomy to a survival-related end point. If it facilitated the procedure, many interventionalists would continue with the procedure at least on a selective basis. However, that is also if there is not a safety issue. And here you've identified a statistically significant difference in stroke. Although the event rates are low, they're fairly parallel to other prior predicate trials."
And Dr Theodore A Bass (University of Florida, Jacksonville) said, "It seems the message here is that thrombectomy, if it exists at all, would be [used in] kind of a niche or strategic role, not for all-comers. Which is not surprising, I think, to most of us here at the podium."
"Small Trial, Extreme Results"
Experts at the ACC sessions estimated that currently thrombectomy is used with PCI in STEMI in about 20% of US cases and about one-third of such procedures internationally.
Up-front thrombectomy in primary PCI grew in popularity after the TAPAS trial found in 2008 that it led to improvements in the primary end point of myocardial blush grade, an indicator of reperfusion success. Mortality also dropped by about half, though less convincingly in terms of statistical power. And TAPAS randomized only 1071 patients at a single center.
The technique's popularity faltered some after the 2013 TASTE trial, with its >7200 patients and novel registry-randomization feature, failed to show a significant difference in 30-day mortality in STEMI patients getting or not getting thrombectomy before stenting.
"We have to be cautious with small sample sizes and extreme results," Jolly said, referring to the TAPAS outcomes and the more recent, larger trials.
"As an interventional cardiologist who believed that early trial [TAPAS] and in fact followed the guidelines by using thrombectomy routinely, it's these large trials, the TOTAL and TASTE trials, that have now shown us the truth," Jolly said to heartwire from Medscape.
Dr Thomas Engstrøm (Rigshospitalet, University of Copenhagen, Denmark) had a reservation about even the two latter trials. "I think the major problem with those very large trials is that they look at mean outcomes for all patients," he said. "I think what they showed us is that, in general, we cannot recommend routine thrombectomy, but the question in the future will be to find subgroups that might benefit from it."
Most Had High-Grade TIMI Thrombus-Burden
TOTAL randomized 10 066 patients with STEMI who underwent primary PCI within 12 hours of symptom onset to manual thrombectomy, preceding the stent intervention, or PCI on its own, with thrombectomy allowed only for bailout.
The trial was conducted primarily in Europe and North America but included centers in Brazil and the Asia-Pacific region. In both groups, about 40% had anterior MI and about three-fourths were male, symptom-onset to "device time" was about 3 hours, about 90% were seen to have TIMI thrombus grade 3 or worse, drug-eluting stents were used in about 45%, and the radial-access route was used in about 68%.
The primary outcome was seen in 6.9% of the thrombectomy group vs 7.0% of the PCI-alone group. The hazard ratio for the primary end point was 0.99 (95% CI 0.85–1.15, P=0.86) for up-front thrombectomy vs PCI only. Nor were there even close-to-significant risk differences for the four primary-end-point components individually.
The key safety outcome, stroke within 30 days, was seen in 0.7% of those receiving thrombectomy and 0.3% for those undergoing PCI alone.
Hazard Ratio for Safety Outcomes, Thrombectomy plus PCI vs PCI Only, in TOTAL
| | | |
| --- | --- | --- |
| End point | HR (95% CI) | P |
| Stroke within 30 d | 2.06 (1.13–3.75) | 0.015 |
| Stroke/TIA within 30 d | 2.21 (1.29–3.80) | 0.003 |
| Stroke within 180 d | 2.08 (1.29–3.35) | 0.002 |
There were no significant differences in the 30-day risks of the primary composite end point, stent thrombosis, or target-vessel revascularization. No significant differences emerged in a subgroup analysis that included TIMI thrombus-burden grade, time of symptom onset to procedure, degree of infarct-artery patency, institutional case volume, myocardial location of infarction, or age.
In one oddity from the trial, there was a trend of increasing stroke risk persisting out to 180 days; stroke was a prespecified safety end point, but expectations were that any strokes associated with thrombectomy—an acute procedure—would occur early.
The late strokes were "small in number," Jolly said, but their mechanism is a mystery. In their publication of the trial, Jolly and colleagues write, "We cannot completely rule out the play of chance as the explanation."
TOTAL was funded by the Canadian Institutes of Health Research, the Canadian Network and Centre for Trials Internationally, and Medtronic. Jolly discloses receiving consultant fees or honoraria from AstraZeneca, research grants from Medtronic, and being on a speaker's bureau for St Jude Medical. Disclosures for the coauthors are listed on the journal website. Kandzari reports grant and research support from the Medicines Company, Biotronik, and Abbott Vascular. Bass discloses honoraria or consultant fees from Merck. Engstrøm discloses receiving consultant fees or honoraria from Eli Lilly, Novo Nordisk, Servier, and Zealand Pharma.
Heartwire from Medscape © 2015

Cite this: TOTAL Rejects Routine Thrombectomy at PCI for STEMI - Medscape - Mar 20, 2015.