SAN DIEGO, CA — A large trial in patients with acute coronary syndrome (ACS), including patients with and without ST-segment elevation MI (NSTEMI and STEMI), shows that a coronary intervention performed via the radial artery results in a significant reduction in net adverse clinical events[1].
The net clinical-event reduction—a composite end point that included death, MI, stroke, and major bleeding—was driven by a statistically significant 33% relative reduction in the rate of major bleeding, defined as Bleeding Academic Research Consortium (BARC) 3 or 5, and a significant 28% reduction in all-cause mortality.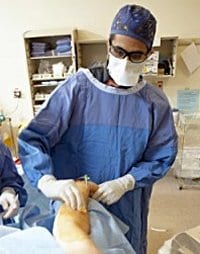 "The use of radial access for coronary angiography followed by PCI, if clinically indicated, reduced the rate of net adverse clinical events, with a number-needed-to-treat for benefit of 53," lead investigator Dr Marco Valgimigli (Erasmus Medical Center, Rotterdam, the Netherlands) said during the late-breaking clinical-trials session at the American College of Cardiology (ACC) 2015 Scientific Sessions.
The results of the study, known as MATRIX, are so compelling that radial access should be the first approach for interventionalists treating ACS patients undergoing invasive management, said Valgimigli.
Dr Sanjit Jolly (McMaster University, Hamilton, ON), a proponent of the radial approach for many years, agreed. "The MATRIX trial is a very important trial and really built upon the findings of RIVAL, in that it took high-volume operators expert at radial access and in this high-risk population showed that it not only reduced bleeding but reduced mortality," he told heartwire from Medscape. "I think that this will now be the study to, perhaps, change guidelines to make radial access the default approach."
The next objective, added Jolly, is physician training so the benefit observed in the trial is translated into clinical practice.
The MATRIX study is published today in the Lancet to coincide with the late-breaking clinical-trials presentation.
The MATRIX Trial
The MATRIX study is a randomized multicenter superiority trial comparing transradial vs transfemoral access in 8404 patients with ACS, 48% of whom were STEMI patients. Following coronary angiography, approximately 80% of all patients underwent PCI. As noted, the trial included experienced operators, enrolling interventional cardiologists who performed at least 75 transradial coronary interventions within the past year (and who perform at least 50% of their interventions via the radial artery in the past year).
Regarding the major adverse cardiovascular event (MACE) end point—a composite that included all-cause mortality, MI, or stroke—there was no statistically significant difference between the radial- and femoral-access arms. The net adverse clinical-event rate, the co–primary end point along with MACE, was significantly reduced with the transradial approach.
Clinical End Points: MATRIX

| | | | |
| --- | --- | --- | --- |
| End points | Radial access, n=4197 (%) | Femoral access, n=4207 (%) | P |
| MACE | 8.8 | 10.3 | 0.031* |
| Net adverse clinical events | 9.8 | 11.7 | 0.009 |
| All-cause mortality | 1.6 | 2.2 | 0.045 |
| MI | 7.2 | 7.9 | 0.20 |
| Stroke | 0.4 | 0.4 | 1.00 |
| BARC 3 bleeding | 1.3 | 2.1 | 0.0098 |
| BARC 5 bleeding | 0.2 | 0.3 | 0.82 |
| BARC 3 or 5 bleeding | 1.6 | 2.3 | 0.013 |
*The 15% relative reduction in MACE risk did not meet the prespecified α level of 2.5%
In terms of individual components of the primary end point, there was a statistically significant reduction in all-cause mortality and BARC 3 or 5 bleeding (overt bleeding requiring a transfusion/surgical intervention and fatal bleeding). There was no reduction in the rates of MI or stroke with the radial approach.
The MATRIX study follows the 2011 RIVAL study, a head-to-head comparison of radial vs femoral access for the treatment of ACS patients. That study, which was led by Jolly, showed that treatment via the radial artery did not reduce the rate of death, MI, stroke, or non-CABG–related major bleeding at 30 days. Transradial access, however, did result in a 63% reduction in the risk of large vascular-access complications.
Interpreting the MATRIX Findings
Speaking with the media, Dr David Kandzari (Piedmont Heart Institute, Atlanta, GA) said the uptake of radial PCI has been slowest in the US. Although the use of the radial artery for coronary interventions is increasing, radial access is still used in less than 20% of all PCI procedures. Ten years ago, he noted, radial access was performed in approximately 3% of all cases.
"I think [MATRIX] further motivates radial access to be the default strategy, as we're also seeing it being incorporated into quality-assurance programs in catheterization laboratories," said Kandzari. The study, he added, fortifies the evidence base supporting radial access, although he notes there are still some patients in whom the femoral approach is favored by physicians. These include women, the elderly, and obese patients. Paradoxically, it is these patients who stand to gain the most, in terms of reducing vascular-access and bleeding complications, with radial PCI, said Kandzari.
In an editorial accompanying the MATRIX study[2], Jolly, along with Dr Shamir Mehta (McMaster University) say the results, in the context of RIVAL and other studies, suggest that at the very minimum access-site bleeding will be reduced with radial-access interventions. At best, there will be a corresponding reduction in mortality. "Although the apparent reduction in mortality in MATRIX should be interpreted cautiously, given that it was a secondary outcome, a meta-analysis including MATRIX shows consistency for the reduction in mortality," write Jolly and Mehta.
Valgimigli reports grants from the Medicines Company, grants from Terumo, during the study; grants and personal fees from AstraZeneca, personal fees and nonfinancial support from the Medicines Company, and personal fees from Terumo, St Jude Vascular, Alvimedica, Abbott Vascular, and Correvio outside the submitted work. Disclosures for the coauthors are listed in the article. Kandzari reports grant and research support from the Medicines Company, Biotronik, and Abbott Vascular. Jolly reports no relevant financial relationships.
Heartwire from Medscape © 2015 

Cite this: MATRIX: Radial PCI Reduces Major Bleeding, All-Cause Mortality in ACS Patients - Medscape - Mar 16, 2015.