SAN DIEGO, CA — In this phase 2a trial in patients with STEMI who received primary PCI, stenting, and the intravenous novel mitochondria-targeting peptide Bendavia (Stealth Peptides) or placebo, the drug did not show the same extent of infarct-limiting effects seen in animal studies.
In fact, the drug did not meet the primary end point: there was no significant difference in area under the curve (AUC) for the CK-MB enzyme in patients who received the drug or placebo. There was also no difference in AUC for troponin, said Dr C Michael Gibson (Harvard Medical School, Boston, MA), who presented the Evaluation of Myocardial Effects of Bendavia for Reducing Reperfusion Injury in Patients With Acute Coronary Events (EMBRACE-STEMI) findings at a late-breaking clinical-trials session here at the American College of Cardiology (ACC) 2015 Scientific Sessions.
However, "with 118 patients we were grossly underpowered to detect [a difference]; you need about 800 to 1000 patients for this difference to be significant," he elaborated at a press briefing.
Exploratory analysis did reveal a trend of a reduction in chronic HF symptoms in the 8 hours following Bendavia administration and possible renal-protective effects, which are being evaluated in three ongoing prospective trials, Gibson said.
"I think the exciting thing is, up to this point, we've used the demand-side solution to heart failure, where you kind of beat the heart and say 'beat harder, beat faster,' " he told heartwire . "This is a whole different approach, where you're giving the heart actually more supply, more energy."
Assigned discussant Dr Eric Petersen (Duke University, Durham, NC) told the media to "stay tuned" because "this drug is going to be an interesting one; its story is not yet fully written." The early results in treating HF and perhaps even kidney injury are promising, and "we'll have to see if in different indications and clinical settings this drug will actually show improved outcomes," he said.
Novel Agent Targets Mitochondria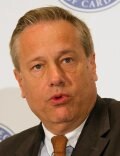 "When we open arteries in heart attack or STEMI, we set in motion injury to the heart, usually from inflammatory process," said Gibson, noting that researchers have investigated at least two dozen unsuccessful approaches to try to minimize reperfusion injury.
Bendavia stabilizes the mitochondria by binding to cardiolipin to improve the electron-transport chain. In animal studies, it limited infarct size 10% to 40% of the time.
In the current study, researchers analyzed data from 118 patients with a first anterior STEMI who did not have shock and arrived within 4 hours at 24 study sites in four countries (Poland, Hungary, Germany, and the United States). Patients were randomized to placebo (n=60) or study drug (n=58).
"We gave the drug at least 15 minutes before the artery was opened so it had a chance to work, and then an hour afterward," Gibson explained.
At baseline, 60% of patients in the placebo group vs 37.9% of patients in the study group had hypertension (P=0.02), which is "important [to note] because people with hypertension have thicker hearts and more heart muscle at risk, which ramps up the potential for the signal even more," Gibson said.
Characteristics seen on angiography, such as percentage of left anterior descending (LAD) artery area at risk, were similar in the two groups. Patients also had similar characteristics seen on cardiac MRI at 3 to 5 days after PCI, except that patients in the placebo group, who had a higher prevalence of hypertension, also had a larger LV mass.
At 30 days, the clinical composite outcome of death, new-onset CHF more than 24 hours post-PCI, and CHF rehospitalization was similar in patients in the placebo (5%) and study drug groups (8.6%). The outcome was also similar in both groups at 6 months: 8.3% and 12.1%, respectively.
Three-quarters of new-onset CHF events (23/31) occurred within the first 24 hours after PCI.
There were no significant differences in treatment-emergent adverse events between groups; 2% of patients in the placebo group and 6.7% of patients in the study drug group died.
During the 8 hours following study drug administration, there was a trend toward reduced symptomatic HF (8.6% vs 18.3%, P=0.18). The drug was associated with a significantly lower change in serum creatinine over the first 12 hours (1.0 vs 3.7 μmol/L, P=0.03).
Thus, "among patients with a first anterior STEMI due to a proximal or mid-LAD occlusion who undergo successful PCI, Bendavia administered at a dose of 0.05 mg/kg/hour for 1 hour was safe and well tolerated and did not significantly reduce CK-MB AUC," Gibson summarized.
For a drug to work,  the right drug at the right dose must be given to the right patient at the right time, Peterson noted. Might this explain the findings? "I think we conducted the experiment in a way that if there were [an effect], we would have seen it," Gibson replied, reiterating that ongoing studies should shed further light on the drug's potential actions.
Research grant support was provided by Stealth Pharmaceuticals and paid to Beth Israel Deaconess Medical Center.
Heartwire from Medscape © 2015  Medscape, LLC

Cite this: EMBRACE-STEMI: Novel Agent Fails to Block MI Reperfusion Injury - Medscape - Mar 16, 2015.