SAN DIEGO, CA — Although obesity and AF are frequent comorbidities, structured programs that promote healthy eating and behaviors for long-term weight loss may spell relief from AF symptoms, suggests new research[1].
The Long-Term Effect of Goal Directed Weight Management on an Atrial Fibrillation Cohort (LEGACY) study included more than 300 adults with AF and a body-mass index (BMI) of at least 27 kg/m2. Results showed that the subgroup that had at least a 10% weight loss 1 year after completing a physician-led management program had more reductions in severe symptoms of AF than the groups who lost less weight. They were also six times more likely to achieve arrhythmia-free survival.
The findings were presented at a late-breaking clinical-trial session here at the American College of Cardiology (ACC) 2015 Scientific Sessions and simultaneously published in the Journal of the American College of Cardiology.
"Weight-loss is associated with a dose-dependent reduction in AF burden," write the investigators, led by Dr Rajeev Pathak (University of Adelaide and Royal Adelaide Hospital, Australia). They note, though, that weight fluctuations can lead to adverse effects.
"Considering the dual epidemic of obesity and AF, primary- and secondary-prevention strategies should be increasingly utilized," they add.
Dose-Dependent Effects
Although several past trials have shown that losing weight can decrease AF burden, "whether this is sustained, has a dose effect, or is influenced by weight-fluctuation is not known," write the investigators.
They enrolled 355 participants with AF and offered membership into a brief, motivational weight-management program that used face-to-face sessions, goal-setting, and meal and behavior modification. The program's goal was a 10% reduction in body weight.
Upon program completion, the participants were divided into the following three subgroups to better determine dose-response:
Group 1 had >10% weight loss (n=135; 64% men; mean age 65 years).

Group 2 had 3% to 9% weight loss (n=104; 63% men; mean age 63 years).

Group 3 had a weight loss of <3% or even gained weight (n=117; 71% men; mean age 61 years).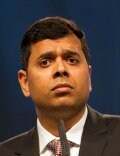 The study's primary outcomes were AF symptom burden, as measured on the AF severity scale (AFSS), and "AF freedom," which was measured by 7-day Holter monitoring. Secondary outcomes included left atrial volume and ventricular wall thickness.
Results showed that group 1 had significantly greater decreases in AF symptom severity than the other two groups (P<0.0001 for both group comparisons). They also had significantly greater arrhythmia-free survival with and without ablation or medication (P<0.001 for all vs group 2 and group 3).
In addition, weight fluctuation played a significant role. Arrhythmia was twice as likely to reoccur when there was at least a 6% weight fluctuation over the year (P=0.02).
Both groups 1 and 2 showed significantly decreased left atrial volume indexed for body surface area (LAVI; P<0.001 for both), while group 3 showed a significant increase in LAVI (P=0.02). Interventricular septal thickness showed a significant decrease in groups 1 and 2 (P =0.001 and 0.03, respectively) but no significant change in group 3.
"This study demonstrates that in overweight and obese individuals with symptomatic AF, progressive weight loss has a dose-dependent effect on long-term freedom from AF," write the investigators.
The study was funded by the Center for Heart Rhythm Disorders at the University of Adelaide. Dr Pathak reports no relevant financial relationships. Disclosures for the coauthors are listed in the article.
Heartwire from Medscape © 2015 Medscape, LLC

Cite this: LEGACY: Long-term Weight Loss Decreases AF Symptoms - Medscape - Mar 16, 2015.