Oncologists often have to tell their advanced cancer patients there is nothing more they can do for them and that further treatment would be futile.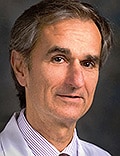 Many dread having to deliver such catastrophic news and fear that their patients might think of them in a negative way as a result.
Now, a study shows that such fear may be warranted.
In a randomized clinical trial that used videos in which actors played doctors, cancer patients preferred the doctors who provided a more optimistic message and also thought those doctors had higher levels of compassion than those who gave a starker prognosis.
"What I have learned from this study is that the message itself, the bad news, may have an impact on the way the patient perceives me as a compassionate or not compassionate doctor," senior author Eduardo Bruera, MD, from the Department of Palliative Care and Rehabilitation Medicine, University of Texas MD Anderson Cancer Center, Houston, Texas, told Medscape Medical News.
"I always need to be aware that when I go into a room to deliver very bad news, no matter how well equipped I am with my empathetic statements and my communication training, that there is a possibility that that patient and family will feel that I am less compassionate than someone who gives them a more optimistic message," Dr Bruera said.
The study, which was led by colleague Kimberson Tanco, MD, involved 100 patients with advanced cancer who were attending the Supportive Care Clinic at MD Anderson Cancer Center.
The findings were published online February 26 in JAMA Oncology.
Patients were randomly assigned to watch two video vignettes lasting roughly 4 minutes. The videos showed a professional actor portraying a physician discussing treatment and prognostic information with a professional actor playing a patient with advanced cancer who had received several lines of chemotherapy, had poor performance status, and who was not a good candidate for additional therapy.
In the less optimistic video, the "physician" gave explicit information about the lack of further treatment options. In the more optimistic video, the "physician" added vague information about possible future treatments if the patient improved in functional status in the next few days.
In each video, the role of the physician was played by actors who had similar physical characteristics. They were male, middle-aged, and white. The physicians made the same number of empathetic statements and displayed identical posture and body language.
Both actors and patients were blinded to the purpose of the study, and the researchers were blinded to the videos observed by the patient.
After viewing each video, patients completed assessments, including the Physician Compassion Questionnaire, in which 0 equals best and 50 equals worst.
The results showed that the patients reported significantly better compassion scores after watching the more optimistic video as compared with the less optimistic video.
The median (interquartile range [IQR]) compassion score was 15 (IQR, 5.23) for the more optimistic video compared with 23 (IQR, 10.31; P < .001) for the equally emphathetic but less optimistic message.
In addition, 57% of the patients preferred the physician who delivered the more optimistic message; 21% of the patients had no physician preference; and 22% preferred the physician with the less optimistic message.
The patients also rated the physicians who delivered the more optimistic message as more trustworthy. The results showed that 63 patients after observing the more optimistic message rated the physician as trustworthy compared with 39 patients after watching the less optimistic message (P = .03).
"The results were very clear in showing that it was the actual message that made the patients feel that the doctor giving the better news was more compassionate than the other one," Dr Bruera said.
"This is important for us to know because, on the one hand, it explains, in my view, why doctors feel uncomfortable giving bad news or why they have a natural reluctance to giving bad news. Intuitively, those doctors who experience clinical interactions with patients very frequently realize that the content of the message, no matter how compassionately given, might have some impact on the way they are perceived," he commented.
Dr Bruera added that over the years, many physicians might have become somewhat overconfident that with appropriate empathetic statements and appropriate methods of delivery of bad news, they could overcome the devastating impact of the message.
"Our data, unfortunately, show that the content continues to be an important component," he said.
Another important lesson to be learned from this study is that more time will need to be spent with patients who are on the receiving end of bad news.
"We are going to have to be careful when we schedule our clinics and our visits, because these patients are going to need particular time from us. They will also need particular talent and skill in dealing with them," he said. "We may need to double our effort to spend more time in the visit, perhaps propose extra counseling and support, and even be more intense in the follow-up, because our data suggest strongly that it's the message itself that carries a lot of weight and that almost overpowers the quality of our ability to give that message. The message itself carries a strong independent power over how patients will see us."
Compassion at Its Core
In an invited commentary, Teresa Gilewski, MD, from Memorial Sloan Kettering Cancer Center, New York City, writes that although more research may enhance the understanding of the complexities of compassion in patient care, "one has to wonder whether we have yet to fully appreciate the power of compassion in its simplicity."
Dr Gilewski sites an article by W G Pickering that focuses on kindness in medicine (J Med Ethics. 1997;23:116-118) in which the author includes a quote from Oliver Twist, by Charles Dickens.
"In the story," Dr Gilewski writes, "the beleaguered young Oliver encounters an old lady who '...gave him what little she could afford — and more — with such kind and gentle words, and such tears of sympathy and compassion, that they sank deeper into Oliver's soul, than all the sufferings he had ever undergone.' "
"Perhaps," Dr Gilewski continues, "Dickens understood what medicine at times finds so challenging: the universal and inexplicable nature of compassion at its core."
In an interview with Medscape Medical News, Dr Gilewski added that the whole area of compassion in medicine has been very difficult to evaluate because physicians are so used to having objective data to guide their management of patients.
"This study contributes some of the minimal objective data that are available on this topic, and it shows that there is a lot that we don't understand about these interactions that we need to evaluate," she said.
However, reliance on data can lead physicians to overemphasize its importance when it comes to human interactions.
"Human interactions occur in medicine on a minute-by-minute basis, and sometimes we get more complex than we need to be. I've made a few documentary films that focus on this topic, and I've interviewed a number of patients and family members, and it's always amazing to me that the little things go a long way. A lot of times it is some of these human interactions that become some of the most memorable events for the patient and their family," she said.
Alleviating suffering can be achieved with a drug or a procedure or, sometimes, with simple kindness, Dr Gilewski said.
"In the Dickens quote, the kindness was even deeper than that little boy was feeling. Do not underestimate the impact of kindness on alleviation of suffering. The kindness was the thing that went to Oliver's core even more than some of the suffering," she added.
Dr Bruera and Dr Gilewski report no relevant financial relationships.
JAMA Oncol. Published online February 26, 2015. Abstract, Commentary
Medscape Medical News © 2015 WebMD, LLC

Send comments and news tips to news@medscape.net.
Cite this: Doctors Delivering Bad News Perceived as Less Compassionate - Medscape - Mar 03, 2015.