NASHVILLE, TENNESSEE — Patients who are dehydrated have more severe stroke and poorer short-term outcomes than stroke patients who are adequately hydrated, a new study shows.
Researchers report that patients in this analysis had a fourfold increased odds of clinically meaningful worsening from the time of admission to the hospital to the time of discharge if they were dehydrated.
On the basis of these findings, it's important to define a best approach to rehydrate stroke patients, said author Mona N. Bahouth, MD, a stroke fellow at Johns Hopkins Hospital in Baltimore, Maryland.
Everything should be done to help these patients recover to their best potential, Dr Bahouth concluded, "and I think volume resuscitation could be one of those things but we'll need further study." If it proves positive, this could be "an inexpensive, safe and globally available technique to help acute stroke patients."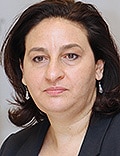 Dr Bahouth presented the study results during a session at the International Stroke Conference (ISC) 2015.
Common Problem
Previous studies have suggested that most patients with stroke are dehydrated when they arrive at the hospital, "but there's no clear guidance on what we should do about this problem of dehydration once the patient hits the ER [emergency room] door," she said. Guidelines changed in 2013 to recommend that patients in low-volume states should receive intravenous fluids, but this recommendation is based not so much on evidence as on expert consensus, Dr Bahouth noted.
The current study included patients with ischemic stroke without renal failure admitted to Johns Hopkins Hospital between August 2013 and May 2014 within 12 hours of acute stroke.
Researchers tracked the daily stroke severity of these patients based on their National Institutes of Health Stroke Scale (NIHSS) scores, and used MRI to calculate the volume of brain lesions caused by their stroke.
According to laboratory results, 71 of the patients were not dehydrated and 55 were dehydrated (defined as blood urea nitrogen/creatinine ratio >15 or urine specific gravity >1.010). Hydration levels differed little across race, sex, ethnicity, or diabetes status.
"We found no difference between the dehydrated group and those who were not dehydrated in terms of the severity of their stroke on presentation," Dr Bahouth reported, with similar NIHSS scores and lesion volumes.
The NIHSS score among 126 patients was 6.7 for the dehydrated and 7.3 for the nondehydrated patients (P = .63). The lesion volume among 124 patients was 12 mL in the dehydrated group and 16 mL in the nondehydrated group (P = .48).
"But here's where we started to get a signal that there might be an important feature to investigate further," she said. Dehydrated patients stayed the same or deteriorated during their hospitalization.
At 4 days, 59% of the dehydrated patients fell into NIHSS quartiles representing improvement (quartiles 1 to 3), and 42% into the quartile representing no change or worsened NIHSS score (quartile 4). In the nondehydrated group, 84% were improved and 17% had no change or were worse, suggesting some kind of short-term difference between the groups, she said.
The analysis showed a 4-fold increased odds of clinically meaningful worsening if patients were dehydrated at the time of hospital admission (odds ratio, 4.34 [95% confidence interval, 1.75 - 10.76]).
Giving patients fluids after they sustain a stroke is a simple and readily available strategy to address the hydration issue, but some stroke patients may have heart problems. In that case, giving water may result in fluid backing up to the lungs and possible choking.
Limitations of the study were that the small sample, varied timing of MRI, and indirect markers of dehydration. According to Dr Bahouth, whole blood viscosity would have been a more direct measure, but technologies for this are inconsistent and are not used at Johns Hopkins Hospital.
After her presentation, Dr Bahouth addressed the issue of whether dehydration could be a risk factor for stroke, causing stroke by contributing to blood clotting. "The physiology is there," but the current study of course can't provide insight into cause and effect, she said.
"Just looking at some of the physiology of what goes on at the level of the blood vessel, it's a really interesting hypothesis."
Chicken or Egg?
Session moderator, Phillip Gorelick, MD, medical director, Hauenstein Neuroscience Center, and clinical professor, translational science and molecular medicine, Michigan State University College of Human Medicine, Lincolnwood, commented that the altered renal function and metabolism of older patients should be considered.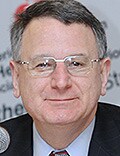 He also noted that stroke patients may be dehydrated because they've been unable to seek help for hours after their stroke.
"It's not uncommon for us to hear stories of people who live alone and end up on the floor with their stroke for 24 hours or a number of hours," and as a result many end up with worsening renal function.
But Dr Bahouth stressed that she and her colleagues felt "it was critical" that the study include only patients in a "very acute window" following a stroke so they wouldn't have a chance to develop dehydration from their stroke.
Dr Gorelick also commented that physicians in some areas, for example in the US Southwest, may need to adjust drugs that are "renally sensitive" during summer months. He wondered whether the researchers had noted any seasonal differences in the study.
Dr Bahouth responded that the prospective study didn't look for seasonal changes over its 9-month duration, "but that would be really interesting to look at going forward."
The relationship between dehydration and stroke is not well understood, commented Robert Adams, MD, professor of neurology, Comprehensive Stroke and Cerebrovascular Center, Medical University of South Carolina, Charleston, and a spokesperson for the American Heart Association/American Stroke Association, who was on hand to give some perspective. "Is this something that happens before the stroke or is this something that happens between the stroke and arrival to the emergency room?"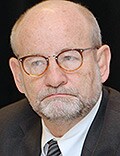 He pointed out that the American Heart Association/American Stroke Association, the Joint Commission, and others have been working to standardize care for stroke patients, and it is his understanding that checking for dehydration is one of the core measures that have been suggested.
"I think that people's fluid resuscitation would be more alike than different now, so at least we could think the worsening is due to something that they came in with so it may be difficult for us to reverse that with standard measures," Dr Adams said. "Most people get rehydrated when they come in with a stroke, don't they?"
"I thought that too, actually," Dr Bahouth said. "Even at our own center, which is a comprehensive stroke center, and really focused on a very standard approach to patient care, there's a lot of variation," in patient characteristics and provider care, she noted.
More science in this area "is a good idea," Dr Adams said.
Dr Bahouth has disclosed no relevant financial relationships.
International Stroke Conference (ISC) 2015. Abstract T MP86. Presented February 12, 2015.
Medscape Medical News © 2015 WebMD, LLC

Send comments and news tips to news@medscape.net.
Cite this: Dehydration Worsens Stroke Outcome - Medscape - Feb 19, 2015.