NASHVILLE, TENNESSEE — The four new studies showing dramatically positive results on endovascular therapy in acute ischemic stroke represent "history in the making," being "the biggest advance in stroke," since the introduction of thrombolysis in 1996, experts said yesterday after their presentation at the International Stroke Conference (ISC) 2015.
ISC program chair, Kyra Becker, MD, who confessed to having been a skeptic about endovascular treatment for stroke, told Medscape Medical News that these trials change everything. "The data are consistent and convincing. We are now obligated to use this technology in eligible stroke patients with a large vessel occlusion."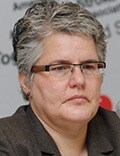 Another self-proclaimed doubter of this technology for stroke is Patrick Lyden, MD, Cedars-Sinai Medical Center, Los Angeles, California, a coauthor on the original National Institute of Neurologic Disorders and Stroke trial of tissue plasminogen activator (tPA) in stroke.
"These data are even more impressive than the rumors have suggested," he commented. "Excellent efficacy and safety has been shown across different trials and different countries. There is absolutely no question that mechanical thrombectomy should now be the standard of care."
"This is sea change — a new day in stroke," Joseph Broderick, MD, principal investigator of the previous IMS-III endovascular trial that showed neutral results with this approach, added. "It is great to see four trials showing such consistent findings."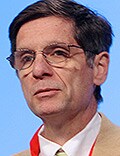 "We have had a drought in terms of new stroke breakthroughs for many years," Larry Goldstein, MD, Duke University, Durham, North Carolina, added. "It's very exciting to have this new data which will make a big difference to many people's lives."
Phillip Gorelick, MD, Michigan State University College of Human Medicine, Lincolnwood, Michigan, and Ralph Sacco, MD, Miller School of Medicine, University of Miami, Florida, were similarly upbeat.
"This is all very exciting," Dr Gorelick commented. "The polar vortex has lifted," he said, referring to the three negative trials presented at this meeting 2 years ago, IMS-III, SYNTHESIS-EXPANSION, and MR RESCUE. "These new studies will change the practice standard."
Dr Sacco added: "It was a long time in coming, but I think we knew years ago that if we could open up blood vessels like acute coronary artery disease it would make a difference. Now we have the proof."
Dr Becker cautioned, however, that these results apply only to a small percentage of all stroke patients: those with a major cerebral vessel occlusion. "But these are the patients who do the worst and this treatment will make a big difference to them. They also need to be treated very fast," she added. "Time is always critical in stroke care, but now for these patients with these big strokes it is especially important to get help quickly."
… the most exciting ISC session for many years.
The four new studies — MR CLEAN, ESCAPE, EXTEND-IA, and SWIFT PRIME — were presented one after the other at the first packed plenary session of the ISC meeting, which was described as "the most exciting ISC session for many years." Presenters regularly had to pause while reporting the results as the audience broke into applause, a rare event at scientific meetings.
All four studies showed that removing the clot with the latest stent retriever technology in a timely fashion led to less disability and a greatly improved chance of a good functional outcome. The number needed to treat (NNT) for one additional person to achieve a good outcome (modified Rankin Scale score of 0 to 2) was 4 in the ESCAPE and SWIFT-PRIME studies and 3.2 in EXTEND-IA.
The MR CLEAN authors have not formally reported NNT figures, but lead investigator, Yvo Roos, MD, Academic Medical Center, Amsterdam, the Netherlands, told Medscape Medical News that their equivalent NNT estimate was 7.4.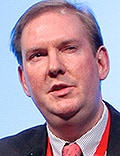 In addition, the ESCAPE trial actually reduced mortality 50% with the endovascular treatment. Co-primary investigator Michael Hill, MD, University of Calgary, Alberta, Canada, said, "I don't think there is another stroke trial out there that shows a reduction in mortality except perhaps hemicraniectomy."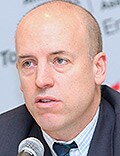 These four studies follow hard on the heels of the three previous endovascular trials that failed to show benefit. Suggesting reasons for the current success, principal investigator of SWIFT PRIME, Jeffrey Saver, MD, University of California, Los Angeles, said, "These latest trials have succeeded because (1) they were faster — endovascular therapy was delivered quicker; (2) better technology was used with the latest stent retrievers; and (3) they were on target — they selected patients with a blocked artery."
While ESCAPE and MR CLEAN allowed any approved device to be used for the endovascular intervention, most patients received the new-generation retrievable stents, such as Covidien's Solitaire FR (Flow Restoration). The EXTEND-IA and SWIFT PRIME studies stipulated use of the Solitaire device.
The four studies had similar designs in that they all specified that patients must have an ischemic stroke with an occlusion of a major cerebral artery identified by imaging.
When presenting the MR CLEAN study, Dr Roos pointed out that this was a key factor. "Previous studies generally did not stipulate imaging of the clot, and the first requirement when testing a clot removal strategy is a clot to be removed."
… the first requirement when testing a clot removal strategy is a clot to be removed.
But there were differences between the studies. MR CLEAN had the most pragmatic design and broadest entry criteria: Computed tomographic (CT) angiography to identify the clot was the only imaging used after the regular CT scan to rule out hemorrhagic stroke.
Is More Sophisticated Imaging Necessary?
The other three trials included various more sophisticated imaging techniques to identify patients who had a better chance of benefit: those who still had large areas of salvageable brain tissue.
The ESCAPE trial did this by evaluating collateral circulation using multiphase CT angiography; the EXTEND-IA study used perfusion imaging with a new automated computer program for easy interpretation of results; and the SWIFT PRIME study started off with a similar approach to EXTEND-IA but later switched to the multiphase CT angiography strategy used in ESCAPE to accommodate more sites.
"All the studies are essentially showing the same thing — that if we can pick people out with imaging who are likely to benefit, the latest endovascular treatments can open the artery and produce good outcomes," Dr Hill commented. "I would say ESCAPE and MR CLEAN were more inclusive trial designs and included a broader patient population than EXTEND-IA and SWIFT PRIME. But they still showed major benefits."
Dr Roos added: "With Mr CLEAN we kept it simple and we included the most eligible patients. Yes, these more sophisticated imaging techniques will select out the patients who do particularly well with the endovascular therapy, but the danger is that they will miss some patients who would also benefit."
Outside experts asked for their opinion on the imaging needed seemed to favor the more pragmatic approach.
"I don't think we need fancy perfusion imaging, we just need a simple noncontrast head CT scan showing absence of a large infarct like they did in ESCAPE," Dr Lyden commented to Medscape Medical News. "This is very easy to do."
"There is certainly an argument to be made for the simple pragmatic approach," Dr Becker added. "The sophisticated imaging seems to select out patients who do particularly well — so maybe you don't help as many people with this sophisticated imaging, but the ones you do treat you really help."
Use Without tPA?
In ESCAPE, a quarter of patients who had endovascular therapy did not receive tPA, but the effect size for benefit with endovascular therapy was exactly the same. Similarly, in MR CLEAN, 10% of patients did not get tPA and a similar benefit of clot retrieval was seen in this group.
On this, Dr Hill said, "I would say this treatment applies to all patients who have a proximal artery occlusion and appropriate imaging, whether they are eligible for tPA or not."
ESCAPE was the only trial that included patients after 6 hours of symptom onset, although few patients in this timeframe were judged to have enough salvageable brain tissue to benefit.
"My gut feeling is this is all about physiology," Dr Hill commented. "There will be some small number of patients who still have salvageable brain tissue even if they arrive after the timeframe to get tPA. And we can identify them with the imaging techniques used in these studies."
Reorganization Needed
At the press conference on the new studies, there was much discussion of how the new technology can be made accessible to more patients. To be successful, stroke patients suspected of having a major artery occlusion need to be urgently directed to hospitals with the appropriate facilities and on-duty stroke teams.
"The big issue is going to be access to this therapy," EXTEND-IA lead investigator, Dr Bruce Campbell, said. "We need to reorganize our systems. At present stroke is often not treated as the medical emergency that it is. Stroke teams need to recognize that fast treatment is key to a good recovery and have systems in place for patients to be fast-tracked to the cath lab."
Although the time critical element is already there for tPA treatment, he added, "this drug has been available for stroke for 20 years, but we still haven't fully implemented 24/7 care so all those eligible are able to receive it. My hope is that we will make system changes so that these positive endovascular results can be implemented in clinical practice a lot quicker."
Dr Saver noted that the United States is rolling out a two-tier system of primary stroke centers that can give tPA and comprehensive stroke centers that can deliver endovascular therapy.
"We need to ensure that paramedics take these patients to a comprehensive stroke center if possible, or when they arrive at a primary stroke center they can be given tPA and rapidly transferred (drip and ship)," he said.
Dr Hill added: "Many centers are already offering this endovascular therapy, but now we have to lead the way and teach others how to do it. Yes the new technology has been a game changer, but it is also key to have the right imaging and good teamwork to make it all happen as fast as possible."
He suggested that stroke triage needed to be moved more into the prehospital arena. "How this will work exactly will depend on local geography. There will be different considerations in densely populated and rural areas."
Dr Saver suggested that 60,000 stroke patients per year were eligible for this endovascular treatment in the United States. 'We probably need about 300 comprehensive stroke centers to do this. We have about 75 at the moment and these positive results will help to drive evolution of this system of care."
Donald Frei, MD, president-elect of the Society of NeuroInterventional Surgery, says that only a tiny percentage of eligible patents are currently receiving endovascular therapy but that numbers will now grow massively.
"The excellent results from these studies were achieved by very well experienced neurointerventional surgeons at comprehensive stroke centers," he said. "We need to build these systems up."
Cost-effectiveness
Although large-scale investment is required up front to enable this therapy to be used more extensively, this is expected to be more than compensated for by long-term savings on future care.
"This treatment is likely to be extremely cost-effective from a societal standpoint," Dr Goldstein commented to Medscape Medical News.
"A cost-effective analysis of ESCAPE is coming out soon, and yes it will be profoundly cost-effective," Dr Hill added. "Up-front costs will be needed but there will massive downstream savings in terms of less need for nursing home care and more people back to work."
To ensure the benefits and cost-effectiveness seen in the trials translate to the community, many physicians will be looking for some direction from the American Heart Association/American Stroke Association in terms of guideline revision or a scientific statement.
"There is some urgency here to give practicing physicians and other providers some guidance on what to do," Dr Gorelick pointed out. "This needs to be clearly articulated and clearly defined, and the evidence needs to be graded. People need to understand what are the strengths and limitations of the data."
Still, there is an eagerness to get started. "I can tell you almost all the stroke fellows I interviewed today to go into vascular neurology, all of them want to go into interventional neurology," Dr Sacco said.
Medscape Medical News © 2015 WebMD, LLC

Send comments and news tips to news@medscape.net.
Cite this: Positive Endovascular Trials Herald 'A New Day in Stroke' - Medscape - Feb 13, 2015.