The US Food and Drug Administration (FDA) has approved Medtronic's next-generation minimally invasive flow diversion device for unruptured large or giant brain aneurysms, the company announced today.
The Pipeline Flex embolization device is intended for endovascular treatment of complex intracranial aneurysms that are not amenable to treatment with surgical clipping and are attached to parent vessels measuring 2.5 to 5.0 mm in diameter, the company says.
Medtronic's first-generation Pipeline embolization device has been used in the United States since receiving FDA clearance in 2011.
Designed to divert blood flow away from an aneurysm, the Pipeline Flex device features a braided cylindrical mesh tube that is implanted across the base or neck of the aneurysm. The device cuts off blood flow to the aneurysm, reconstructing the diseased section of the parent vessel, the company explains in a news release.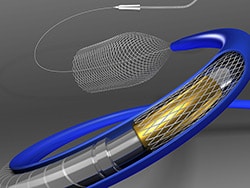 "The Pipeline Flex embolization device is the next advancement in flow diversion, combining our clinically proven braid design with a new delivery system designed to offer improved accuracy and control when performing these advanced procedures inside the brain," Brett Wall, president of Medtronic's neurovascular group, said in the release.
"Flow diversion has been a major breakthrough therapy for large or giant wide-necked brain aneurysms that are complex and have considerably higher risk of rupture and higher rates of complication with conventional treatment," added Ricardo Hanel, MD, PhD, endovascular neurosurgeon with Baptist Health in Jacksonville, Florida, in the release.
"With thousands of patients successfully treated with Pipeline Embolization Device, the Pipeline Flex's innovative delivery system will result in further advancing endovascular treatment and care," Dr Hanel said.
The Pipeline Flex embolization device will be available through a limited US launch in the coming weeks, Medtronic said.
Medscape Medical News © WebMD, LLC

Heartwire © WebMD, LLC

WebMD Health News © WebMD, LLC

Reuters Health Information ©

Send comments and news tips to news@medscape.net.
Cite this: FDA Clears Next-Generation Brain Aneurysm Device - Medscape - Feb 05, 2015.