PHOENIX — For all the sweeping technological advances in critical care, there is still plenty of room for improvement in the human aspects of healthcare, according to experts presenting here at the Society of Critical Care Medicine (SCCM) 44th Critical Care Congress.
"There's a saying that patients don't care how much you know until they know how much you care," said Phillip Dellinger, MD, from Cooper University Healthcare in Camden, New Jersey, during a plenary session at the meeting.
"As I look back at my career, spanning 35 years, I think I have been average in terms of compassion," he admitted. "But in the past 5 years, I've made more of an effort to communicate to patients that I care for them, and I believe the payback for the patient — and for the physician and healthcare provider — is huge."
Dr. Dellinger, who is past president of the SCCM, presented a list of 10 Things We Can (and Must) Do Better in Critical Care Medicine.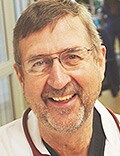 On that list is patient safety. He cited an important study from 2006 in which 38.8 unintended safety-compromising events occurred per 100 patients in intensive care units (Intensive Care Med. 2006;32:1591-1598).
Although progress has been made, "this study points to the fact that our patients are not as safe as we would like them to be," he explained. "Evidence shows we still haven't even conquered something as simple as hand hygiene. We must do better."
Another area that needs improvement is documentation in electronic medical records, such as updating progress notes by physicians; although critical, this step is often neglected, Dr. Dellinger pointed out.
Bad Notes
The situation was well summarized in an editorial entitled "John Lennon's Elbow," he told the audience (JAMA. 2012;308:463-464).
Electronic medical records progress notes are like music from John Lennon's elbow.
In it, Robert Hirschtick, MD, from the Feinberg School of Medicine at Northwestern University in Chicago, likens the current status of electronic medical records to a memorable event in Beatles history. During a performance by the wildly popular band at New York City's Shea Stadium, Lennon recognized that the crowd was so loud that neither the audience nor the band could hear the music and began playing his organ with his elbow. No one could tell the difference.
"Electronic medical records progress notes are like music from John Lennon's elbow," Dr. Dellinger explained. As Dr. Hirschtick put it, they "are awful, and nobody seems to mind."
"In the not too distant future, this needs to be addressed," said Dr. Dellinger.
Clinicians also need to use process and quality-improvement measures and multidisciplinary approaches to make ICU rounds more efficient.
When a comprehensive ICU checklist was implemented to standardize rounds at his center, there was initial concern that the measures would slow things down. "We now think the checklist actually streamlines rounds," Dr. Dellinger reported.
With technology taking over many tasks, clinicians need to make physical exams more meaningful. "It's important to ask whether we are looking for important findings, or whether many patients are only getting a visual exam to satisfy a requirement," he stressed.
Care doesn't start or end at the ICU. Noncritical care providers need to be educated so that they can make better care decisions before the patient is admitted to the ICU, said Dr. Dellinger.
Tools such as telemedicine and smartphones can help "bring more critical care to the bedside early on in critical illness," he said.
The recognition of post-intensive care syndrome, which has been increasing in recent years, is also on his list.
Intensive Care Syndrome
"Earlier in my career, this was not recognized at all, or it was de-emphasized. Now we're recognizing how important an area this is," said Dr. Dellinger. Studies have shown that up to 25% of ICU patients develop the syndrome, which is linked to post-traumatic stress disorder and physical and cognitive impairments, he reported.
He praised an SCCM effort that is in the works to recognize the syndrome. "If our organization is going to provide resources along these lines, it will be very good for us and for our patients."
As the Dalai Lama said, "if you want others to be happy, practice compassion; if you want to be happy, practice compassion."
"I'm a personal testament to that," Dr. Dellinger said.
Society of Critical Care Medicine (SCCM) 44th Critical Care Congress. Presented January 18, 2015.
Medscape Medical News © 2015 WebMD, LLC

Send comments and news tips to news@medscape.net.
Cite this: More Compassion, Communication Needed in Critical Care - Medscape - Jan 30, 2015.