But Nobody Wants to Pay for It
In the past, when Congress has enacted a temporary "patch" to avert an SGR-mandated cut in physician payments, it has usually taken the money from someplace else in Medicare, Hobson pointed out. The 17 patches over the past decade have cost more than the price tag of the SGR measure. But other healthcare players will resist any bill that cuts $144 billion from Medicare at their expense, Hobson and Gilberg noted.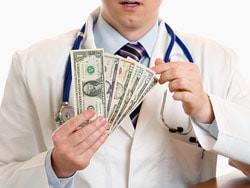 If a deal cannot be reached by March 31, Congress will enact yet another patch that will last either to the end of the year or for 21 months, Hobson predicted. The latter option would delay action on the SGR until after the next Presidential election.
Medical associations strongly oppose any further delay.
"Everybody recognizes that the SGR is a major problem, and it has cost us billions of dollars to patch it 17 times," said Robert Wah, MD, president of the AMA, in an interview with Medscape. "Nobody thinks it's a good idea to continue to patch it. It doesn't make any sense to continue a program that everyone agrees is flawed and heading us in the wrong direction. So the faster we can eliminate it and move on to other improvements in the Medicare system, the better for everyone."
"We really think it's important to resolve this issue," agreed Robert Wergin, MD, president of the AAFP. "Annual patches just perpetuate the problem."
Avoiding Specifics
So far, the medical associations have not made specific recommendations on how to pay for the SGR replacement bill. In testimony to the health subcommittee, AMA board chair Barbara McAneny, MD, did not mention the issue, beyond noting that new payment and care delivery models such as those promoted in last year's SGR bill can save money for Medicare.
Wah simply said that there are many options on the table. "We're hopeful that [members of Congress] will come together on the funding process, just as they came together on the policy part," he said.
Similarly, in a January 9 letter to Senate leaders about legislative issues of importance to physicians, American College of Physicians President David Fleming, MD, merely expressed support for last year's SGR bill without suggesting how to offset the cost.
Wergin was more explicit about how to fund the measure. He told Medscape that the AAFP is willing to support cuts in other areas of Medicare, such as the restoration of pharmaceutical rebate programs that were eliminated by the Affordable Care Act.
Medscape Business of Medicine © 2015 WebMD, LLC

Cite this: The Future of the SGR: 2015 and Beyond - Medscape - Feb 03, 2015.