Powered only by four small propellers and the controls of a technician several kilometers away, the small yellow craft the size of a toy helicopter whizzed across the North Sea, carrying in its small compartment precious cargo: medicine vital to a resident on the island of Juist, off the coast of Germany.
The approximately 12-km trip, conducted as part of a feasibility project by DHL Parcel, represented the first time an unmanned aerial vehicle (UAV) was sent on a flight outside the pilot's field of vision on a real mission in Europe, according to the company, and it went off without a hitch.
"The DHL parcelcopter has proven to be an interesting option for emergency assistance, such as medications," DHL spokesperson Dunja Kuhlmann told Medscape Medical News.
The mission, which has been repeated more than 20 times in the past year, on a broader level represented the increasing interest in UAVs, or drones, as a highly efficient and inexpensive means of transporting medical supplies and aid to and from geographically challenging locations.
In addition to providing assistance in regions ravaged by earthquakes, flooding, or even warfare, UAVs are being looked at for use simply in areas with limited access and frequent weather restrictions, such as Juist.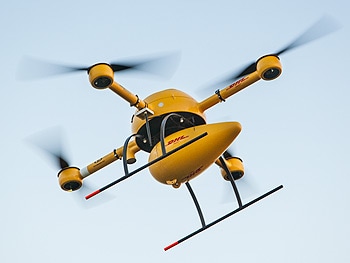 "The island of Juist has no motor vehicle traffic, [and] deliveries to the island made by ferry are complicated by the fluctuating tides," Kuhlmann said.
Importantly, regular flights to the island cannot always be planned on short notice, she added.
"Under such circumstances, deliveries made by the automated DHL parcelcopters are a good way to supply the island with urgently needed goods like medications."
Subsequent missions have included the delivery of blood thinners that were urgently needed by an elderly woman and specific pain medicine needed by a young man who had hurt his knee and who has allergies to certain medications, Kuhlmann said.
DHL has been working with three of the parcelcopters, tweaking the design to improve technical issues such as flight duration and range, cargo capacity, and speed in varying weather conditions.
Although the company currently has no specific plans for use of the drones in normal delivery operations, the wheels — make that propellers — are in motion as research is gathered and the feasibility of introducing UAV operations on a broader scale is considered.
Not Just Medicine
Just in the year or so since Medscape Medical News previously reported on the use of AUVs in 2013, various other advances have been made in drone use in medicine.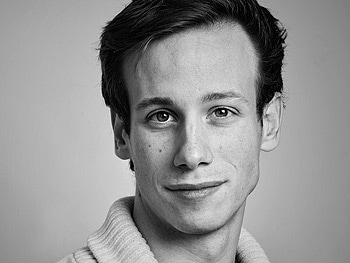 Among them is the development of a prototype for a UAV designed to deliver not just medication but also potentially life-saving defibrillators to sites where a person is having a heart attack.
The prototype, designed at Delft University of Technology in the Netherlands by industrial design engineering student Alec Momont, would include a live video and audio connection from the user to emergency personnel to provide instruction to the person applying the defibrillator on how to treat the patient.
"It is essential that the right medical care is provided within the first few minutes of a cardiac arrest," Momont said in a press statement.
"If we can get to an emergency scene faster, we can save many lives and facilitate the recovery of many patients."
A network of such drones could significantly increase the chance of survival after a cardiac arrest from 8% to 80%, according to the press statement.
The drone, developed in collaboration with the Belgian innovation group Living Tomorrow, has yet to be tested on real patients, but Momont expects the invention could be implemented within 5 years.
Partnerships with organizations including the Ghent University Hospital and Amsterdam Ambulance Service, however, are already being considered.
"The combination of alerting, medicine transportation, and video feedback makes me believe this is one of the best application areas for drones," Momont told Medscape Medical News.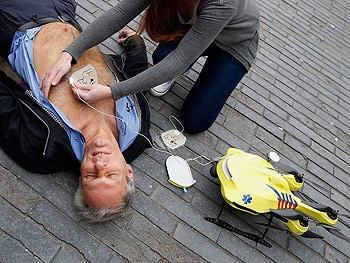 He added that he feels the delivery of essential medical services represents the most logical early uses of UAVs.
"I think that UAVs are the type of technology that should initially be limited to use cases where they can provide a true benefit," Momont said.
Momont estimated the cost for each UAV to be approximately €15,000.
Matternet
In the exploration of the use of UAVs in a broader provision of medical aid to regions around the world, Palo Alto, California–based Matternet has also made progress in the past year, working with Doctors Without Borders on an experimental project delivering tuberculosis diagnostics in Papua New Guinea.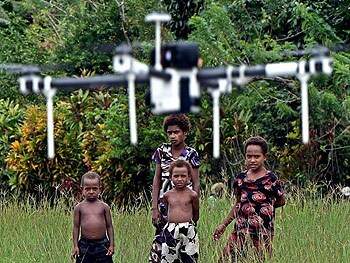 In addition, the organization tested the use of drones in the mountainous region of Bhutan, where it was invited to conduct a pilot project linking the Jigme Dorji Wangchuck National Referral Hospital in the city of Thimphu with three smaller healthcare facilities.
"These two projects were big milestones for us this year," Matternet Chief Executive Officer Andreas Raptopoulos told Medscape Medical News.
"We are looking more closely at setting up medicine distribution networks, and next year we plan to release our first product, which will be made available to allow the setup of rapid transportation operations."
Matternet's aerial vehicle is currently capable of transporting up to 1 kg for distances of 20 km in rain or high winds.
Raptopoulos noted that UAVs could even have a role in efforts to control the spread of Ebola.
"We have an interest in Sierra Leone and Liberia, and we are hoping to send some vehicles to those regions for the use in helping the transportation of diagnostic tests and supplies," he said.
Drones and Humanitarian Relief
The heightened interest in drones as less expensive and potentially safer alternatives to aircraft or road vehicles in humanitarian aid settings has spurred initiatives such as the Humanitarian UAV Network (UAViators), designed to bring together humanitarian organizations and UAV communities, according to the group's website.
That includes establishing a "volunteer network of professional, civilian and responsible hobbyist UAV pilots who facilitate information sharing, coordination and operational safety in support of a broad range of humanitarian efforts."
For all the good that can come out of such efforts, the use of UAVs raises obvious concerns on a multitude of levels, ranging from their safe operation to the need to prevent their misuse in terms of privacy and data collection.
Such concerns prompted the United Nations Office for the Coordination of Humanitarian Affairs to issue a policy document in August 2014.
The statement underscores that "the use of UAVs raises serious practical and ethical issues that humanitarian organizations must address through transparency, community engagement, and guidelines for privacy and data security."
Because of concerns about the use of UAVs in conflict settings, "the humanitarian system should...focus on uses in natural disasters and early recovery settings," according to the statement.
Critical Mass = Collisions?
The sheer number of drones potentially becoming a common site buzzing around neighborhoods raises additional concern.
According to the Office for the Coordination of Humanitarian Affairs report, as many as 57 countries and 270 companies were producing UAVs in 2013, and the Federal Aviation Administration forecasts that 7500 commercial small UAVs could be flying in the United States within 5 years.
And with Amazon.com moving full speed ahead with UAV delivery plans, the need for a system to prevent drones from colliding with each other, as well as anything else that could get in their way, is pressing.
According to Parimal Kopardekar, PhD, principal investigator for unmanned traffic system management at NASA, a plan to manage the traffic is already well under way.
"Our focus at NASA is to enable operations in the low-altitude air space for the safe operation of drones," he told Medscape Medical News.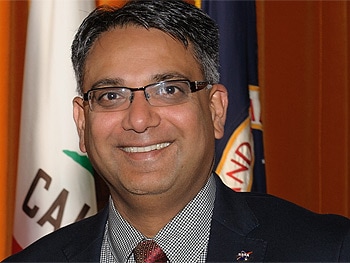 Part of the effort will involve keeping vehicles in separate zones based on altitude and direction, which will be essential, considering how popular they are expected to become, Dr Kopardekar said.
"Within 5 years, we want to start the [drone traffic management] operations in a persistent manner, and in 10 years I think we're going to see drones in a much bigger density — it's going to be huge," he added.
"My view is every household will have a drone for civilian use," he said.
Dr Kopardekar agreed that medical deliveries will likely be among the earliest implementations of drone efforts.
"In terms of medical uses, hospitals, for instance, may benefit from sending supplies from one site to another, and drones may also be useful in search and rescue operations," he noted.
"However, the number of industries considering drones for various operations is large and continues to grow," he told Medscape Medical News. "They include pipeline building, railroad, communications, agriculture, and wildlife surveillance."
Medscape Medical News © 2015 WebMD, LLC

Send comments and news tips to news@medscape.net.
Cite this: Drones in Medicine Take Flight - Medscape - Jan 09, 2015.