Reducing Waste and Compensating Injured Patients
4. Consolidate Claims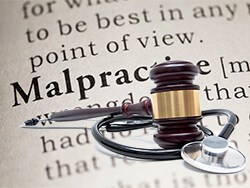 Increasingly, plaintiff attorneys are using bodies of law outside of the negligence framework to hold physicians accountable to patients. Presumably, this tactic of adding certain counts to a negligence complaint is used to gain leverage, because they know that professional liability insurance policies rarely cover such claims—including violations of laws or regulations (eg, laws against discrimination, nursing home bill of rights), international infliction of emotional distress, breach of privacy, and negligent billing practices.
What this means is that if a physician is sued for negligence, he or she may have another—uninsurable—issue also added to the lawsuit. The courts should step in and prevent plaintiffs from using this tactic. If a patient is suing a physician for negligence, superfluous counts serve only to frustrate matters, and should be dismissed.
5. Reward Positive Innovation
Successful programs exist to eliminate waste of a system's or physician's resources when dealing with a potential malpractice lawsuit; these include early apology and disclosure programs, binding arbitration, and even early settlement programs. The goal is not only to reduce the massive expenses associated with entering the legal system, but also to ensure that the patients (not the attorneys and experts) get a larger share of the recovery, and in a far shorter period.
These types of programs should be supported so that they blossom—not stifled in a maze of outdated regulations.
What Can Physicians Do to Help Make This Happen?
Physician organizations have spent significant resources to defend caps on noneconomic damages and fight for other important tort reform measures. By fighting for simple changes, such as the ones outlined above, healthcare systems and physicians will be in a position to tailor professional liability programs in a way that will reduce waste and best compensate injured patients.
It is time that the US healthcare professional liability system adapts to the US healthcare system.
Medscape Business of Medicine © 2015 WebMD, LLC

Cite this: Brian S Kern. 5 Ways to Improve Our Medical Liability System - Medscape - Jan 14, 2015.