Surgeon's Poor Track Record Worries Area Residents
More negative news has been coming to light for Ithaca, New York, surgeon David Schwed. He was sued twice for medical malpractice, most recently in late October for complications related to a laparoscopic colectomy. But it's not only the latest claims against Dr. Schwed that have some area residents concerned; it's a history of such cases dating back to 1996, points out a news story last month in the Ithaca Voice.[3]
According to the paper, the surgeon has now been sued for malpractice 12 times in Tompkins County Court since 1996. Since 2009, he has made four payouts, two of which were for amounts that state records indicate are "above average." Three of the 12 suits against him are still open, "raising at least the possibility of a fifth payout," says the paper.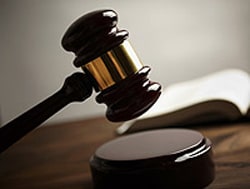 Should that happen, the Ithaca surgeon will become a member of an exclusive club. In a 15-year period that one consumer advocacy group has studied, only 0.5% of doctors have had five payouts or more for medical malpractice.
Despite his poor track record to date, Dr. Schwed has also won some cases. In March 2009, for example, a trial judge dismissed a complaint against the surgeon for failing to diagnose a woman's breast lump. In an earlier case, a jury ruled in his favor, although an appeal is pending.
To date, Dr. Schwed hasn't faced disciplinary action from the New York State medical board, the paper reports.
Appeals Court Rocks Cruise Industry Boat
Historically, operators of cruise lines have benefited from broad immunity from medical negligence suits. But in a ruling that could end up roiling the seas for the industry, a US appeals court last month decided to let a medical negligence suit against Royal Caribbean International move forward, according to a report in the Los Angeles Times.[4]
The suit against Royal Caribbean, whose US headquarters are in Miami, was brought by Patricia Franza on behalf of her late father, Pasquale Vaglio. In 2011, Vaglio hit his head aboard the Explorer of the Seas while it was in port in Bermuda. After the accident, he was seen by the ship's nurse, who provided minimal treatment; another 4 hours would elapse before he was evaluated by the onboard doctor. The following day he was airlifted to a New York hospital, where he died a week later.
Initially, the company sought to dismiss the suit on the basis of "a 1988 circuit court ruling that gives immunity to cruise lines when employees give negligent care." But the 11th Circuit Court of Appeals rejected that motion, noting that a lot had changed in the nearly three decades since the circuit court ruling. Pointing in particular to the technological advances aboard cruise ships and the general growth of the industry, the appeals court found that a broadly defined immunity from medical negligence was now outdated.
An advocacy group praised the appeals decision. "We see this as an historic change in the way cruise lines treat people who get sick on cruise ships," said Kendall Carver, chairman of International Cruise Victims, a Phoenix-based advocacy group for passengers and crew members.
The plaintiff is now free to take her case back to the trial court. For its part, Royal Caribbean can no longer cite the 1988 circuit court ruling in order to claim immunity. "It really changes the whole landscape," said one Florida trial attorney who specializes in suits against cruise lines. "The exception has now gone away."
Medscape Business of Medicine © 2014 WebMD, LLC

Cite this: Wayne J. Guglielmo. Keeping Med-Mal Premiums Low; MICRA in the Courts?; More - Medscape - Dec 23, 2014.