SAN FRANCISCO — Adding sorafenib (Nexavar, Onyx) to standard chemotherapy improves relapse-free and event-free survival in younger patients with newly diagnosed acute myeloid leukemia (AML), according to a new study.
Patients who received sorafenib had a 3-year event-free survival rate of 40%, compared with 22% for placebo (P = .013). In addition, median event-free survival was better with sorafenib than placebo (21 vs 9 months).
Similarly, relapse-free survival was better with sorafenib (58% vs 36%; P = .017). Median relapse-free survival has not yet been reached in the sorafenib group, but was 23 months in the placebo group.
No improvement was observed in overall survival.
This is the first randomized evidence of a clinical benefit of a tyrosine kinase inhibitor in this type of leukemia, said lead study author Christoph Röllig, MD, from University Hospital Dresden in Germany.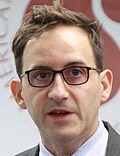 "These data provide a high level of efficacy for the use of sorafenib in younger patients," he explained. "Most important, there is now evidence from a randomized trial."
The study results were presented during the plenary session here at the American Society of Hematology 56th Annual Meeting.
Sorafenib is a multikinase inhibitor with activity against several oncogenic kinases that might play a role in the pathogenesis of AML. Results from case studies and a few clinical trials have suggested that sorafenib is beneficial in AML, but none of these studies were randomized, Dr Röllig noted.
"The only exception is a trial that our group did in elderly patients with sorafenib, and the outcome was that the addition of sorafenib to standard chemotherapy had no beneficial effect," he said. "But it was associated with significant morbidity."
Because the biology of AML in younger patients might be different and they might have greater tolerability, Dr Röllig and his group decided to conduct a similar trial in a cohort with a cutoff age of 60 years.
A total of 276 patients, 18 to 60 years of age, with newly diagnosed AML from 25 centers were enrolled in the SORAML trial.
All patients were treated with two cycles of induction therapy (daunorubicin 60 mg/m² on days 3 to 5 plus a continuous infusion of cytarabine 100 mg/m² on days 1 to 7), followed by three cycles of high-dose cytarabine consolidation (3 g/m² twice daily on days 1, 3, and 5).
Patients who did not respond received second induction that consisted of cytarabine 3 g/m² twice daily on days 1 to 3 plus mitoxantrone 10 mg/m² on days 3 to 5. Allogeneic stem cell transplantation was scheduled for all intermediate-risk patients in first complete remission. At baseline, patients were randomized to receive either sorafenib (800 mg/day) or placebo as an add-on to standard treatment.
The primary end point was event-free survival. An event was defined as failure to achieve a complete remission after induction, relapse, or death.
Three-year overall survival was better in the sorafenib group than in the placebo group (63% vs 56%). Median overall survival has not yet been reached.
"At this point, we can see no clear survival benefit for the patients treated in the sorafenib arm," said Dr Röllig.
The most commonly reported adverse events that were at least grade 3 were fever (40%), infections (22%), and bleeding events (2%). The risk for fever, bleeding events, and hand–foot syndrome was significantly higher in the sorafenib group than in the placebo group. There were no significant differences for other adverse events between the two groups.
"To sum up the results, we can say that sorafenib plus chemotherapy is a feasible treatment for younger patients," he said. "It produces a significant and relevant prolongation of event-free survival."
"A confirmatory trial would be desirable to establish the use of sorafenib in the treatment of AML," Dr Röllig added.
Already in the Clinic
Sorafenib is already being used for patients with relapsed/refractory disease, said press conference moderator David Steensma, MD, from the adult leukemia program at the Dana-Farber Cancer Institute in Boston.
"Many leukemia doctors are using it off-label, and some insurers are covering it," he told Medscape Medical News. "I think that's because it is already an FDA-approved agent and it is mentioned in guidelines as a potential therapy. This study will add evidence."
Anecdotally, clinical results have been variable. "I have had patients who had refractory disease and they went on sorafenib and benefited," Dr Steensma said. "Their blasts were reduced, their blood counts got better, so this is clearly an active agent."
He noted that with a longer follow-up, an overall survival benefit might have been seen in the study cohort.
Dr Röllig has disclosed no relevant financial relationships. Two coauthors report a relationship with Bayer Healthcare. Dr Steensma reports being on the advisory board for Amgen and the Aplastic Anemia and MDS International Foundation, and being a consultant for Amgen, Astex, Boehringer Ingelheim, Celgene, Genoptix, Incyte, and MEI Pharma.
American Society of Hematology (ASH) 56th Annual Meeting: Abstract 6. Presented December 7, 2014.
Medscape Medical News © 2014 WebMD, LLC

Send comments and news tips to news@medscape.net.
Cite this: First Top-flight Evidence of TKI Benefit in AML - Medscape - Dec 08, 2014.