SAN FRANCISCO ― Adding carfilzomib (Kyprolis, Onyx Pharmaceuticals, Inc) to lenalidomide (Revlimid, Celgene Corporation) and dexamethasone (multiple brands) in patients with relapsed multiple myeloma delivered "unprecedented results," according to new data presented here at the American Society of Hematology (ASH) 56th Annual Meeting.
Patients who received carfilzomib had a progression-free survival of 26.3 months, as compared with 17.6 months (P = .0001) for those who were treated with lenalidomide and dexamethasone only.
"The progression-free survival was highly positive in favor of the combination therapy arm," said lead study author A. Keith Stewart, MD, of Mayo Clinic Arizona, in Scottsdale, during a press briefing. "The progression-free survival was unprecedented in first-relapsed myeloma at over 2 years."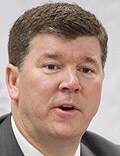 Although median overall survival was not reached in either group in this interim analysis, there was a trend toward longer overall survival in the group who received carfilzomib (73.3% vs 65%; HR = 0.79; P=.018). However, the results did not cross the prespecified statistical boundary set by the statisticians when the trial started (P = .005).
Importantly, the authors noted, adding the third drug did not dramatically increase toxicity, and in fact, patients in the carfilzomib group reported higher quality-of-life scores than the patients in the control arm.
The second take-home message from this study was that the overall response rate was significantly higher for the triplet combination than for the doublet, said Dr Stewart. "And even more impressive was that the complete response rate was more than three times higher for the patients that took three drugs rather than the ones who took the two drugs."
The overall response rates for the two groups was 87.4% in the carfilzomib group, compared with 66.9% in the control arm, and a complete response or better was achieved by 31.8% vs 9.4%.
"By adding carfilzomib to the gold standard in multiple myeloma therapy, we are observing an unprecedented duration of remission without additional toxicity, a promising outcome in relapsed and heavily pretreated patients," he noted.
The results of this interim analysis were simultaneously published in the New England Journal of Medicine.
Brad Kahl, MD, director of the University of Washington Lymphoma Service and Clinical Research Director for Hematologic Malignancies for the University of Wisconsin Carbone Cancer Center and session moderator, commented that these results might usher in a change in clinical practice. "I think this will establish a new standard of care for this population," he said.
Study Details
Carfilzomib is a second-generation proteasome inhibitor; it received FDA approval 2 years ago for the treatment of multiple myeloma in patients who have received at least two prior therapies, including bortezomib (Velcade, Millennium Pharmaceuticals, Inc) and an immunomodulatory therapy.
Combination therapy with lenalidomide and dexamethasone is the current standard of care for patients with relapsed multiple myeloma. In this randomized, multicenter, phase 3 study, known as ASPIRE, Dr Stewart and colleagues compared the triple combination lenalidomide, dexamethasone, and carfilzomib with the standard combination regimen.
The primary endpoint was progression-free survival; and secondary endpoints included overall survival, overall response rate, duration of response, health-related quality of life, and safety.
The cohort included 792 patients from 20 countries who were randomly assigned in a 1:1 ratio and stratified by β2-microglobulin levels (<2.5 vs ≥2.5 mg/L), prior bortezomib therapy (no vs yes), and prior therapy with lenalidomide (no vs yes). Everyone in the cohort received lenalidomide (25 mg) on days 1 to 21, and dexamethasone (40 mg) was given on days 1, 8, 15, and 22 of a 28- day cycle.
In the experimental arm, carfilzomib was given as an infusion on days 1, 2, 8, 9, 15, and 16 during cycles 1 to 12 (20 mg/m2 [days 1 and 2 of cycle 1]; 27 mg/m2 thereafter). It was omitted on days 8 and 9 during cycles 13 to 18 and was not administered beyond 18 cycles.
At the time of the prespecified interim analysis, the study met the primary endpoint for progression-free survival (HR = 0.69; P < .0001).
The Kaplan-Meier overall survival event-free rates at 24 months were 73.3% and 65.0%, respectively. The median duration of response was better in the carfilzomib arm, 28.6 months vs 21.2 months.
Similar Adverse Events
The percentage of patients who discontinued treatment because of adverse events was similar (15.2% of patients receiving carfilzomib vs 17.4% control patients). In each group, 7.7% and 8.5% of patients died while still receiving study treatment or within 30 days of receiving the last dose of study treatment.
The most common hematologic treatment-emergent events (≥grade 3) included neutropenia (29.6% vs 26.5%), anemia (17.9% vs 17.2%), and thrombocytopenia (16.6% vs 12.3%).
The most common nonhematologic events (all grades) included diarrhea (42.3% vs 33.7%), fatigue (32.9% vs 30.6%), and cough (28.8% vs 17.2%); adverse events of grade 3 or higher included pneumonia (12.5% vs 10.5%), hypokalemia (9.4% vs 4.9%), and hypophosphatemia (8.4% vs 4.6%).
The study was supported by Onyx Pharmaceuticals, manufacturer of carfilzomib. Dr Stewart and several coauthors report financial relationships with industry, as noted in the article. Dr Kahl reports being a consultant for Celgene Corporation, Cell Therapeutics, Genentech, Gilead Sciences, Inc, Infinity Pharmaceuticals, Millenium Pharmaceuticals, Inc, Seattle Genetics, and Roche, and has received research funding from AbbVie, Allos, Gilead Sciences, Inc, Infinity Pharmaceuticals, and Pharmacyclics.
American Society of Hematology (ASH) 56th Annual Meeting: Abstract 79. Presented December 7, 2014.
New Engl J Med. Published online December 6, 2014. Full text
Medscape Medical News © 2014 WebMD, LLC

Send comments and news tips to news@medscape.net.
Cite this: 'Unprecedented Results' in Relapsed Multiple Myeloma - Medscape - Dec 06, 2014.