Editor's Note: Should breast cancer prevention begin in childhood? Although recommendations for prevention of breast cancer focus primarily on middle-aged women, some researchers advocate beginning risk modification in early life. Foremost among them is Graham A. Colditz, MD, DrPH, Niess-Gain Professor and chief of the Division of Public Health Sciences of the Department of Surgery at Washington University School of Medicine in St. Louis, Missouri.
Earlier in the year, Dr Colditz was presented with the 2014 American Association for Cancer Research (AACR) Award for Outstanding Achievement in Cancer Prevention Research for his commitment to the prevention and control of chronic diseases, including breast cancer. In his award lecture, given at the AACR's 13th Annual International Conference on Frontiers in Cancer Prevention Research, Dr Colditz outlined strategies that he believes should be developed for delivery of breast cancer prevention through healthcare providers, regulatory approaches, communities, and families.
Dr Colditz emphasized that breast cancer prevention efforts will have the greatest effects when they are initiated early in life. To further explain how he believes early preventive measures could be brought into practice, Dr Colditz spoke with Linda Brookes, for Medscape, about how physicians can help their female patients lower their risk for breast cancer earlier in life.
Breast Cancer Screening Is Not Prevention
Medscape: What are the main factors in early prevention of breast cancer that physicians need to convey to their patients?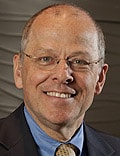 Dr Colditz: There is clear and growing evidence that diet composition in childhood and adolescence, physical activity, and alcohol intake before birth of the first child are all importantly related to the risk for premalignant breast lesions and invasive breast cancer.[1,2] Part of the motive in our trying to get this message out is the fact that 21% of breast cancers are diagnosed in premenopausal women,[3] and yet most of our discussion about prevention of breast cancer really starts with screening. That is detection, not prevention.
Growing scientific evidence indicates that childhood and adolescent lifestyle is clearly driving the risk for breast cancer. How we structure diet, level of activity, and alcohol intake in childhood and adolescence, and typically up to age 30, establishes a woman's lifetime risk for breast cancer. It is time that we acknowledge that breast cancer is the number-one cancer diagnosed in women in the world[4] and start doing something serious about preventing it.
Medscape: Organizations representing other medical specialties, such as diabetes, are also campaigning vigorously for a healthier lifestyle in children and adolescents to prevent disease in early adulthood. How does education about breast cancer prevention differ from this?
Dr Colditz: The recommendation of a healthy, plant-based diet is clearly consistent with diabetes prevention, but it is probably even stronger for breast cancer.[5] Regarding physical activity and avoiding weight gain, I think the message is the same for both breast cancer and diabetes. These factors tie in to a healthy childhood and adolescence.
Medscape Oncology © 2014  WebMD, LLC

Cite this: Breast Cancer Prevention Starts in Childhood - Medscape - Dec 08, 2014.