CHICAGO, IL — Twenty-year follow-up of the West of Scotland Coronary Prevention Study (WOSCOPS) has shown that treatment with a statin for 5 years provides a "persistent reduction in cardiovascular disease outcomes" over the course of 2 decades[1].
In the follow-up study, which was presented this week at the American Heart Association (AHA) 2014 Scientific Sessions, Dr Chris Packard (University of Glasgow, Scotland) suggested that just 5 years of treatment with pravastatin might provide a legacy effect over the course of an individual's lifetime.
"For our primary end point, by the time 20 years had passed, we could see that it's actually taking an extra 5 years for the statin-treated group to reach the same level of risk as the placebo-treated group," said Packard. "In other words, there is a 5-year gain in event-free years if you start LDL lowering at the age we started, which is around 50 years old."
Packard added that the study shows a "remarkable persistence" in terms of cardiovascular risk reduction over such a long period of time, suggesting that statin treatment alters the "natural history of the disease in some way by lowering LDL cholesterol." For physicians, he recommends they take the long view when prescribing statins to their patients, saying the best way to evaluate therapy is to look beyond the clinical-trial results to the lifetime benefits of treatment.
The WOSCOPS Study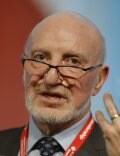 WOSCOPS, a primary-prevention study with 6595 men aged 45 to 64 years with elevated cholesterol levels, was one of the pioneering statin-therapy trials when it was published in 1995. The study showed that treatment with pravastatin 40 mg for 5 years significantly reduced the risk of nonfatal MI or death from cardiovascular causes 31% compared with placebo.
"In 1996, we launched into a follow-up because we knew this would be very important in terms of safety and efficacy evaluations," said Packard. Using electronic records from various hospitals and death registries, they ascertained outcomes in more than 90% of patients randomized in WOSCOPS. "This is a very stable population," added Packard. "They don't go very far."
The 20-year follow-up data are based on a 5-year difference in LDL-cholesterol lowering with pravastatin. In the trial, pravastatin lowered LDL-cholesterol levels by 26% and total-cholesterol levels by 20%. For clinical outcomes, the reduction in the primary end point in WOSCOPS was sustained over the 20-year follow-up period, said Packard. At 20 years, coronary heart disease mortality was reduced 27% and all-cause mortality by 13%. Also, the need for coronary revascularization was reduced by 19%, heart failure by 31%; there was no effect on stroke.
"The average age of the men was 55 years during the trial and 20 years on they're now 75 years old," said Packard. "This covers the entire period of premature cardiovascular morbidity and mortality. We would argue that this is a good picture of the lifetime benefit, which is different from lifetime risk. These are real events happening to real people."
Importantly, the investigators observed no signal of cancer with statin therapy, a finding that would have been uncovered over such a long follow-up period if one existed. There was a significant reduction in the number of days patients were hospitalized for any cardiovascular event over the two decades, including a reduction in days hospitalized for MI. "There were no safety aspects in terms of serious disease that we could detect in this population over such a long period of time," said Packard. "So there was benefit and no seeming disadvantage."
During the session, Dr Harvey White (Green Lane Cardiovascular Service, Auckland, NZ) said long-term follow-up is necessary in order to evaluate the potential development of solid tumors, such as breast or lung cancers. The lack of cancer signal, he stressed, is a "very important" finding. White did say the study raises questions not addressed by the presentation, such as adherence rates, LDL-cholesterol levels, and statin doses over the 20-year period.
Still, the legacy effect of statins appears to be an "ongoing, carryover effect related to a slowing of the progression of the disease and/or the stabilization of existing coronary artery plaque." Age might be the reason for such a long-term benefit, said White, noting that WOSCOPS patients were treated relatively young.
Packard reports being a consultant to or on the advisory board of MSD, Roche, and AstraZeneca and receiving research grants from MSD and Roche. Disclosures for the coauthors are listed in the abstract.
Heartwire from Medscape © 2014 Medscape, LLC

Cite this: WOSCOPS at 20 Years: Study Shows Lifetime Benefit With 5 Years of Statin Therapy - Medscape - Nov 20, 2014.