CHICAGO — In yet another reason to avoid trans fats, researchers are reporting that high trans fat intake is associated with deficits in word memory among working-age men.
Researchers found that each gram of dietary trans fatty acids intake per day was associated with an estimated 0.76 fewer words recalled, or 11 fewer words with the highest intake vs none from a mean of 86 words.
Previous studies have already shown adverse effects associated with trans fat consumption, including higher rates of cardiovascular disease and obesity, and these same researchers have also linked trans fat consumption to aggressive behavior.
"Our findings also support an association between higher trans fat consumption and worse memory performance in young adults, that is, those under age 45 who are in key career-building years," said senior author Beatrice A. Golomb, MD, PhD, professor of medicine at the University of California San Diego (UCSD).
Despite regulatory moves to limit trans fat intakes, the authors noted, these findings "remain relevant because US regulations do not extend worldwide, and presumed dTFA [dietary trans fatty acids] mechanisms have relevance to other exposures."
The results were presented here at the American Heart Association (AHA) 2014 Scientific Sessions by study lead author Alexis K. Bui, MS, also at UCSD.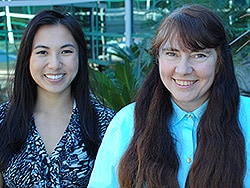 Trans Fats Bad, Chocolate Good
Dietary trans fats are found in such foods as packaged baked goods, some shortenings and margarines, and fast food.
Dietary industrial trans fatty acids have pro-oxidant and cell energy harms, the authors point out. Conversely, foods with antioxidant and cell energy benefits have been favorably linked to word memory in younger adults, before major age-induced variance, they write. For example, a recent report from this group showed that chocolate consumption was associated with better word memory in this same study population (Circulation. 2012;126:A16156).
In the current analysis, the researchers assessed the cross-sectional relationship between trans fat consumption and word memory.
Included were 1018 adults, including 694 men aged 20 years and older, and postmenopausal women without coronary artery disease at baseline. Low-density lipoprotein levels ranged from 115 to 190 mg/dL, and fasting glucose was less than 142 mg/dL on average in this group.
Participants came from a trial of a drug with potential teratogenic effects, so female participants were limited to those who were postmenopausal by age or surgically, Dr Golomb explained. For this analysis, the researchers limited themselves to men because women were not represented in younger age groups.
(When they include the women in their calculation, they still replicated the findings, she said, but because there were so few they don't feel able to draw a separate conclusion for women.)
Trans fat consumption was established by using a food-frequency questionnaire, expressed in grams per day. They used the Recurrent Words test to assess word memory.
Trans fat intake was measured between 1999 and 2004, at a time right before labeling requirements were put in place for trans fats, Dr Golomb commented, "so there's slightly higher trans fat consumption at the upper end."
They used regression analysis, stratified at age 45, to assess the relationship between trans fat consumption and word memory. An age-by-trans fat intake interaction was seen (P = .025), supporting stratification, they note.
Trans fat intake predicted memory only in men aged 20 to 45 years; in this group, each gram of trans fat consumed per day was associated with 0.76 fewer words recalled (P = .006). At the highest intake, this translated to 11 to 12 fewer words recalled from a mean of 86 words recalled on average.
Adjustment for systolic blood pressure, waist circumference, and body mass index, but not lipid or glycemic variables, attenuated the relationship, "consistent with mediation by factors involving, relating to, or concurrently influencing, these factors."
"As I tell patients, while trans fats increase the shelf life of foods, they reduce the shelf life of people," Dr Golomb said in a statement from AHA.
Correlation With Behavior Change
Vincent Bufalino, MD, senior vice president and senior medical director of Cardiology-AMG, Advocate Health Care in Glen Ellyn, Illinois, moderated a press conference here where the results of this study were discussed. He said the findings are still early, "but it's obviously interesting to start to correlate behavior change when consumption is high. That's a pretty impressive thing," Dr Bufalino told Medscape Medical News. "You wouldn't intuitively think that there would be any connection."
Memory loss in the advanced stages is still not well understood, but some of it may relate to subclinical atherosclerosis in the brain, he said. In the coronary arena, the link between high calcium scores and subclinical atherosclerosis suggests that a high proportion of people, particularly those with coronary risk factors, do have asymptomatic plaque in their coronary vessels. It would be interesting, then, to know more about the coronary risk profile of the participants in this new study.
"But it's an interesting observation," he said. "Now I think it's incumbent to take it to the next level and try to give us some more in-depth proof that there is a solid association."
Despite some progress on reducing dietary intake of trans fats, there is still a ways to go, Dr Bufalino said.
"The AHA has led the way, along with work from the government, to begin to really restrict trans fats and get the corporate world to change the oil consumption," he said. "We've had a forum here at the American Heart Association now for the last half a dozen years that I was also part of, that looked at it, tried to understand it, and give feedback back to industry to say, as you're preparing these products, let's find ways to prepare them and remove trans fats. So I think we're moving directionally in a positive way."
But on the individual level, more information on how much trans fat is being consumed in which individuals foods would be valuable, he added.
"There are many reasons not to eat trans fats, most notably cardiovascular disease, and now a new one about memory loss," said Penny Kris Etherton, PhD, RD, distinguished professor of nutrition at Pennsylvania State University, University Park, a spokesperson for the American Heart Association in a statement. People should be very careful about avoiding trans fats, and they can do that by looking at the "Nutritional Facts" panel on food packaging to make sure the foods they eat have 0 grams of trans fats.
In addition, consumers should check the ingredient label on foods, she added, to ensure that foods don't contain any hydrogenated oils or fats, or partially hydrogenated fats. "Then they can be pretty sure that they're avoiding trans fats completely."
The study was supported by the National Heart, Lung, and Blood Institute. The authors have disclosed no relevant financial relationships.
American Heart Association 2014 Scientific Sessions: Abstract #15572. Presented November 18, 2014.
Medscape Medical News © 2014 WebMD, LLC

Send comments and news tips to news@medscape.net.
Cite this: Trans Fat Linked to Worse Memory - Medscape - Nov 19, 2014.