CHICAGO, IL — Drug-eluting stents (DES) are not associated with increased rates of stent thrombosis or major ischemic events compared with bare-metal stents, according to the results of a propensity analysis based the DAPT study[1]. Similar results were seen for major ischemic events. Some observers, however, were cautious in interpreting whether propensity matching could provide a level playing field for the comparison.
Presenting data from a secondary analysis of the DAPT trial at the American Heart Association (AHA) 2014 Scientific Sessions, Dr Dean Kereiakes (Christ Hospital Heart & Vascular Center/Lindner Research Center Cincinnati, OH) said: "What I've learned from this is the myth of bare-metal stents—they are not safer."
He added: "The practice that we see every day of colleagues putting in bare-metal stents because they perceive them to be safer and they perceive that dual antiplatelet therapy could be shorter—I'm not sure that's the right thought process."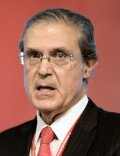 Kereiakes also presented randomized data from the 1687 patients who received bare-metal stents in the DAPT trial and, like the main analysis in patients with DES, were randomized to either a further 18 months of thienopyridine therapy or placebo, all patients continuing on aspirin.
Similar to the main result in the DES population reported earlier at the AHA meeting, this analysis also showed a relative reduction in stent-thrombosis rate with the extended treatment in the bare-metal-stent cohort, although the difference did not reach statistical significance.
Kereiakes concluded: "In patients given bare-metal stents, prolonged thienopyridine therapy (30 months or longer) may provide durable ischemic benefit in addition to increased bleeding risk and requires further study."
In his introduction, Kereiakes noted that bare-metal stents are a commonly used alternative to DES, particularly for patients presenting with acute coronary syndromes or in whom dual antiplatelet therapy has perceived increased bleeding risk.
The DAPT study included patients who received bare-metal stents so it could determine whether such stents and DES differ in their associated risks of stent thrombosis and major adverse cardiovascular and cerebrovascular events (MACCE) or in optimal duration of dual antiplatelet therapy.
The incidence of stent thrombosis and ischemic events was compared between the two types of stents in a propensity-matched analysis. This analysis, according to Kereiakes, pointed to a lower rate of stent thrombosis and major adverse cardiovascular and cerebrovascular events with the DES.
Propensity Matched Analysis of Stent Thrombosis and Ischemic Events on DES vs Bare-Metal Stents
| | | | | |
| --- | --- | --- | --- | --- |
| Outcome | DES, n=8308 (%) | Bare-metal stents, n=1718 (%) | P , noninferiority | P , difference |
| Stent thrombosis | 1.7 | 2.6 | <0.001 | 0.01 |
| MACCE | 11.4 | 13.4 | <0.001 | 0.053 |
Kaplan-Meier curves showed that the difference between the two stent types for both stent thrombosis and ischemic events was greatest in the first 12 months of treatment.
Types of DES used in the patients in the matched analysis included everolimus eluting (Xience, Abbott Vascular), 53%; paclitaxel eluting (Taxus, Boston Scientific), 21%; sirolimus eluting (Cypher, Cordis), 18%; and zotarolimus eluting (Endeavor, Medtronic), 6%; 2% of patients received more than one type.
The trend favoring DES for ischemic events appeared similar across all stent types. The risk/benefit advantge in terms of stent thrombosis with DES was seen with the Xience, Cypher, and Endeavor stent but not with the Taxus stent.
Extended Dual Antiplatelet Therapy Beneficial for Bare-Metal Stents
The randomized comparison of 12-month vs extended dual antiplatelet therapy in the bare-metal-stent population involved 1687 patients. The results hinted at a reduction in stent thrombosis  similar to that seen in the DES population reported in the main analysis.
Efficacy Results: Extended vs 12 Month Dual Antiplatelet Therapy in Bare-Metal Stent Population
| | | | | |
| --- | --- | --- | --- | --- |
| Outcome | Extended 30-mo thienopyridine (%) | 12-mo thienopyridine (%) | HR (95% CI) | P |
| Stent thrombosis | 0.5 | 1.1 | 0.49 (0.16–1.64 ) | 0.24 |
| MACCE | 4.0 | 4.7 | 0.92 (0.57–1.47) | 0.72 |
Kereiakes concluded that "the magnitude of reduction in stent-thrombosis risk with longer (30-month) duration thienopyridine therapy appears consistent for both bare-metal stents and drug-eluting stents," based on lack of interaction (P int=0.42) and hazard ratios (HRs) <1.0 (DES HR 0.29; bare-metal-stent HR 0.49).
Also, there were signs that extended dual antiplatelet therapy was associated with increased bleeding among patients getting bare-metal stents, although again the difference didn't reach significance.
Bleeding Results: Extended vs 12 Month Dual Antiplatelet Therapy in Bare-Metal-Stent Population
| | | | | |
| --- | --- | --- | --- | --- |
| Outcome | Extended 30-mo thienopyridine (%) | 12-mo thienopyridine (%) | Difference | P |
| GUSTO moderate or severe | 2.03 | 0.90 | 1.12 | 0.07 |
| GUSTO severe | 0.76 | 0.39 | 0.37 | 0.33 |
| GUSTO moderate | 1.27 | 0.52 | 0.75 | 0.12 |
"Perfect storm"
Discussant of the study, Dr Daniel Mark (Duke University Medical Center, Durham, NC), reviewed the background of the stent-thrombosis issue. He reminded the audience that for many years it has been thought that bare-metal stents were safer than DES in terms of stent thrombosis. "We didn't notice stent thrombosis until the DES were introduced. Then there was a perfect storm of information that led us all to believe that the stent-thrombosis issue with DES could be overcome only by extending dual antiplatelet therapy for at least a year.
"An interesting dichotomy developed with bare-metal stents having a restenosis problem, which was viewed as a benign nuisance requiring repeat revascularization but having no effect on MI or death, while DES were extremely effective at reducing restenosis but had this stent-thrombosis problem that was viewed in very Shakespearean terms in the literature—as a most severe complication, really very big stuff."
Mark noted that a Mayo Clinic group did an interesting study in 2007 in which they showed the bare-metal stents were associated with some late stent thrombosis and some patients did develop MI after restenosis. And now the DAPT data give more evidence of stent thrombosis with bare-metal stents.
"I would suggest that bare-metal stents are not safer and the risk of stent thrombosis does continue after 12 months for both types of stent platforms, so we need to think about protracted dual antiplatelet therapy in a different way from how we have in the past."
During the panel discussion, Mark noted that in DAPT bare-metal stents and DES were used quite differently—bare-metal stents were used mainly in Europe and DES more in North America; and two-thirds of patients receiving a bare-metal stent had an acute coronary syndrome compared with one-third of those receiving DES. Referring to the propensity analysis, he asked Kereiakes: "Can you really level the playing field with a statistical technique when you are drawing from such different cohorts?"
Kereiakes replied: "This is the most extensive prospective propensity-matched study that I've ever been involved with. Match was established on 55 variables. When you're talking about propensity analysis, this is as good as it gets."
But Dr Harvey White (University of Auckland, New Zealand), a member of the panel discussion, was cautious in interpreting the propensity analysis. He commented to heartwire : "It's difficult to adjust for all variables, and the groups have to be different. People choose to put in bare-metal stents for a reason. It could be because of bleeding risk. Many might use a bare-metal stent on the assumption that you don't need dual antiplatelet therapy for so long. This is bound to affect the patient demographic."
White said the observation that stent thrombosis occurs long term after bare-metal stent implantation and can be reduced with prolonged dual antiplatelet therapy was "quite surprising."
Asked to comment for heartwire , statistical expert Dr Sanjay Kaul (Cedars Sinai Medical Center, Los Angeles, CA) said the comparative safety of bare-metal stents and DES cannot be reliably assessed from these data.
"While the DAPT propensity analysis might be 'as good as it gets' (in the eyes of some), it still is not good enough. Such statistical tools can adjust only for variables that are known or measured, but not the unknowns or those that are not measured. Often the clinical decision to use bare-metal stents over DES is not captured by clinical reports. The potential of residual (hidden) confounding cannot be ruled out. Therefore, statements such as 'the myth of bare-metal stents—they are not safer' are not justified in my opinion," he stated.
"Even the randomized comparison (which I give greater weight to compared with the propensity analysis) does not provide conclusive evidence of benefit of extended therapy in patients with bare-metal stents. Neither the ischemic nor the bleeding differences are statistically significant simply because the comparison was not adequately powered. So, while the findings are informative, they are not sufficient to inform guidelines or change clinical practice," Kaul added.
The DAPT trial was supported by Abbott, Boston Scientific, Cordis, and Medtronic, Bristol-Myers Squibb–Sanofi Pharmaceuticals Partnership, Eli Lilly, and Daiichi Sankyo, and by a grant from the Department of Health and Human Services. Kereiakes reports personal fees from Boston Scientific and Abbott Vascular. Disclosures for the coauthors are unavailable.
Heartwire from Medscape © 2014  Medscape, LLC

Cite this: Bare-Metal Stent Safety Is a 'Myth': DAPT Secondary Analysis - Medscape - Nov 19, 2014.