A Small Practice's Fight to Stay Independent: Can It Work?
Primary Care Medical Associates (PCMA), a six-physician practice in Chicago, Illinois, said no to consolidating their medical group or selling to a large health system. Their strategy is gutsy and entailed some trial and error, but it has been working out for them and could possibly work for you, too.
A recent Medscape article detailed how. After losing patients to pharmacy retail clinics and urgent care centers, PCMA began to offer an early-morning walk-in service 5 days a week. It also became a partial concierge practice; about 70 patients were willing to pay $1800 annually for 30-minute office visits and 24/7 cell phone access to a physician.
PCMA enrolled in the meaningful use program. It joined a Medicare accountable care organization (ACO). It offered evening hours. It is considering hiring scribes. None of this guarantees success, the article pointed out, but for physicians with a strong desire to remain independent, such efforts can pay off.
"I think there are some very good ideas here as a way to survive in a changing and evolving healthcare environment," an internist wrote. "Those who refuse to adapt and adjust to a changing medical care landscape are bound to go the way of solo medical practice."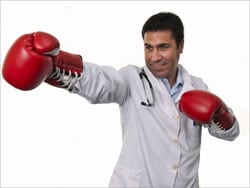 "Keep up the good fight," another internist cheered. "I am in a 4-physician group outside of Louisville and we have very similar issues and solutions, at least for now. The insurers still have not woken up to the quality and low cost of primary care and have forced a lot of physicians to be vertically aligned in corporate medicine. We know how expensive that is!"
"We get 2-3 calls per week from physicians who want to start independent solo practices," a healthcare business administrator wrote. "There is a quiet movement back to solo practice, and it is growing every day. There is an opportunity now that exists based on the decrease in the cost of technology, the number of new practice models available to choose from, and the consumerist patient shopping for value and convenience."
"I'm a specialist, and so far our 2-person group remains independent," a medical oncologist observed. "We offer 2014 care with1995 technology. I think going low tech, rather than spending more, is the way to remain independent. My associate and I answer our own pages. We don't have an EHR yet. I'm the office manager, and we don't take credit cards. Our computers are 3-4 years old. By staying small and using cost-effective technology in your office, doctors can thrive in a private-practice model for years to come."
"Good luck. It can be done," a pediatrician maintained. "If you're not known yet, get out and give some talks in the community, and write some letters (non-hostile) to the editor of your newspaper. You'll get patients that way, but more than that, you'll be doing a service and building confidence."
"Independent? You joined an ACO. You are hardly independent," a family physician scoffed in response to the practice profiled in the article. "You are part of the problem."
"If you want to enjoy your profession, stop taking insurance! Period!" a nephrologist advised.
"Independent practice is incompatible with centralized government regulation of medicine," a general practitioner asserted. "The best practice trend is to refuse Medicare and Medicaid and offer low transparent pricing to consumers. It is what low-cost clinics are doing, and they are competing successfully against general-practice physicians."
"EHRs have added little to practice efficiency, often slowing it down with irrelevant info," a pediatrician opined. "Hospital mistakes and sentinel events have not changed. Now you are suggesting scribes. Maybe a yoga specialist will end up helping with decision-making."
Medscape Family Medicine © 2014 WebMD, LLC

Cite this: Physicians Are Talking: Can Small Practices Survive? - Medscape - Dec 23, 2014.