A novel striatal positron emission tomography (PET) imaging biomarker may identify individuals with early Huntington's disease (HD), hint results of a small pilot study.
"Our studies have shown that [18F]MNI-659 and PET imaging of phosphodiesterase 10A [PDE10] has many of the features of a promising imaging biomarker, eg, a good signal-to-noise ratio, reliability, and target specificity," David Russell, MD, PhD, associate director of clinical research, Institute for Neurodegenerative Disorders, New Haven, Connecticut, told Medscape Medical News.
The pilot study shows that [18F]MNI-659 and PET imaging can detect striatal changes early in HD and that these changes correlate strongly with clinical and molecular indices of disease status.
The study was published online October 13 in JAMA Neurology.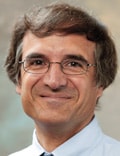 In HD, as in other neurodegenerative diseases, the clinical features often lag behind the underlying disease processes occurring in the brain, Dr Russell explained. "Imaging biomarkers, by nature, are measures of the status of the underlying disease and, therefore, can sometimes 'see' the disease before the clinician or patient can. On the other hand, a useful biomarker cannot be entirely disconnected from the clinical manifestations. It should also track the progression of the clinical signs and symptoms," he said.
Prior research has pegged PDE10 as a "particularly promising" biomarker of early striatal neuron changes and [18F]MNI-659 as a potential PET radiotracer highly specific to PDE10.
Dr Russell and colleagues studied nine healthy adults, three with premanifest HD (pre-HD), and eight with relatively early-stage manifest HD.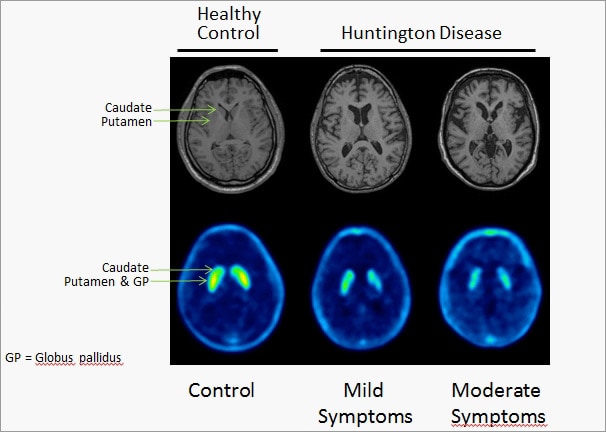 Compared with the healthy group, the HD group had significantly lower striatal [18F]MNI-659 uptake (mean, –48.4%; P < .001), the researchers report.
The HD cohort as a whole had a reduction in basal ganglia binding potentials to approximately 50% of the level in the healthy group (mean, –47.6%; P < .001). The three pre-HD patients had intermediate basal ganglia binding potentials.
Striatal [18F]MNI-659 uptake correlated strongly with disease severity measured by the Unified HD Rating Scale (UHDRS) motor subscale (R = 0.903; P < .001), burden of pathology (R = 0.908; P < .001), and regional atrophy (R = 0.667; P < .05).
"In conjunction with other clinical, imaging, and molecular modalities, imaging striatal PDE10 with [18F]MNI-659 and PET may be a useful tool to help detect and measure the underlying brain pathology in early HD and assist in the development of novel HD therapies," Dr Russell told Medscape Medical News.
"The next step is to assess whether [18F]MNI-659 and PET imaging reliably shows progression over time the same way the disease itself progresses. And, of course, larger longitudinal trials are also required to verify these findings," Dr Russell said.
He noted, however, that "until we have an effective disease modifying or neuroprotective therapy for HD, the utility of [18F]MNI-659 and PET imaging will likely be confined to the research setting. If these therapies are developed, then biomarkers like [18F]MNI-659 and PET imaging may be very useful to clinicians in deciding on the timing of early interventions for HD."
Reached for comment, George Yohrling, PhD, director of medical and scientific affairs at the Huntington's Disease Society of America, said he's "been aware of these data for a while" and said it is "striking how the decrease in PDE10A levels in the striatum of HD patients appears to correlate with disease progression."
"This certainly is a promising potential PET biomarker for HD," Dr Yohrling said.
Pfizer Inc provided partial funding for the study. Dr Russell is an employee of Molecular NeuroImaging, LLC, and has served as a consultant for GE Healthcare and Teva Neuroscience. A complete list of author disclosures is available with the original article.
JAMA Neurol. Published October 13, 2014. Abstract
Medscape Medical News © 2014 WebMD, LLC

Send comments and news tips to news@medscape.net.
Cite this: Novel PET Biomarker May Detect Early Huntington's - Medscape - Oct 30, 2014.