Is It Constitutional to Reduce Pain and Suffering Awards?
There may be more reason for optimism among opponents of Wisconsin's $750,000 cap on noneconomic damages in medical malpractice cases, as a story last month in the Milwaukee Journal Sentinel indicates.[3]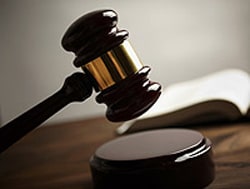 The constitutionality of that cap has been questioned in two separate Milwaukee cases. The first involves a 53-year-old mother of four who lost all four of her limbs because of an undetected strep A infection. At trial, she was awarded $25.3 million in damages, nearly $15 million of which was for pain and suffering and thus covered under the state cap. In addition, her husband received another $1.5 million for loss of companionship, also subject to Wisconsin's restriction on noneconomic damages. Reducing the awards as called for under state law would result in about $682,000 for pain and suffering and about $68,000 for loss of companionship.
The plaintiffs have challenged these reductions, asking the trial judge to set them aside on the grounds that the state cap is unconstitutional. The court is expected to decide in October.
The second case involves a 23-year-old Milwaukee man who was awarded $2.2 million—$1.5 million of which was for pain and suffering—after a jury concluded that nurses in the facility where he was being treated "failed to recognize the symptoms of compartment syndrome in his left leg." Declining to rule on the constitutionality of the state cap, the trial judge reluctantly reduced the pain and suffering portion of the man's award to $750,000, adding that if a higher court ruled otherwise he had "no problem being reversed."
Complicating the picture in Wisconsin is the state's Injured Patients and Families Compensation Fund, which was created in the mid-1970s in order to compensate victims of malpractice whose awards exceed $1 million. Fund critics argue that during its nearly 40 years of existence, its size has nearly doubled—to $1.15 billion today—while the number of medical malpractice suits filed in the state has decreased by more than 50%. Such critics, including the trial court judges hearing the two recent Milwaukee cases, say that there's no "need for such a large cushion to protect doctors and hospitals," especially in light of the dip in the number of suits.
But proponents defend the size of the fund, arguing that it must be sufficient to handle potential outlays. Unstated but central to their argument is that efforts to curtail or reduce the fund would almost certainly help to fuel the argument for raising—or dispensing with altogether—Wisconsin's cap on noneconomic damages.
Medscape Business of Medicine © 2014 WebMD, LLC

Cite this: Wayne J. Guglielmo. Medical Boards Are Too Lax; Payment for Pain and Suffering; More - Medscape - Oct 17, 2014.