A 36-year-old woman who received a uterus transplant from a live donor in 2013 gave birth to a healthy baby boy in September 2014, according to an article published online October 6 in the Lancet.
Mats Brännström, MD, professor of obstetrics and gynecology at the University of Gothenburg, Sweden, and colleagues describe the woman's care in the journal.
Uterus transplantation is used to treat women who have either no uterus or a nonfunctional uterus. It has been attempted 11 times worldwide, but until now no live births have resulted from the procedure.
The patient was born with congenital absence of the uterus, known as Rokitansky syndrome. She underwent a uterus transplant from a postmenopausal woman aged 61 years, who had previously born two children.
The recipient and her partner underwent in-vitro fertilization prior to the transplant, and had 11 cryopreserved embryos. The patient's postoperative course was uneventful, and she experienced her first menstruation 43 days after the transplantation. She continued to menstruate regularly every 26 to 36 days (median 32 days).
The patient became pregnant 1 year after the transplantation, after her first single embryo transfer. She then began taking triple immunosuppression medications (tacrolimus, azathioprine, and corticosteroids), which she continued for the remainder of the pregnancy.
She experienced three episodes of mild rejection, one of which happened during pregnancy, and corticosteroid treatment reversed them all.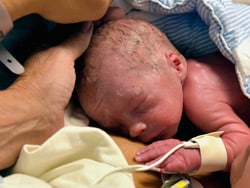 Blood flows of the uterine arteries and umbilical cord were within normal limits throughout the pregnancy, as were fetal growth parameters.
At 31 weeks and 5 days gestation, the patient was admitted to the hospital with preeclampsia. The baby's heart rate was abnormal and the baby boy was delivered by cesarean section 16 hours later. The baby's birthweight was normal for gestational age (1775 g) and his Apgar scores were 9, 9, and 10.
The mother was discharged from the hospital on day 3, and the baby was discharged in good health on day 10. They are both well.
"Our success is based on more than 10 years of intensive animal research and surgical training by our team and opens up the possibility of treating many young females worldwide that suffer from uterine infertility. What is more, we have demonstrated the feasibility of live-donor uterus transplantation, even from a postmenopausal donor," Dr. Brännström said in a news release.
The authors have disclosed no relevant financial relationships.
Lancet. Published online October 6, 2014. Abstract
Cite this: World's First Baby Born After Uterine Transplant - Medscape - Oct 03, 2014.