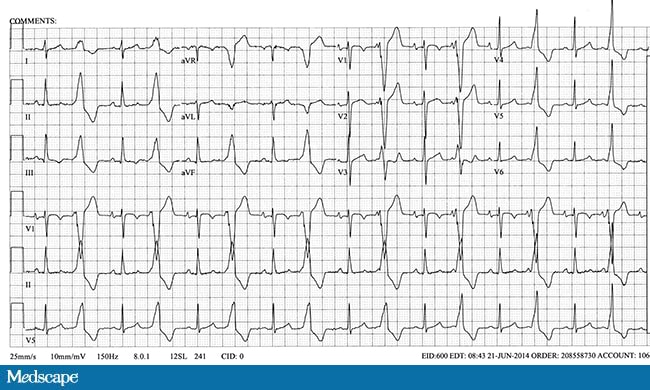 Discussion
The wide complexes in V4-6 indeed suggest ventricular preexcitation (short PR interval, slurred upstroke of delta waves). However, observations of the rhythm strips of VI, II, and V5, from right to left, show that the P wave in front of the wide QRS complex gradually marches into the QRS rather than maintaining a fixed relationship. Therefore, these are not ventricular preexcited beats but simply a ventricular bigeminy which happens to have a "pseudo" delta wave.[1] Some QRS complexes have a slurred upstroke without being preexcited, which I would call a "pseudo" delta wave.[1]
Medscape Cardiology © 2014  WebMD, LLC

Cite this: Ventricular Preexcitation of Every Other Beat? - Medscape - Oct 15, 2014.