People who are able to quit smoking easily on the first try are significantly more likely to develop Parkinson's disease (PD) than their counterparts who struggle to quit, a new study suggest.
The finding, from a large population-based Danish case-control study, supports the notion that patients with PD are able to quit smoking more easily because they have fewer nicotinic receptors in their brain.
In fact, this relative dearth of nicotinic receptors in patients with PD is an early prodromal sign of the disease, Beate Ritz, MD, PhD, from the University of California, Los Angeles (UCLA), told Medscape Medical News.
"We have moved away from seeing Parkinson's as mostly a motor disease that starts when you get rigidity, slowness of movement, the falls and tremors, to thinking that it starts 10, 20, or 30 years prior to the motor symptoms," Dr. Ritz said.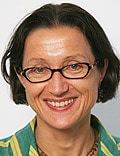 PD has a lot of nonmotor features, such as constipation, sexual dysfunction, heart and blood pressure issues, depression, cognitive impairment, sleep disorders, and loss of the sense of smell, she said.
"That said, the idea of this paper is that ease of stopping smoking is another premotor symptom of Parkinson's, that's what this paper shows," she said.
Their findings were published online September 12 in Neurology.
Smoking Status
In this case-control study, Dr. Ritz and her team identified 1808 patients with PD diagnosed between 1996 and 2009 from Danish registries, and matched them with 1876 healthy controls. The 2 groups were matched for sex, year of birth, and lifestyle characteristics.
Study participants were interviewed and asked about their smoking status, age at start and end of smoking, and number of cigarettes smoked per day. The research team defined "ever smoked" as having smoked at least 1 cigarette per week for 6 months or more.
In addition, ever-smokers were asked about their use of nicotine substitutes, such as chewing gum, tablets, skin patch, and nasal sprays or inhalers, and former smokers were asked how much difficulty they had experienced quitting, characterized as "Extremely difficult, I started and stopped several times"; "Hard, but successful the first time"; "Medium — it took some time getting used to it, but not a big deal"; "Remarkably easy to quit"; and "Other".)
The average age at first cardinal symptom of PD was 61.5 years (standard deviation [SD], 9.7 years). Cases also consumed less caffeine and alcohol and were more likely to report a family history of PD (odds ratio, 2.83; 95% confidence interval, 2.16 - 3.72.)
The researchers found that patients with PD were less likely to ever smoke cigarettes than controls.
Former smokers who responded that it was "extremely difficult to quit smoking" had a 31% decreased risk for PD compared with those who reported that "quitting was easy."
There was also a reduced risk for PD among people who used nicotine substitutes.
"The Parkinson's patients found it very easy to quit smoking compared to controls. The controls have a harder time quitting because their nicotinic response is still there, and they crave nicotine. But the people with Parkinson's disease lose the craving," Dr. Ritz said. "Our study clearly shows this."
Dr. Ritz added that she hopes her study will result in more focused research on finding protective agents for PD.
"It used to be thought that cigarettes, or nicotine, was protective, but this is clearly not the case. You don't want to be on the wrong track, spending millions of dollars in nicotine research that leads nowhere," she said.
The finding may also help to identify people who might eventually develop PD. "It gives us another idea of what the biologic mechanisms could be that need to be investigated," she said.
Smoking Controversy
In an accompanying editorial, Linda A. Hershey, MD, PhD, from the University of Oklahoma Health Sciences Center, Oklahoma City, and Joel S. Perlmutter, MD, from Washington University, St. Louis, Missouri, write that the study suggests that neurologists should not recommend cigarette use or nicotine substitutes in the belief that they will be delaying onset of PD.

"Dr. Ritz and her team came up with some interesting ways for us to look at this smoking controversy in Parkinson's," Dr. Hershey, who was not part of the study, told Medscape Medical News.
"The study is very important because there has been a lot of interest in nicotine. Some people actually told people to smoke because there was this thought that cigarettes might be protective," she said.
"As a neurologist, I not only take care of Parkinson's patients, I take care of stroke patients, and smoking is the worst thing you can do. We don't want patients to smoke because that can lead to stroke, so it's definitely the wrong message."
The study was funded by the National Institutes of Health. Dr. Ritz and Dr. Hershey have disclosed no relevant financial relationships.
Neurology. Published online September 12, 2014. Abstract Editorial
Medscape Medical News © 2014 WebMD, LLC

Send comments and news tips to news@medscape.net.
Cite this: Ease of Quitting Smoking May Be Early Sign of Parkinson's - Medscape - Sep 26, 2014.