WASHINGTON, DC — More than five months after the HEAT-PPCI STEMI trial of heparin monotherapy vs bivalirudin burst onto the radar of interventional cardiologists, the two men at opposite ends of this controversy took to the public stage to debate the issues.
In fact, at last week's TCT 2014 meeting, they did it not once, but twice.
On one side, Dr Rod Stables (Liverpool Heart and Chest Hospital, UK), the principal investigator for HEAT-PPCI, which first called into question bivalirudin's supremacy in primary PCI. The trial has since spurred a change to practice patterns and, at least in Europe, a change to STEMI revascularization guidelines.
On the other, Dr Gregg Stone (Columbia University, New York, NY). Stone was principal investigator for HORIZONS AMI ,the 2007 trial that first crowned bivalirudin as king in this setting; course director for the TCT meeting; and one of the most outspoken critics of HEAT-PPCI when it was first presented at the American College of Cardiology 2014 Scientific Sessions this past April.
The first debate was couched as a deep evidence dive that asked, what do the data support? Stone, speaking first, landed the first jab with the provocative opener: "Heparin is a disgusting product," he proclaimed, showing a black and white photo of a chemist with dead swine dangling in the background and a recipe for concocting the drug. "It's made from pork intestines, it has pancreatic extract, ammonia, sodium hydroxide: this is how you made heparin [in the 1930s], and this is how you make it today. . . . It's inexpensive, yes, but it's a terrible drug."

From there, Stone launched into the fast-paced clinical-trial review for which he is famous, slides flickering past like strobe lights, providing a sweeping recap of more than a decade's worth of research showing heparin monotherapy in STEMI care to be an inferior strategy.
"When did it become okay once again to use heparin only during primary PCI in STEMI?" Stone asked. "Heparin monotherapy is stepping back a decade."
Heparin is a disgusting product.
Stone's most pointed remarks zeroed in on the three trials that have looked specifically at heparin monotherapy vs bivalirudin: BRIGHT (presented in the US for the first time at TCT), EUROMAX ,and HEAT-PPCI, saving his most blistering treatment for the last. The other two, he noted, were large multicenter trials, whereas HEAT-PPCI was a single-center trial, "so you've got to scrutinize the methods and the results."
"Why Bivalirudin Didn't Work"
Stone's key theory for what he believes to be HEAT-PPCI's "outlier" results relate to what he characterized as a chronic underdosing of bivalirudin in the trial, pointing, as he did at the ACC 2014 meeting, to median activated clotting times (ACTs) postbolus.
Comparing ACTs for both the bivalirudin and heparin arms in HORIZONS and HEAT-PPCI, Stone argued that the measured activity of bivalirudin, but not of heparin, was "inexplicably low." Coupled with that, he argued, the study protocol for HEAT-PPCI required a bivalirudin rebolus if ACTs were <225 seconds, something seen, he calculated, in roughly 25% of patients in this group. Instead, only 12.7% of patients received a rebolus.
"And in fact," he added, "they didn't even measure the ACTs in 15% to 20% of patients." These two factors explain not only the higher rate of stent thrombosis seen in HEAT-PPCI in the bivalirudin-treated patients, but also the lack of difference in bleeding between groups. The proven bleeding reduction seen with bivalirudin over heparin in earlier studies, Stone argued, likely was erased in HEAT-PPCI as a result of subsequent pharmacotherapy used to treat the ischemic complications in the bivalirudin group.
"The bottom line is, I don't know exactly why bivalirudin didn't work at the Liverpool Heart and Chest Hospital, but it didn't."
Among Stone's other criticisms: that HEAT-PPCI was not a true all-comers study, since PCI was performed in just 82% of patients entered into the study, and that reinfarctions were diagnosed by a "common-sense" definition, wherein a new thrombus qualified as MI, rather than the rigorous definitions, with documented ischemia, used in other trials.
"I admit the message of HEAT is extraordinarily seductive," Stone concluded. "Given the exploding cost of healthcare, we would all like to embrace a drug that costs pennies, even if it's derived from disgusting macerated pig intestines.
"Unfortunately," he continued, the idea that "heparin alone is the best anticoagulant in STEMI is simply a fairy tale." Here, Stone clicked to his concluding slide, showing a fairy and a faun, the latter superimposed with the face of his rival. "Most of us who live in the real world can't believe in fairy tales," Stone said, to chuckles from the audience. "Well, most of us."
"A Distortion of Reality"
"I take it you don't like sausages," Stables quipped when he took the stage after Stone during this first debate.
Rather than offering a detailed defense of HEAT-PPCI, Stables challenged the "bivalirudin view of the world," likening it to 16th-century maps that showed England at the center of the globe. "We accept the reality of the world with which we are presented," Stables said, quoting the 1998 movie, The Truman Show, even if this is a "distortion of reality."
I take it you don't like sausages.
Stables has long argued that rather than being an outlier, the HEAT-PPCI results are consistent with the entire body of research in this arena, showing that if too high a dose of heparin is used or routine GP IIb/IIIa inhibition is given in the heparin arm (but not the bivalirudin arm), bleeding rates are increased. This is backed up by a recent Lancet meta-analysis that demonstrated equivalent rates of bleeding when GP IIb/IIIa inhibitors were planned in both groups or provisional in both groups.
In his final slide, Stables addressed the strategy of a prolonged bivalirudin infusion to counter the stent-thrombosis risk, saying, as he has in the past, that this is an intriguing hypothesis, supported in the BRIGHT trial results, which used a three- to four-hour infusion of bivalirudin postprocedure. But here, he stressed, the cost of a bivalirudin-based strategy could soar as much as 1400 times higher than a heparin-based inhibitor strategy, "so we're spending more, just to gain equivalence."
In his closing remarks, Stables briefly countered Stone's criticisms of HEAT-PPCI. First, he defended the "all-comers" nature of HEAT-PPCI, pointing to mortality rates that echo those of STEMI registries, and noted that "as anyone who runs a [primary-PCI] service will know," many patients will head to the cath lab but are subsequently found to have no coronary disease or are sent for surgery. That explains the 82% of patients subsequently treated in the trial.
As to the "ACT issue" and whether bivalirudin was accurately dosed, Stables insisted: "This has been investigated extensively by the Medicines Company and declared not to be a problem." Moreover, he noted, it's been painstakingly detailed in a three-page annex published alongside the HEAT-PPCI results in the Lancet.
On the definition of MI, he countered, "When a patient stable on a ward experiences recurrent pain, returns to the cath lab, and angiography confirms that a vessel that was patent and free-flowing and free of thrombus three hours before is now blocked, everyone knows that's an MI."
Ding-Ding: Round Two
Both men spoke with heartwire after the first debate and said their arguments in the second debate, which took place on the Tuesday, two days later, would be more or less the same as their first debate. Both men, as it turned out, clearly took advantage of the lessons learned in the first round and adapted their arguments accordingly.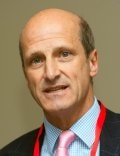 In round two, Stables took to the podium first and this time around included a review of BRIGHT, which had been presented as a late-breaker on Monday. Here, argued Stables, is a great example of how trial "spin" can be used to support or undermine either side of the heparin/bivalirudin debate.
On the one hand, BRIGHT was a high-quality, multicenter, well-powered, meticulously conducted trial that reflects contemporary practice, Stables said. On the other, he continued, BRIGHT used a locally produced bivalirudin "clone," tested in a Chinese population with known ethnic variation with response to anticoagulants, time to treatment in the range of seven hours (three times the norm in the UK), with fewer patients than HEAT-PPCI in the heparin monotherapy vs bivalirudin arm, and showed an advantage for bivalirudin only for "lesser" outcomes.
Stables also added some bite to his rebuttal in refuting Stone's concerns regarding how bivalirudin was dosed. "There have been some thinly veiled assertions that I and my Liverpool Heart and Chest Hospital colleagues are inept, corrupt, or both," Stables said, then showed a "Far Side" cartoon to diffuse the tension. Making the same point to heartwire , Stables was more pointed in his response, saying, "I reject all of those assertions."
More Bluster, More Barbs
Stone, taking the stand in response, had also beefed up his presentation with the BRIGHT results, leaning heavily on the stent-thrombosis results, which, unlike in HEAT-PPCI, were no different between groups at 30 days, and the bleeding results, which showed a benefit for bivalirudin over heparin monotherapy for all bleeds (but not for major bleeding).
Don't just pray to the god of the almighty dollar.
Both men were granted 30-second rebuttals at the end of the second debate. Stables used his to remind his US rival about the enviable door-to-balloon times in HEAT-PPCI, saying, "Those American centers lingering with door-to-balloon times of 85 minutes who wish to get down to half an hour might consider concurrent activity where the bivalirudin is mixed and infused as you secure arterial access." And he once again defended bivalirudin dosing in the trial, saying, "My Medicines Company colleagues in the UK and Europe, with whom I have an excellent relationship and total faith, have decided they are totally satisfied."
Stone, however, leaped on this point in his rejoinder, saying, "I've heard from representatives at the Medicines Company from both the UK and the US, and they want Rod to stop speaking for them, they disagree with his methodology; and they don't believe that he did it right."
Stone finished with a plea to audience members to consider patient outcomes, not just the lower cost of heparin monotherapy. "Look at the evidence, and don't just pray to the god of the almighty dollar."
Another Trial Needed?
Both of the TCT debates ended with handshakes, but both men, in interviews with heartwire , were unpersuaded by the arguments set out by their adversary. While comments from discussion panels following both debates hinted at the need for a new randomized trial to address the issue, neither Stone nor Stables takes this view.
Across the totality of two decades of evidence, all the findings are remarkably consistent.
According to Stone, there are "serious discussions ongoing right now as to the need for a very large-scale, multicenter trial of heparin monotherapy vs bivalirudin," but he himself is unsure. "It's debatable whether we need another multicenter trial. Most people in the US are continuing to use bivalirudin in primary PCI, and HEAT is not affecting decision making. In Europe it clearly has had an effect," but they are more cost focused in Europe, he added.
Asked if he was swayed at all by the arguments made by Stables, Stone said crisply: "No, because they clearly underdosed bivalirudin."
Stables, likewise, was also ambivalent on the need for a new multicenter trial. "It would do no harm," he told heartwire . "There's no harm in extra evidence, but I don't think we absolutely have to have it now, because across the totality of two decades of evidence, all the findings are remarkably consistent."
And the Winner Was . . .
A show of hands following both debates appeared slightly in favor of Stables in debate 1, and in favor of Stone in debate 2. In panel discussions following each debate, experts here, too, were divided, often along geographic lines. Physicians from the UK and Europe typically said they were swayed by Stables or that they'd already reduced or abandoned their use of bivalirudin, while operators in the US voted in favor of Stone or said they were continuing to use bivalirudin in their STEMI patients.
Overall, more light than heat was generated.
Dr Sanjay Kaul (Cedars Sinai Medical Center, Los Angeles, CA), who attended the first debate, called it "informative, entertaining, and evidence-based as viewed through the prism of their interpretative biases. Both did a stellar job articulating their views with passion, and overall more light than heat was generated," he told heartwire . "As for one side winning, I can only speak for myself. Going into the debate, my views were more closely aligned with Rod Stables. The debate, while enlightening, did not change my mind."
Dr Magnus Ohman (Duke University, Durham, NC), who moderated the first face-off, congratulated both debaters for their expert incorporation of some classic debating strategies: in Stone's case, his use of "gory" images and shock tactics, and in Stables's, the gratuitous inclusion of a photograph of his two sons.
"I thought it was a terrific debate by two very skilled orators," Ohman told heartwire afterward, "and I believe there was no true winner. Both made some very good points, and I think Dr Stables gave a very compassionate plea as to why he believes his information is right, and Dr Stone had some good arguments as to why this wasn't the case. I think the debate [can only] truly be resolved if there is another trial, going forward, that might address some of the issues raised here."
Stables disclosed grant/research support from the Medicines Company, AstraZeneca, and Cook and consulting fees/honoraria from AstraZeneca, Boston Scientific, Abbott Vascular, and Cook Corporation. Stone, in his presentation, disclosed having no conflicts of interest related to the debate but acknowledged to heart wire that he had previously received consulting fees and grant support from the Medicines Company. The Medicines Company is also a major sponsor of the Cardiovascular Research Foundation, for which Stone is an unpaid director. Ohman disclosed grant/research support from Daiichi-Sankyo/Eli Lilly and Gilead and consultant's/honoraria/speaker's bureau fees from AstraZeneca, Pozen, the Medicines Company, Abiomed, Daiichi-Sankyo/Eli Lilly, Gilead, Janssen, Sanofi, and WebMD. Kaul disclosed consultant's/honoraria/speaker's-bureau fees from Merck/Schering Plough, AstraZeneca, the FDA, and the Medicines Company, and equity with Cordis/Johnson & Johnson.
Heartwire from Medscape © 2014  Medscape, LLC

Cite this: Stone and Stables Spar Over Heparin vs Bivalirudin in STEMI - Medscape - Sep 22, 2014.