WASHINGTON, DC — A real-world comparison of clopidogrel vs prasugrel (Effient, Lilly/Daiichi-Sankyo) in nearly 12 000 acute coronary syndrome (ACS) patients undergoing PCI revealed no significant differences in the rate of major adverse cardiovascular events (MACE) between the two antiplatelet agents.
Prasugrel was associated with a significantly lower adjusted risk of stent thrombosis, however, and a higher risk of bleeding compared with clopidogrel.
"We know very well from the TRITON-TIMI 38 trial, which is a randomized clinical trial, that prasugrel reduced the risk of adverse cardiovascular events compared with clopidogrel among ACS patients treated with PCI," said lead investigator Dr Tracy Wang (Duke Clinical Research Institute, Durham, NC). "We did see a higher risk of major bleeding in that trial associated with prasugrel therapy, but we have very limited data on the comparative effectiveness or safety of these therapies when they're used in routine clinical practice, especially within the US."
The results of the study, known as TRANSLATE-ACS , were presented this week at TCT 2014 . In this observational study, which enrolled patients between 2010 and 2012, 11 969 STEMI and NSTEMI patients treated with PCI and prasugrel or clopidogrel during the index hospitalization were included in the trial. In total, 3123 patients were treated with prasugrel and 8846 were treated with clopidogrel.

One of the findings of TRANSLATE-ACS was that patients treated with prasugrel differed significantly from those treated with clopidogrel. Prasugrel patients were younger, more likely to be male, and more likely to have had a STEMI. The prasugrel patients were significantly less likely to have a prior MI, prior CABG, or prior stroke/transient ischemic attack. They were also less likely to have diabetes and to have undergone multivessel PCI. They were more likely to have been treated with a drug-eluting stent.
In the unadjusted analysis, the MACE rates—a composite of death, MI, stroke, or unplanned revascularization—were significantly higher with clopidogrel than with prasugrel (17.3% vs 13.5%; p<0.0001). However, in adjusted models that factored in the disparate patient characteristics, including inverse-probability weighting and propensity-matching, there was no significant difference in the MACE rates. Secondary analyses showed similar results.
In the adjusted analysis, including the intention-to-treat and as-treated patients, prasugrel was associated with lower rates of stent thrombosis. Event rates were low, around 1%, but prasugrel lowered the relative risk of stent thrombosis by 37% in the intention-to-treat analysis. GUSTO severe or moderate bleeding rates were significantly higher with prasugrel in the adjusted analyses, with patients having a 30% higher relative risk of bleeding if they received prasugrel compared with clopidogrel. The increased bleeding risk, however, was not significant when researchers focused their analysis on patients most likely to receive prasugrel in US practice.
What to Make of Observational Data?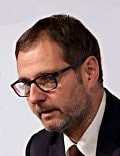 Dr Gabriel Steg (Hôpital Bichat, Paris, France), who was not affiliated with the analysis, said that it is possible to misinterpret the result of observational studies given the amount of statistical "tricks" needed to balance patient characteristics. He said that any database is inherently confounded, and for this reason the results should not trump a randomized, clinical trial. The TRITON-TIMI 38 study, a trial that showed treatment with prasugrel significantly reduced the risk of ischemic events, was even larger than the TRANSLATE-ACS observational study.
"Here we have a smaller population than the actual trial, so I don't really know what to make about the conclusions with respect to efficacy," said Steg. "It is interesting to see the characteristics of patients who get the drugs."
For Wang, she said the intent is not to replace a randomized trial, because she remains a strong believer that such a setting is paramount in demonstrating the safety and efficacy of a particular therapy. "Our intent here was to really do a companion study to ask when these drugs are used in the real world, what are the outcomes?"
TRANSLATE-ACS, she added, shows that physicians are using the published data and the clinical guidelines to inform their drug selection. For example, they are using prasugrel in patients who are younger, men, and STEMI patients. "These are patients we think stand the most to gain from a more potent antiplatelet therapy and perhaps bleed less."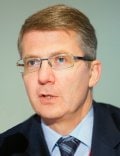 Dr Stephan Windecker (University Hospital Inselspital Bern, Switzerland) took a more skeptical interpretation, noting that prasugrel was used in only 25% of the patients and clopidogrel is still the preferred antiplatelet agent. For him, the data is "clear-cut" for a prasugrel benefit on the end point of ischemic events and stent thrombosis. Dr Roxana Mehran (Mount Sinai School of Medicine, New York) said that the differential rates of use in TRANSLATE might be attributable to timing and that there has likely been an increase of prasugrel use in recent years.
"There has definitely been more uptake of these more potent antiplatelet therapies," added Wang. "In the US, a lot of it is driven by socioeconomic factors as well." She noted clopidogrel is off patent and that even for insured patients, there is a large difference in copayments between the two drugs, which might have an impact on physician prescribing.
Wang reports receiving grant/research support from AstraZeneca, Daiichi-Sankyo/Eli Lilly, Gilead, GlaxoSmithKline, the American College of Cardiology, and American Society of Nuclear Cardiology. Mehran disclosed grant support/research contracts from Regado Biosciences, Daiichi-Sankyo/Eli Lilly, and the Medicines Company and consultant fees/honoraria from Abbott Vascular, Boston Scientific, Covidien, Merck/Schering Plough, Sanofi, Osprey, AstraZeneca, and Janssen/Johnson & Johnson. Steg disclosed consultant fees/honoraria from Merck/Schering Plough, the Medicines Company, GlaxoSmithKline, Pfizer, Novartis, and AstraZeneca. Windecker disclosed research grants from Biotronik and St Jude Medical.
Heartwire from Medscape © 2014

Cite this: TRANSLATE-ACS: No MACE Benefit With Prasugrel in ACS - Medscape - Sep 18, 2014.