The final analysis of a study evaluating transcranial magnetic stimulation (TMS) confirms that the majority of patients with resistant depression who respond to TMS in the acute setting continue to have a sustained response for a period of 1 year, an observational trial shows.
David Dunner, MD, director, Center for Anxiety and Depression, Mercer Island, Washington, and colleagues reported that 68% of 257 patients who had received TMS during the acute treatment phase had improved by the end of the 12-month follow-up and that 45% had experienced complete remission at 1 year.
"These are patients with treatment-resistant depression who are difficult to treat, who generally do not get better easily. TMS not only got people better with the usual course of about 30 treatments in the acute treatment phase, but we showed that the benefit was maintained over a 1-year period in the majority of patients who improved," Dr. Dunner told Medscape Medical News.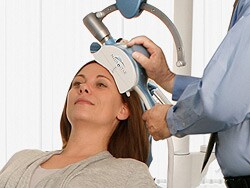 "So I view TMS as a treatment for people who have a new depression and who have a history of failing 3 or 4 prior treatments for depression, where it is unlikely that the antidepressant is going to work. In that population, I think we get good results, and the results justify the use of TMS and the cost of treatment as well."
The final results of the observational study were published online on September 16 in the Journal of Clinical Psychiatry. Preliminary long-term results were first reported from the American Psychiatric Association meeting in 2013 by Medscape Medical News. The study was supported by Neuronetics Inc.
Long-term Results
As investigators previously reported ( Depress Anxiety. 2012;29:587-596), 62% of patients had achieved symptomatic improvement, and 41% had achieved a complete remission by the end of the acute treatment phase.
More than 91% received treatment over the left prefrontal cortex only throughout the acute treatment phase.
Of these patients, 257 participated in the 12-month, long-term follow-up phase of the study. The mean age of the cohort was 48.3 years, two thirds were women, and more than 93% reported a recurrent course of depressive illness. The mean number of overall antidepressant treatment attempts in the current illness episode was 3.7.
Forty-two sites participated in the study — 32 were private clinical practices, and most of the remainder were academic medical centers. All treatments were delivered using the NeuroStar TMS Therapy System (Neuronetics, Inc; Malvern, Pennsylvania).
Efficacy measures included not only the Clinical Global Impressions–Severity of Illness scale (CGI-S) but also the patient-reported Inventory of Depressive Symptoms–Self Report (IDS-SR) as well as the 9-item Patient Health Questionnaire (PHAQ-9).
Among the 44 patients who met IDS-SR responder criteria at entry into the long-term follow-up study, 56.8% met the same criteria for sustained response at every time point out to 12 months, and 11.45% of this group were found to be in remission at every time point, investigators report.
Some 76 patients were in remission, as determined by IDS-SR criteria, at entry into the long-term follow-up study, and of these, almost 66% met the same criteria for sustained response at every time point, half of them showing sustained remission at every time point.
"Thus, of the 120 patients who were either responders or remitters after acute treatment, 75 patients (62.5%) continued to meet response criteria at all time points," the authors emphasize.
As the authors note, an acute TMS treatment series is usually tapered slowly for a period of several weeks, during which time the number of weekly sessions is progressively reduced.
Most of the tapering was completed during the first 30 days following the end of acute treatment, they add.
Retreatment
From month 2 onward, slightly more than one third of the group required reintroduction of TMS; of these patients, the mean number of TMS sessions was 16.2.
Patients in whom TMS was reintroduced were significantly more likely to experience subsequent clinical benefit from reintroduction of treatment, the authors noted.
Between 56% and 75% of the group remained on some form of antidepressant medication independently of their response to TMS during the acute treatment phase.
Because the response rate achieved in this study was "considerably higher" than response rates seen in research trials in which TMS was used alone, "it may be there is some synergistic effect between TMS and antidepressant medication that seemed to make the medication work better," Dr. Dunner speculated.
At any rate, he added, most patients who get treated with TMS and who fail medical therapy still continue with the medication during the TMS treatment itself.
Treatment is administered in a series of on-and-off stimulations, and if the magnet is placed too close to the facial nerve, "there can be some eye pain and twitching," he added.
If this occurs, technicians simply place the magnet in a more appropriate position.
"Once we've done that, generally, treatment is very well tolerated," Dr. Dunner noted. "And the nice thing about TMS in contrast to other neuromodulating treatments is that patients come in, get the treatment, and they can drive themselves to work or wherever they need to go right after, there is no memory loss with TMS."
Very Important Study
Mark George, MD, professor of psychiatry, radiology, and neurosciences and director of the Medical University of South Carolina Center for Advanced Imaging Research as well as the Brain Stimulation Laboratory in Charleston, told Medscape Medical News that the study — even though naturalistic — is very important.
"We are starting to reconceptualize major depression from an acute illness to one that is more chronic," he added. "And with this shift in focus, it is almost more important that a new treatment works in the long run than whether it works acutely."
For most people with depression, Dr. George added, illness often improves or even remits with the use of either one or a second antidepressant.
But for about a third of individuals who do not respond to 2 antidepressant drug trials, "patients lead lives of misery, and chances of acute response to a third medication are only about 15%," Dr. George said. "It is actually even worse, as these patients often relapse again after an initial response to a medication. Thus, the chance of being remitted at 12 months after an initial response is very low."
In contrast, "if treatment-resistant patients respond to TMS, this study shows that chances of still being undepressed at 12 months were very high at 75% ― higher than we've seen in other studies with just medications (which did not work for these patients) or with electroconvulsive therapy," Dr. George said.
"If patients respond one time to TMS but relapse, they are highly likely to respond again," he added. "Thus, TMS appears to work for many patients both acutely and as a rescue and management tool over time, and effects appear durable. These are encouraging results for patients with depression."
It is speculated that TMS actually changes regional brain circuit connections in a way that makes people more resilient against depression.
"If true," Dr. George observed, "we need to find ways to deliver TMS in order to maximize not only acute response but long-term durability of the antidepressant effect."
The study was funded by a grant from Neuronetics, Inc. Dr. Dunner has received grants from Neuronetics and Cyberonics and has served as a consultant for a number of companies, including Neuronetics. Dr. George reports no relevant financial relationships.
J Clin Psychiatry. Published online September 16, 2014. Abstract
Medscape Medical News © 2014 WebMD, LLC

Send comments and news tips to news@medscape.net.
Cite this: Response to TMS Sustained in Depression - Medscape - Sep 17, 2014.