WASHINGTON, DC — An interim analysis of the ABSORB II trial showed that the acute lumen gain was significantly smaller among coronary artery disease patients who received an everolimus-eluting stent with a bioabsorbable scaffold (Absorb BVS, Abbott Vascular) compared with those who received an everolimus-eluting metallic stent (Xience, Abbott Vascular)[1].
The difference in acute gain was not related to the acute recoil immediately after the stent was implanted, but researchers, led by Dr Patrick Serruys (Imperial College London, UK), suspect it might be related to the "use of smaller balloons at lower pressure for the deployment and dilatation of the bioabsorbable scaffold."
Still, despite the significant but modest difference in the acute performance of the two stents, clinical outcomes and angina status were equivalent between Absorb and Xience stents.
Presenting the results to the media during a morning press conference and later during the late-breaking clinical-trials session at TCT 2014 , Serruys said that following the European CE Mark approval of the Absorb stent, "there was widespread dissemination of the Absorb bioabsorbable scaffold, and this occurred without a randomized comparison with its metallic counterpart."
Given the rapid adoption of the technology, which is still not approved in the US, the researchers opted to report secondary clinical end points at one year in order to provide physicians with some data on the relative safety and efficacy of the device.
In addition to its presentation, the study is published concurrently in the Lancet.
The ABSORB II Trial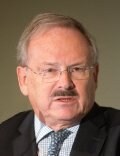 In total, 501 subjects were randomized 2:1 to the Absorb BVS and the Xience stent. The co–primary end points of the ABSORB II study are vasomotion (assessed by the change in mean lumen diameter before and after nitrate administration at three years) and minimum lumen diameter at three years after nitrate administration minus the minimum lumen diameter after nitrates postprocedure.
Regarding the secondary end point, which was reported as part of the interim analysis, exercise performance and angina status assessed by the Seattle Angina Questionnaire were similar. There was a reduction in nitrate use at six months and a trend toward lower nitrate use at one year with Absorb. A post hoc analysis showed cumulative rates of angina were lower in the Absorb-BVS arm at one year. Also, if angina episodes occurring in the index admission or in the seven days after the stent implantation were excluded, angina rates were lower in the Absorb-BVS arm.
Regarding MI, the rates were 4% and 1% in the Absorb and Xience arms, respectively (p=0.06), and this difference was primarily the result of periprocedural non-Q-wave MIs. There were two reported cases of stent thrombosis, one acute with 24 hours of stent implantation and the second on day 2, in the Absorb-treated patients.
Making Sense of the Results
Commenting on the results for heartwire , Dr Dan Simon (University Hospitals Case Medical Center, Cleveland, Cleveland, OH) said this is the first peek of data involving the most modern drug-eluting stents. The results, he said, are in line with what he expected—that there would be a trade-off in terms of acute performance and a slight excess of MI—but noted that the trial is underpowered to make definite conclusions.
"The question is whether or not this trade-off carries with it any long-term risks," said Simon. He added that clinical investigators in ABSORB II are not blinded to treatment and that angina is a very soft end point. "Angina is tough," he said. "It depends on when you ask and how you ask. We've learned the hard way about soft end points and unblinding, so we really need adequately powered trials to assess functional ischemia and angina in a robust way."
At present, the safety of the Absorb stent remains up in the air, said Simon. Investigators recently published data from the GHOST-EU registry of 1189 patients treated with the Absorb stent[2]. In that analysis, the cumulative incidence of probable/definite stent thrombosis was 1.5% at 30 days and 2.1% at six months.
Simon said that while a disappearing scaffold seems an intuitively attractive idea to physicians and patients, medicine doesn't operate on intuition. "Just because it disappears is not good enough," he said. Should the Absorb stent become available in the US, for him to make the switch, the company and its researchers would have to show that the stent beats currently available stents for reducing angina and is associated with low rates of stent thrombosis.
"This is a reasonable 500-patient trial, and it shows that it's worthwhile going forward into larger studies," he said. "It's nice to finally see a randomized trial. It's a start, but I would stay tuned for trials coming over the next few years."
Dr James Hermiller (St Vincent's Heart Center, Indianapolis, IN), who was also not affiliated with the study, said he believes the sneak peek at ABSORB II is reassuring in that there don't appear to any safety issues or drop-off in efficacy, such as a need for treating restenosis or target lesion revascularization. Mechanistically, the stent didn't recoil more than the Xience stent (the first-generation Absorb BVS stent did recoil to a greater extent), another reassuring finding.
He told heartwire that he is not too concerned about the rates of stent thrombosis observed in the GHOST-EU registry, mainly because the clinical events aren't adjudicated and it's difficult to know what events are being captured. "At least for me, we know with randomized trials they're going to capture events, and they're going to be adjudicated. We'll just have to wait and see for bigger numbers."
As for the angina outcomes, Hermiller said the trial results are intriguing, especially since stent patients who return to the hospital with chest pain are expensive to treat, given their utilization of resources. He believes that future studies— ABSORB III is completed and ABSORB IV is enrolling—will test the stent in larger numbers of patients and really drill down on angina in an attempt to confirm the validity of the outcomes.
Serruys reports no conflicts of interest. Hermiller reports consulting/honoraria from Abbott Vascular, Boston Scientific, AstraZeneca, Daiichi-Sankyo/Eli Lilly, and St Jude Medical. Simon reports consulting/honoraria from Medtronic, Cordis, and Merck/Schering-Plough.
Heartwire from Medscape © 2014  Medscape, LLC

Cite this: ABSORB II Sneak Peek: Bioabsorbable Stent Is as Safe and Effective as Xience Stent - Medscape - Sep 14, 2014.