WASHINGTON, DC — New European registry data on transcatheter aortic-valve replacement (TAVR) in patients at lower surgical risk than those studied in the pivotal randomized trials offers the tantalizing suggestion that outcomes may be very similar among patients treated by the newer, less invasive approach and those treated by surgical aortic-valve replacement (SAVR).
Dr Marco Barbanti (Ferrarotto Hospital, University of Catania, Italy) presented a propensity-matched analysis from more than 7600 patients in the Italian OBSERVANT registry here today at TCT 2014 .
OBSERVANT is a cohort study that enrolled all patients admitted to multiple hospitals in Italy between December 2010 and June 2012 with a diagnosis of aortic-valve stenosis requiring (and eligible for) an intervention, either TAVR or SAVR. For the analysis, Barbanti and colleagues excluded any patients undergoing concomitant CABG or PCI, transapical TAVR, or patients with porcelain aorta or hostile thorax. Patients treated with either of the two procedures were then propensity matched, leaving 650 patients undergoing isolated SAVR and 650 undergoing isolated transcatheter aortic-valve implantation (TAVI). In the TAVI group, the analysis included primarily patients treated with the Sapien (Edwards Lifesciences) or CoreValve (Medtronic) devices, Barbanti noted.
Importantly, patients in OBSERVANT were at markedly lower risk than those treated in the Sapien and CoreValve randomized trials that led to US regulatory approval of these devices. In PARTNER A and the CoreValve High-Risk study, mean logistic EuroScores were 29 and 19, respectively. In OBSERVANT, the mean EuroScore was 9.8.
Thirty-Day and One-Year Results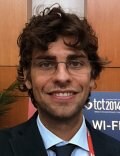 At 30 days, differences between groups were as expected: vascular complications and new pacemaker implantations were higher among the transcatheter-valve group, while incidence of renal failure and blood transfusions were higher among the surgically treated patients.
At one year, however, investigators saw no differences between the two groups in mortality, major adverse cardiac and cerebrovascular events (MACCE), or rehospitalizations for cardiac causes, or for heart failure specifically.
12 Month Outcomes: SAVR vs TAVR
| | | | |
| --- | --- | --- | --- |
| End point | SAVR (%) | TAVR (%) | p |
| Mortality | 13.3 | 13.1 | 0.936 |
| MACCE | 17.6 | 17.1 | 0.831 |
| Rehospitalization for cardiac causes* | 21.4 | 20.3 | 0.672 |
| Rehospitalization for heart failure* | 17.6 | 17.2 | 0.911 |
*Competing risk regression analysis (Fine and Gray method)
To heartwire , Barbanti stressed that surgical valve replacement is the "gold standard" in intermediate- and low-risk patients, and ongoing randomized trials, including PARTNER II A and SURTAVI , will determine the future role of TAVI in these patients.
"Right now, I'm not suggesting that TAVI should be used in patients at intermediate risk, but this is a [snapshot] of what is happening in Europe. The trend is this."
That's happening because of the growing "comfort" physicians have with the interventional procedure and the accepted view that the results of the trials in high-risk patients can't help but get better as operators transition lower-risk patients.
"My personal feeling is that in the future, even intermediate-risk patients will be treated with TAVR, and I'm sure it won't be superior to SAVR for certain outcomes, but for mortality, I think they will probably be the same."
TAVI will also likely reduces costs and length of stay, which is a key means of reducing the costs of these expensive procedures, he said.
While OBSERVANT is not capturing patient preferences, Barbanti said that his own experience has been that patients come in requesting a less invasive approach over surgery. The policy at his hospital is to not offer TAVI to patients who are young and healthy in whom "there is absolutely no question that they should undergo SAVR" or to patients too elderly and frail, in whom he says "we prefer to treat these patients with balloon valvuloplasty."
For the time being, Barbanti believes the three reasons for not extending TAVR beyond high surgical-risk patients are the excellent outcomes with SAVR, the high cost of TAVR, and the lack of durability data. "We [assume] these [TAVR] valves will last as long as biological surgical valves, but we have to act on evidence-based medicine."
Some Caveats
Following Barbanti's presentation, Dr Neil Moat (Royal Brompton Hospital, London, UK) pointed out that the OBSERVANT analysis is comparing the entire spectrum of SAVR patients with a subset of TAVR patients—those undergoing a transfemoral procedure, but not those treated via a different access route, potentially introducing some bias.
In response, Barbanti agreed that this is "one of the most important limitations of this particular study" (others include the fact that patients were not randomized and there was no core lab analysis). But by excluding nontransfemoral patients, he explained, the analysis zeros in on patients who are truly eligible for a fully transfemoral procedure.
"My personal feeling is that as long as we are moving forward to a lower-risk patient, and with [the advent of] new devices, transfemoral will probably be used in . . . more than 80% of patients," he said.
Indeed, Dr Marty Leon (Columbia University, New York, NY), also commenting on OBSERVANT, noted that in the US SAPIEN3 trial, having enrolled more than 1500 patients to date, more than 90% of patients have been treated via a transfemoral approach.
"And at Columbia over the last year, 94% of procedures have been transfemoral, so transfemoral is really becoming the norm. It's really the exception that you have to undergo another [kind of transcatheter] procedure," Leon said.
Cardiovascular surgeon Dr Robert Guyton (Emory University, Atlanta, GA) had another word of caution for his interventional colleagues growing increasingly excited about using transcatheter procedures in younger, healthier patients. Put a transcatheter aortic valve in a 40-year-old patient, he warned, and a physician may be putting another one in when the patient is 50 and another one when he's 60. By the time he's 70, "you're looking at a complex root-repair surgery."
Dr Fulvia Seccareccia (Istituto Superiore di Sanità, Rome) and Dr Corrado Tamburino (Ferrarotto Hospital) were key collaborators in this OBSERVANT analysis, Barbanti noted.
Barbanti had no disclosures.
Heartwire from Medscape © 2014  Medscape, LLC

Cite this: TAVR vs Surgery in Intermediate-Risk Patients: Clues From OBSERVANT - Medscape - Sep 13, 2014.