Case Diagnosis
Optic disc hypoplasia is characterized by a small optic disc. There may be abnormal branching of the retinal vessels. This patient's optic discs were normal in size.
Anterior ischemic optic neuropathy typically occurs in patients who have small optic discs with small cups. Optic disc edema must be present in the acute phase to result in symptomatic visual loss. This patient's optic discs and cups were larger, with some cupping inferiorly (Figure 2).
Chiasmal compression typically causes preferential loss of the temporal visual field. This patient's visual field loss was largely binasal on each side, making chiasmal compression unlikely.
There was no evidence of optic disc drusen on funduscopy. Patients with disc drusen typically have small optic discs with small cups, unlike the findings in this patient.
Cortical visual loss would be expected to cause homonymous type visual field defects, not the binasal defects found in this patient.
Although most patients with glaucoma have high IOPs, some may have normal pressures, and, in others, the IOP may have been elevated previously but never measured. The optic disc cupping conforming to the areas of visual field loss and the normal color of the remaining neuroretinal rim are hallmarks of glaucomatous optic neuropathy.
Clinical Course
Optical coherence tomography of the retinal nerve fiber layer confirmed reduced measures in each eye (Figure 3).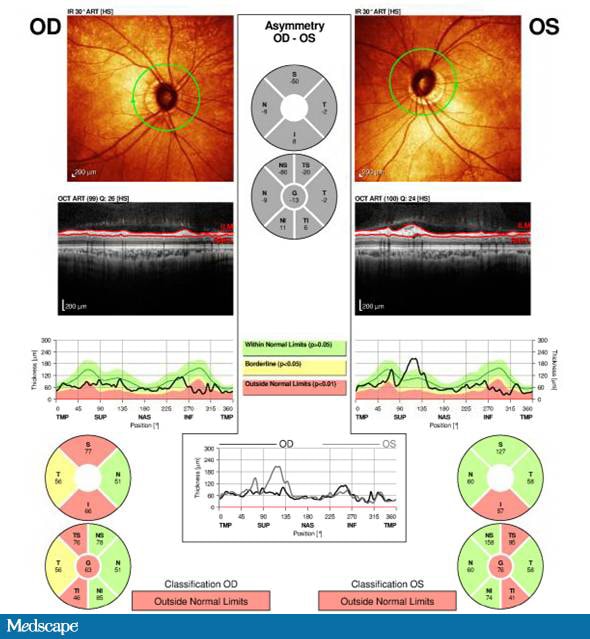 One month later, the IOP was 23 mm Hg in each eye. She was started on latanoprost drops, 1 drop daily to each eye.
Medscape Ophthalmology © 2014  WebMD, LLC

Cite this: What's Happening to My Eyesight? - Medscape - Sep 11, 2014.