Clinical Presentation
A 31-year-old Asian woman experienced decreased vision in both eyes. She said she noticed this first when applying eye liner and looking in the mirror. She had an eye examination 5 years before for glasses and had a history of myopia. She said visual field testing at that time was normal on both sides.
She does not drink alcohol or smoke tobacco. There is no family history of visual loss. She is currently taking a multivitamin and no prescription medications.
Ophthalmic Evaluation
Findings of the patient's eye examination included the following:
Visual acuity was 20/20 in both eyes. Present correction is -5.00 +0.50 x 180 for the right eye and -4.75 +0.75 x 180 for the left eye.

Color vision with Ishihara pseudoisochromatic plates was 10/10 in both eyes.

Pupils were brisk, with no relative afferent defect.

Automated perimetry showed visual field defects in each eye (Figure 1).

Intraocular pressure (IOP) was 19 mm Hg in each eye.

Slit lamp examination of the anterior segment was normal.

Funduscopic examination showed slightly tilted optic discs in each eye (Figure 2).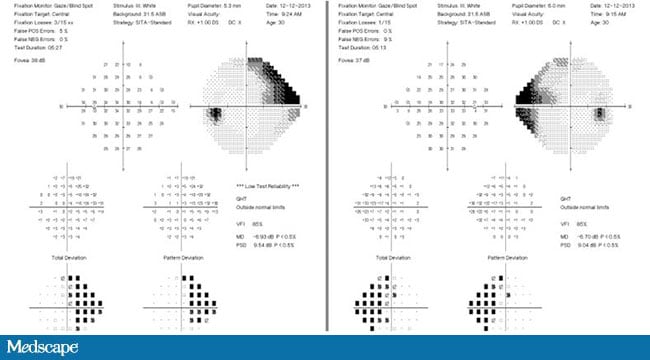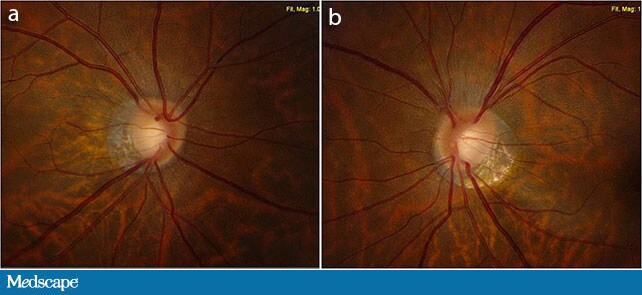 Medscape Ophthalmology © 2014  WebMD, LLC

Cite this: What's Happening to My Eyesight? - Medscape - Sep 11, 2014.