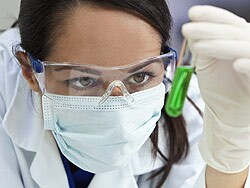 Researchers were trying to find agents with activity against NANB hepatitis well before its identification. One pilot study published in 1985[6] evaluated acyclovir as treatment for chronic NANB hepatitis. It didn't work. In 1986, results of a small noncontrolled trial were published describing activity of interferon alfa against NANB hepatitis. Of note, these results were published 3 years before identification of HCV.[7]
Interferon alfa was approved for treatment of HCV in 1991 followed by combination ribavirin/interferon alfa in 1998 and formulations of pegylated interferon alfa in 2001 and 2002.[2,8] Interferon alfa was associated with modest sustained virologic responses.[2] Ten years later, a new era of HCV treatment began.
In 2011, the direct-acting antivirals (DAAs) telaprevir and boceprevir were approved for HCV, increasing virologic response rates to about 70%.[8,9] And in 2013, sofosbuvir and simeprevir were approved for HCV 1 infection, resulting in even higher sustained virologic responses.[9]
Recently published studies evaluating new yet unapproved interferon-free DAA regimens have reported sustained virologic responses up to 99% in patients with HCV genotype 1 infection compared with standard-of-care regimens.[10]
Is this the beginning of the end of HCV?
Medscape Gastroenterology © 2014  WebMD, LLC

Cite this: Quiz: How Much Do You Know About the History of Hepatitis C? - Medscape - Sep 16, 2014.