BARCELONA, SPAIN — The trial's one-year outcomes have given no more compelling reason to recommend thrombus aspiration with PCI in ST-elevation MI than did its previously reported 30-day results.
In the randomized Thrombus Aspiration in ST-Elevation Myocardial Infarction in Scandinavia (TASTE) trial, adding the popular catheter-based procedure to primary PCI did not significantly improve all-cause mortality, hospitalization for MI, or even the risk of stent thrombosis, nor did it improve a composite of those three end points 12 months after the procedure[1].
Although no subgroup in the trial was seen to derive preferential benefit from thrombus aspiration, it's conceivable that it would help in selected patients; still, it can't currently be recommended as a routine part of primary PCI, concluded Dr Bo Lagerqvist (Uppsala University, Uppsala, Sweden) when presenting the TASTE one-year results on September 2 here at the European Society of Cardiology (ESC) 2014 Congress . He is also first author on its New England Journal of Medicine report that was published the previous day.
One-year mortality was a prespecified secondary end point in the trial; the 30-day-mortality primary end point also didn't differ between the trial's 3621 patients assigned to receive thrombus aspiration with primary PCI and the 3623 assigned to standard primary PCI, as presented and published a year ago and covered then by heartwire . The patients came predominantly from Sweden but also from Denmark and Iceland.
Hazard ratio (95% CI) for One-Year Outcomes, Primary PCI with vs without Thrombus Aspiration in TASTE
| | | |
| --- | --- | --- |
| End points | HR (95% CI) | p |
| All-cause mortality | 0.94 (0.78–1.15) | 0.57 |
| MI rehospitalization | 0.97 (0.73–1.28) | 0.81 |
| Stent thrombosis | 0.84 (0.50–1.40) | 0.51 |
| Death, MI rehospitalization, or stent thrombosis | 0.94 (0.80–1.11) | 0.48 |

Hopes for TASTE had been built partially on results of the TAPAS trial, which compared the intervention with vs without thrombus aspiration in about 1000 patients and in which patients with the added procedure showed significant improvement in a measure of myocardial perfusion at one year. They also pointed to significantly lower risks of death and of death or nonfatal MI, but its investigators acknowledge that the trial was far underpowered for clinical end points, as reported by heartwire in 2008.
"TAPAS was a relatively small, single-center trial with a very large effect size, so most felt it needed to be replicated in a large trial," observed Dr Sanjit Jolly (McMaster University, Hamilton, ON) in an interview conducted by email. "TASTE did not show a reduction in mortality, but it is important that the event rate was less than half originally planned and so was underpowered for modest reductions in mortality despite larger sample size."
Given these latest results, he said, "interventional cardiologists . . . will use thrombectomy to optimize their angiographic results, similar to any other tool in the cath lab, such as balloon or stent."
As the assigned discussant following Lagerqvist's presentation of TASTE, Dr Gilles Montalescot (Hôpital Pitié-Salpêtrière, Paris, France) acknowledged that despite little clinical trial support, thrombus aspiration has been popular because, among other reasons, it is perceived to treat the cause of acute MI. "It's attractive, it's easy to use, it's probably safe. But it's not enough."
Given the latest data, the strategy can be either abandoned or in some way continued, he said. "We have two options, and it's always difficult to change practice when you are told what you have done for years is probably not the right thing to do."
But it shouldn't be abandoned pending completion of a large randomized trial that is expected to be reported next year, he said. The Trial of Routine Aspiration Thrombectomy With Percutaneous Coronary Intervention versus PCI Alone in Patients With STEMI Undergoing Primary PCI (TOTAL) has randomized >10 000 patients and is expected to be powered for clinical end points.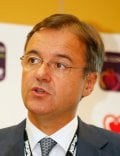 On the other hand, Montalescot asked, "Should we be more selective? Probably yes. Take the early presenters, the large thrombus burden, the TIMI 0 flow, not the TIMI 3 flow. Shall we combine aspiration and local GPIs [locally administered, not intravenous, glycoprotein IIb/IIIa receptor inhibitors]? Possibly yes, especially when we have a large thrombus burden."
Jolly, who is a co–principal investigator for the upcoming TOTAL trial, agrees that "clinicians should reserve judgment and await the results of the largest trial examining this question." TOTAL has a primary end point of cardiovascular death, recurrent MI, cardiogenic shock, or new or worsening NYHA class 4 heart failure assessed at 30 days and out to six months.
He also agrees that "patients with high thrombus burden may benefit more from thrombectomy, but further data are needed. Less than a third of patients had high thrombus burden in TASTE, compared with about half in TAPAS." With its larger sample size, Jolly said, TOTAL "will have increased power to detect a benefit of thrombectomy in the high-thrombus-burden subgroup."
TASTE was funded in part by Terumo Medical, Medtronic, and Vascular Solutions, from which Lagerqvist discloses receiving grants for his institution. Disclosures for the other authors are available at nejm.org. Montalescot reports receiving consulting fees from Bayer, Boehringer Ingelheim, Cardiovascular Research Foundation, Europa Organisation, the Gerson Lehrman Group, Iroko Cardio International, Lead-Up, Luminex, McKinsey, Remedica, Servier, the TIMI Study Group, WebMD, Wolters Kluwer Health, Bristol-Myers Squibb, AstraZeneca, Biotronik, Eli Lilly, the Medicines Company, Menarini Group, Roche, Sanofi, Pfizer, Daiichi-Sankyo, and Medtronic; and grant support from Bristol-Myers Squibb, AstraZeneca, Biotronik, Eli Lilly, the Medicines Company, Menarini, Sanofi, Pfizer, Roche, Accumetrics, Medtronic, Abbott Laboratories, Daiichi-Sankyo, Nanosphere, and Stentys. TOTAL was partially funded by Medtronic and St Jude Medical, from which Jolly discloses receiving grants for his institution; Jolly also reports receiving speaker's fees from AstraZeneca.
Heartwire from Medscape © 2014  Medscape, LLC

Cite this: TASTE at One Year: No Gains from Thrombectomy in PCI for STEMI - Medscape - Sep 03, 2014.