BARCELONA, SPAIN — Giving ticagrelor (Brilinta, AstraZeneca) to STEMI patients in the ambulance en route to a PCI-capable hospital does not improve coronary reperfusion preprocedure, but it may reduce the early risk of stent thrombosis, investigators for the ATLANTIC study said here[1].
Stent-thrombosis rates were significantly reduced at both 24 hours and 30 days among patients who received ticagrelor in the ambulance as compared with patients who received the drug in the cath lab. Importantly, bleeding rates were no different between groups, Dr Gilles Montalescot (Hôpital Pitié-Salpêtrière, Paris, France) reported during an afternoon hot-line session here at the European Society of Cardiology 2014 Congress .
ATLANTIC enrolled 1870 STEMI patients initially managed by ambulance physicians/personnel who determined the patient needed primary PCI. Patients were then randomized to a placebo loading dose and given a ticagrelor 180-mg loading dose once they arrived at the PCI hospital, or they were given 180-mg ticagrelor during ambulance transfer.
For both of the trial's co–primary end points (no ST-segment resolution >70% and no TIMI 3 flow in the infarct-related artery) there were no differences between treatment strategies. That was true for the trial as a whole, as well as for range of subgroups including MI location, Killip classification, and GP IIb/IIIa use before angiography. The only exception was morphine use for the index PCI: here patients who did not receive morphine appeared to benefit from prehospital ticagrelor use.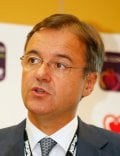 For stent thrombosis, however, patients given ticagrelor in the hospital had definite stent-thrombosis rates of approximately 1% (11 out of 952 patients)—a rate very similar to what was seen in the pivotal PLATO trial. By contrast, only two out of 906 patients who received the drug during ambulance transfer had definite stent thrombosis, a rate of 0.2%.
Importantly, no differences in major and/or minor bleeding were seen between the two strategies.
"Prehospital ticagrelor administration a short time before PCI in patients with ongoing STEMI is safe but does not improve pre-PCI coronary reperfusion. It may, however, reduce the risk of post-PCI stent thrombosis," Montalescot concluded.
Fast Transfers Reflect "Excellent" Practice
ATLANTIC results were published simultaneously in the New England Journal of Medicine. In the paper, Montalescot et al note that other agents, including fibrinolytics and GP IIb/IIIa inhibitors, have demonstrated improved coronary reperfusion and outcomes when given prehospital, typically during ambulance transfer. Ticagrelor, at least in ATLANTIC, did not meet that bar. By the same token, pretreatment with GP IIb/IIIa inhibitors in this setting was also associated with increased bleeding, something ticagrelor was not.
The authors also highlight some unique aspects of the study that may have limited their ability to detect a difference between groups. For one, the morphine use in half the patients may have delayed the absorption of ticagrelor. As well, time from symptom onset to PCI was very short (159 minutes on average and just 45 minutes from randomization in the ambulance to angiography), "indicating excellent practice, but this may have blunted the drug effect and may not reflect routine practice."
Indeed, Montalescot himself said he was "impressed by how fast the patients called [for an ambulance], how fast the ambulance went to the place, how fast they transferred the patients." But he also pointed out that one-quarter of the patients actually were transferred from non-PCI hospitals, hinting at a role for ticagrelor use at first-contact hospitals who must prep patients for transfer.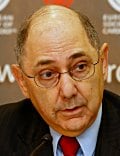 Asked by heartwire whether he thought ATLANTIC had any relevance to the US and other countries, Dr Elliott Antman (Harvard Medical School, Boston, MA) observed: "That would require allowing our EMTs to start giving things that we're currently not approving them to give." As well, he continued, "There are physicians in most ambulances in Paris. You have to imagine Gilles Montalescot sitting in the ambulance of a patient who's going to Hôpital Pitié-Salpêtrière."
But Antman was intrigued by the idea of non-PCI hospitals preloading patients with ticagrelor before transferring them to a center that performs primary PCI. "I think the burden of platelet aggregates is a little bit more reduced in the prehospital group, and maybe that's why they saw the stent-thrombosis reduction," he speculated. "When you have STEMI, you obviously have a ruptured plaque and you have not only the coagulation cascade activated, but platelets begin to aggregate and they may contribute to the thrombotic occlusion."
When a stent is inserted, he continued, this too stimulates the coagulation cascade. "But if you've already debulked the platelet aggregates a bit by prehospital ticagrelor, the amount of aggregation that you're going to have to deal with when the stent goes in just by default will be less, and therefore you may very well see less stent thrombosis."
That effect may even be enhanced with more protracted transfer times, he suggested, in which case—for example—it would be "applicable to rural Montana."
Montalescot reports receiving consulting fees from Bayer, Boehringer Ingelheim, Cardiovascular Research Foundation, Europa Organisation, the Gerson Lehrman Group, Iroko Cardio International, Lead-Up, Luminex, McKinsey and Company, Remedica, Servier, the TIMI Study Group, WebMD, Wolters Kluwer Health, Bristol-Myers Squibb, AstraZeneca, Biotronik, Eli Lilly, the Medicines Company, Menarini Group, Roche, Sanofi, Pfizer, Daiichi-Sankyo, and Medtronic; and grant support from Bristol-Myers Squibb, AstraZeneca, Biotronik, Eli Lilly, the Medicines Company, Menarini, Sanofi, Pfizer, Roche, Accumetrics, Medtronic, Abbott Laboratories, Daiichi-Sankyo, Nanosphere, and Stentys. Disclosures for the coauthors are listed in the article.
Heartwire from Medscape © 2014 Medscape, LLC

Cite this: Ticagrelor (Brilinta) Prehospital: No Reperfusion Boost, Less Stent Thrombosis: ATLANTIC - Medscape - Sep 02, 2014.