Editor's Note: This post originally appeared at the Centers for Disease Control and Prevention's CDC Director Blog.
For more than four decades, Ebola virus had only been diagnosed in Central or Eastern Africa.
Then late this past March, the first cases of Ebola began appearing in a surprising part of the continent. The Ministry of Health in Guinea notified the World Health Organization (WHO) of a rapidly evolving outbreak of Ebola virus disease. The outbreak in Guinea was the first sign that the virus had made the jump across the continent.
Ebola then spread quickly to Sierra Leone and Liberia, and then to Nigeria.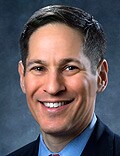 As the world learned of the cases, CDC began receiving questions from American hospital labs. They were looking for guidance on how to handle testing for patients who had recently returned to the United States from West Africa with potential Ebola symptoms.
If US hospitals were to run laboratory tests on these patients, how could they be sure their staff could safely handle materials that might contain this dangerous virus? Would they need the kind of personal protective equipment that they saw CDC scientists using when they were testing for Ebola?
In order to ensure the safety of laboratory staff and other healthcare personnel collecting or handling specimens, we recommend that they follow established OSHA bloodborne pathogens standards.
During specimen collection, we recommend using personal protective equipment such as full face shield or goggles, masks to cover all of the nose and mouth, gloves, and fluid-resistant or -impermeable gowns. And we note that additional personal protective gear might be required in certain situations.
During laboratory testing, we recommend using personal protective equipment such as full face shield or goggles, masks to cover all of the nose and mouth, gloves, fluid-resistant or -impermeable gowns, and use of a certified class II Biosafety cabinet or Plexiglas splash guard, as well as manufacturer-installed safety features for instruments.
If hospitals follow OSHA standards, and if lab personnel use appropriate personal protective equipment and adhere to engineered standards, they will not need additional safety measures.
Just a note that the additional personal protective gear and special equipment used by CDC lab workers in our BSL4 labs are because of the additional testing and experiments we must do to further investigate the virus. Those experiments include virus isolation in cell culture, small animal studies to determine pathogenicity, and production of reagents for use by CDC and labs around the world.
We have advised hospitals that if they have reason to believe that one of their patients might be infected with Ebola -- because of recent travel to West Africa and appearance of symptoms -- then they need to talk to their state and/or local health department, and to us at CDC, to determine the need for lab testing. If lab testing is needed, CDC will provide appropriate shipping guidelines.
We have found no Ebola virus in any of the specimens received and tested at CDC. Lab-related inquiries to CDC have continued to increase.
To respond, CDC issued "Interim Guidance for Specimen Collection, Transport, Testing, and Submission for Persons Under Investigation for Ebola Virus Disease in the United States," with specific guidelines for collecting and transporting specimens.
The test for Ebola is not simple. It's a real-time assay, commonly called RT-PCR, or reverse transcription polymerase chain reaction. Although we get the results quickly, contamination and false positives are possible if we're not scrupulously careful at every step of the process.
Here in the United States, CDC is working with the Department of Defense to expand the number of laboratories able to test for Ebola by using the nation's Laboratory Response Network, made up primarily of local and state health departments.
And in Africa, we're working with international partners, WHO, the Department of Defense, and the National Institutes of Health to scale up laboratory testing there.
Laboratory testing is a critical element in our fight to contain the outbreak of Ebola in West Africa and to protect people in Africa and around the world.
We've developed this poster with the information you need if you or your colleagues have a patient who should be tested for Ebola. CDC staff stands ready to answer questions and concerns 24/7 at 770-488-7100.
Public Information from the CDC and Medscape
Cite this: Laboratory Guidance on Ebola - Medscape - Aug 29, 2014.