Schizophrenia is one of the severest of mental illnesses and is typically chronic, but new research suggests happiness in these patients is an attainable treatment goal.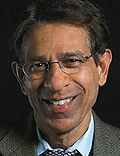 A study conducted by investigators at the University of California, San Diego, found that although outpatients with schizophrenia reported lower levels of happiness than their healthy counterparts, 38% of them said they were happy all or most of the time. In addition, happiness levels were correlated with quality of life and factors such as perceived stress, resilience, and optimism.
Interestingly, happiness was not associated with severity of symptoms, duration of illness, physical health, or cognitive functioning.
"The notion is that this is essentially an incurable disease that is associated with a life sentence of unhappiness," principal investigator Dilip V. Jeste, MD, distinguished professor of psychiatry and neurosciences and associate dean for Healthy Aging and Senior Care at the University of California, San Diego, told Medscape Medical News.
"Yet, we found in our study that although it was a minority of people with schizophrenia that reported high levels of happiness, it was a substantial minority," added Dr. Jeste, who is also past president of the American Psychiatric Association.
"So we should not only focus on symptoms of what is wrong with a patient but also on what their strengths are and how other things in life affect them."
The study was published online August 18 in Schizophrenia Research.
Substantial Heterogeneity
The study included 72 outpatients between the ages of 23 and 70 years with chronic schizophrenia or schizoaffective disorder (54% women; mean age, 50.1 years) and 64 matched participants without any neuropsychiatric disorder (healthy controls group; 63% women; mean age, 50.7 years).
The mean duration of illness for the schizophrenia group was 24.4 years, and the mean age of onset was 25.8 years.
A total of 24 of the patients were taking more than 1 antipsychotic; 9 were not taking any. The most common of these medications prescribed was risperidone (Risperdal, Janssen Pharmaceuticals, Inc) (n = 17), followed by clozapine and aripiprazole (Abilify, Otsuka Pharmaceutical Co, Ltd) (n = 15 for each).
"Despite continued treatment with antipsychotic medications, the individuals with schizophrenia manifested a mild to moderate level of psychopathology," report the investigators.
Four items from the Center for Epidemiologic Studies Depression (CES-D) scale were used to measure levels of happiness.
Also used were the Scale for Assessment of Positive Symptoms (SAP), the Scale for Assessment of Negative Symptoms (SANS), and the Brief Symptom Inventory–Anxiety (BSI-A) subscale to measure severity of psychopathology; the Perceived Stress Scale; the 10-item version of the Connor-Davidson Resilience Scale; the Hardy-Gill Resilience Scale; the revised Life Orientation Test to measure optimism; the Duke Social Support Index; and the Personal Mastery Scale.
In addition, the mental health component of the Medical Outcomes Study 36-item Short Form (SF-36) was used to measure quality of life, the SF-36 Physical Component score was used to measure physical functioning, and an in-person version of the Telephone Interview for Cognitive Status–Modified and subtests from the Delis-Kaplan Executive Function System were used to measure cognitive functioning.
Results showed that those in the schizophrenia group reported lower happiness scores on the CESD vs the healthy controls group (7.7 vs 11.0, P < .001). In addition, 37.5% of those with schizophrenia reported being happy all or most of the time, vs 82.8% of the healthy controls group.
"People with schizophrenia are clearly less happy than those in the general population at large, but this is not surprising. What is impressive is that almost 40% of these patients are reporting happiness," lead author Barton W. Palmer, PhD, professor of psychiatry at the University of California, San Diego, said in a release.
In addition, the researchers report that there was "substantial heterogeneity."
Achievable Goal
Lower perceived stress and higher levels of personal mastery, optimism, and resilience were significantly associated with higher happiness scores in the group with schizophrenia (all, P < .001).
The healthy controls group showed the same correlations for all of the above factors except for resilience.
Both groups also showed a significant correlation between higher levels of happiness and higher quality of life scores on the SF-36 Mental Health Component (P < .001 for both groups).
There were no significant associations found between happiness in the individuals with schizophrenia and SAP, SANS, or BSI-A scores. And neither group showed an association between happiness and physical or cognitive functioning, duration of illness, age, education level, or social support.
The overall findings suggest that the scope of both research and clinical care for schizophrenia should be expanded beyond just managing psychotic and cognitive symptoms, write the investigators.
In addition, "an important avenue for future clinical research" would be to examine the feasibility and effectiveness of psychotherapies that target positive coping factors such as resilience and optimism in individuals with schizophrenia, they note.
"People tend to think that happiness in schizophrenia is an oxymoron," said Dr. Jeste in a release.
"Without discounting the suffering this disease inflicts on people, our study shows that happiness is an achievable goal for at least some schizophrenia patients. This means we can help make these individuals' lives happier."
Raises Questions
"When we look at this devastating, chronic illness, we usually focus on negative, positive, cognitive, and affective symptoms," Ofer Agid, MD, associate professor of psychiatry at the University of Toronto, Canada, and from the Schizophrenia Program at the Center for Addiction and Mental Health in Toronto, told Medscape Medical News.

"And we try to treat for these. However, this study suggests that another domain we should focus on or even measure is the happiness domain. That's not quality of life, which is an objective measure. Happiness is measuring how satisfied a patient is with his life," he said.
Dr. Agid, who was not involved with the research, published his own study in 2012 in Schizophrenia Research about happiness in first-episode schizophrenia. He and his colleagues examined 31 adult patients and 29 healthy peers and found that both groups had comparable levels of happiness.
In addition, higher happiness scores for the patients in the schizophrenia group were associated with greater life satisfaction, higher social and occupational functioning, and less social withdrawal. The scores were not associated with cognitive functioning.
"Their study is along the same lines as our study; they continue the same line of thought. And both of the studies deal with a new dimension in schizophrenia, which is focusing on happiness," he said.
Dr. Agid noted that there already exists several validated scales for measuring happiness/satisfaction with life. However, it is rarely used for these patients.
"It's a little surprising that this is not measured more. Sometimes when you ask these questions, you get surprising results. And the most important thing is, what do you do with these results and how do you intervene?" he asked.
"Also, we should ask ourselves: what happens if we discover that patients with schizophrenia are actually happy with their life? Should we intervene to make their life better according to our standards and values? It brings up many provocative questions."
The study authors and Dr. Agid have reported no relevant financial relationships.
Schizophr Res. Published online August 18, 2014. Abstract
Medscape Medical News © 2014 WebMD, LLC

Send comments and news tips to news@medscape.net.
Cite this: Happiness an Attainable Goal in Schizophrenia - Medscape - Aug 26, 2014.