A unique do-it-yourself mental health screening kiosk, available in a retail setting, is now open for business. But at least one expert is skeptical about whether this initiative will mean a greater uptake in psychiatric services by those who need help the most.
According to organizers, the Behavioral Health Kiosk is the United States' first mental health screen of its kind. The kiosk allows members of the public to use a mounted tablet to access information about mental health in general and help determine whether they may have symptoms of a mental health disorder that warrants referral to a clinician. It also offers treatment resources, including trained staff.
"For those who are engaging in this system, there are people right next door who are able to help them then and there ― or direct them to others in their local area who can speak more about these issues," Michelle Holmberg, director of programs at Screening for Mental Health Inc (SMH), one of the partners in this endeavor, told Medscape Medical News.
"Having people check up on their mental health and doing it in a public setting helps to reduce stigma and raise awareness. You're saying that this community really cares about an individual's mental health."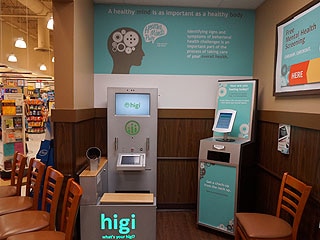 The other organizations behind the Behavioral Health Kiosk, which launched last week inside Brown's ShopRite QCare Clinic in Philadelphia, Pennsylvania, include Philadelphia's Department of Behavioral Health and Intellectual disAbility Services (DBHIDS), Scattergood Behavioral Health Foundations, and the Family Practice and Counseling Network (FPCN), joined together to bring "high- quality, free, and anonymous screenings" to the retail customer.
The idea for the kiosk came about as part of the 2014 Scattergood Design Challenge. FPCN, which operates QCare, agreed to pilot the Challenge's winning design. The aim of the contest was to find ways of developing a sustainable mental health component inside a retail clinic.
Many Don't Seek Help
DBHIDS and SMH worked together to submit the Behavioral Health Kiosk, which won the Design Challenge. SMH already has an online, evidence-based screening tool, which the company reports was used by 460,000 individuals in 2013.
"Research shows that early intervention for behavioral health needs increases the chances of successful treatment and recovery," said SMH in a release.
The organization points out that 1 in 4 adults in the United States have a diagnosable mental health disorder ― but up to 70% of these people do not seek help.
"Behavioral health screening tools can serve as a non-threatening and effective first step to treatment," they write. The kiosk uses many of the components of SMH's online tool.
The new setup, which is located at a counter inside QCare's waiting area, allows individuals older than 17 years to stand and use a touchscreen on a mounted tablet to access information in English or in Spanish. The tablet also has privacy settings activated so that customers on either side of the user cannot see what is on the screen.
"If you're walking up with your grocery cart or if you're stopping into the clinic, this area is just right there and ready to be used," said Holmberg.
Friendly Introduction
The kiosk's first icon offers an interactive education option. Using a game format, customers can learn more about common behavioral health disorders.
The game will offer a "friendly introduction" to mental health through the lens of overall well-being. There are also icons on the tablet that deal with screenings and additional local resources, which can be printed out or emailed to the user's home computer.
Holmberg noted that the tablet offers self-screenings but is not a diagnostic tool. "These are meant to be educational and offer validated mental health information."
DBHIDS and SMH worked together to make sure the QCare staff was fully trained on how to proceed when patients seek further assistance after using the screening tool.
"There are people there who have behavioral health backgrounds, and there are registered nurses and outreach coordinators," added Holmberg.
The organizations also plan to implement any needed updates to the kiosk's programs swiftly and remotely, to cut down on costs.
Evidence-Based Info
Douglas Jacobs, MD, president and medical director at SMH, told Medscape Medical News that it is the organization's policy to provide and disseminate the most current evidence-based data, including the best information, on the kiosk.
"Our employees come from various clinical backgrounds, including psychology, social work, public health, medicine, and psychiatry. These different perspectives give us access to a wide variety of data, which we are constantly updating and revising in our programs to reflect the latest in mental health research," said Dr. Jacobs, who is also an associate clinical professor of psychiatry at Harvard Medical School.
"We pride ourselves on delivering comprehensive and helpful information to the public so that individuals are better informed and stigma is reduced," he added.
The Scattergood Foundation notes on its Web site that it hopes to expand the same "integrated, coordinated, and aligned approach" with other major behavioral health and public health initiatives, including Mental Health First Aid, to provide additional kiosks all over the city of Philadelphia and across the United States.
For now, SMH plans to collect screening data, including responses under each disorder, demographics, and whether participants went on to seek further evaluation.
"While the screenings are anonymous, we do collect aggregate data," said Dr. Jacobs.
"We will certainly be following the information pulled from the kiosk with the hope that it will be a successful initiative that can be replicated in other areas. Tracking the screening numbers and usage data will be especially important as we aim to open more kiosks across the country," he said.
"We're hoping that this is something other people will consider now that they can see how it lives and breathes in a public setting," added Holmberg.
Will It Work?
Philip R. Muskin, MD, chair of the 2014 and 2015 Scientific Program Committee for the American Psychiatric Association and professor of psychiatry at Columbia University Medical Center in New York City, told Medscape Medical News that he believes there are pluses and minuses to the kiosk approach.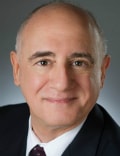 "Anything that destigmatizes mental disorders is good. So having a kiosk like this does have the potential to, while not putting it quite at the level of getting your blood pressure taken at the store, certainly destigmatize it to some extent because it is out in the open," said Dr. Muskin.
However, he added he is concerned that there has not yet been any research about the program or anything piloted to determine possible benefits and problems. "And that always concerns me because we don't know if it'll have the desired effect."
Dr. Muskin noted that he was surprised by just how open the setup is and that the word "kiosk" suggests a place more like a voting booth. He said he can imagine some people would be concerned about others standing behind them and reading what they type.
"This is total speculation, but my feeling is that people who need it won't necessarily use it," said Dr. Muskin, adding that patients are also often not completely truthful about their conditions ― especially when it comes to abuse of alcohol and other substances.
"And if I tell the truth and this tablet suggests I should see a mental health professional as soon as possible, is that going to move me to get treatment?"
He added that his biggest concern is with a situation in which an individual answers truthfully that they are suicidal, but the kiosk's program does not adequately push them to seek help.
"If someone approaches me in my office with these types of thoughts, I have a clinical responsibility to assess if they are real and whether I can set up a situation of safety if the patient is desperate. I don't understand how a screening device like this will convey to a person that this is serious and urgent and they need to go for help right now," he said.
Dr. Muskin added that the place where this type of kiosk should be is in the office of a doctor, no matter what the speciality. "Nothing can take the place of interacting with your doctor. But this could possibly be a nice first step to fill out before going in to see a clinician."
Overall, he said that he believes these types of kiosks have the potential of destigmatizing mental disorders and that they have the potential to offer something good. However, "it's just something we don't know enough about yet."
Medscape Medical News © 2014  WebMD, LLC

Send comments and news tips to news@medscape.net.
Cite this: First DIY Mental Health Screening Kiosk Open for Business - Medscape - Aug 12, 2014.