Clinical Presentation: Anemia and Loss of Vision
A 60-year-old man with anemia secondary to a duodenal ulcer was referred for evaluation of a 2-week history of painless, reduced vision in both eyes. He was recently hospitalized for symptomatic anemia with hemoglobin levels down to approximately 6 g/dL and required 2 blood transfusions. The vision impairment developed during his hospital stay. At the time of discharge, his hemoglobin was 7.6 g/dL and Westergren erythrocyte sedimentation rate (ESR) was 90 mm/h.
The patient does not drink alcohol or smoke tobacco. There is no family history of visual loss. He is currently taking iron supplements for anemia.
Ophthalmic Evaluation
Findings of the patient's eye examination included the following:
Visual acuity was 20/20 in both eyes.

Color vision with Ishihara pseudoisochromatic plates was 10/10 in both eyes.

Pupils were slightly sluggish, with no relative afferent defect.

Automated perimetry showed a superior altitudinal defect on the right and arcuate defects on the left (Figure 1).

Intraocular pressure was 12 mm Hg in each eye.

Slit-lamp examination of the anterior segment was normal. There were no cells in the vitreous.

Funduscopic examination demonstrated mild optic disc edema on each side (Figure 2).

MRI of the brain and orbits with contrast was normal.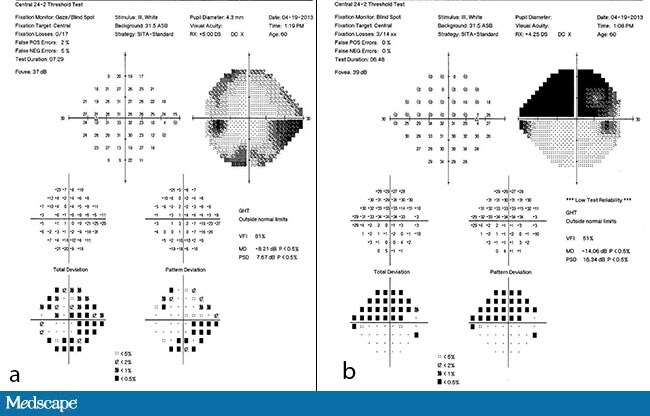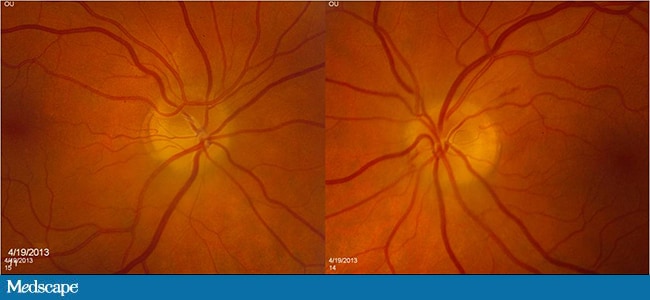 Medscape Ophthalmology © 2014  WebMD, LLC

Cite this: A Case of Shock-Induced Vision Loss - Medscape - Aug 15, 2014.