A psychiatrist and researcher from the University of Arizona claims the school fired her because of her advocacy on behalf of a controversial, federally approved study investigating marijuana as a potential treatment for post-traumatic stress disorder (PTSD) in veterans.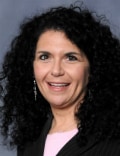 News of the dismissal of Sue Sisley, MD, from her various positions at the university has garnered widespread media attention, including a televised interview with CNN medical correspondent Dr. Sanjay Gupta. In addition, a petition launched last week calling for her reinstatement has already garnered more than 30,000 signatures.
"The eyes of the world are on this right now. Scientists have been sending messages begging me not to give up because many have worked at universities where they have been harassed for being on the forefront of controversial research," Dr. Sisley told Medscape Medical News.
"You want to think that a university is a safe haven. They implied that it was because of my 'political activism.' But I have only ever tried to openly educate people about the barriers to conducting marijuana research in the US," she said.
"This was political retaliation. It was not about my job performance. I think my enthusiasm for this research rubbed the wrong way certain shortsighted administrators at the top."
When contacted for comment, George D. Humphrey, from the Office of Public Affairs at Arizona Health Sciences Center, told Medscape Medical News that the university cannot speak "on any personnel matters."
"However, in regard to marijuana-related research, the University of Arizona is committed to ensuring the medical marijuana research gets done," he told Medscape Medical News in an emailed statement.
Deliberate Delays?
Dr. Sisley began working for the University 7 years ago while also continuing in private practice in the Phoenix area.
After becoming interested in the plight of combat veterans with PTSD, she wanted to conduct a study that would assess possible benefits of marijuana for treating their symptoms. The Multidisciplinary Association for Psychedelic Studies (MAPS) stepped up to sponsor the research.
In April 2011, the study was approved by the US Food and Drug Administration (FDA). However, approval from the Public Health Service (PHS), which is required for product to be supplied by the National Institute on Drug Abuse, bogged down.
In the meantime, school officials voiced concern that even with federal approval, it might not be legal to conduct this type of research on a college campus, and they delayed naming a study location. Without the selection of a set location, it is impossible to receive needed license from the US Drug Enforcement Administration or final approval from the university's Institutional Review Board.
"Two years after the FDA approval, the UA [University of Arizona] had still failed to identify a location, which speaks volumes about their commitment," said Dr. Sisley.
"In regard to marijuana research, in general, in 2013, the UA championed state legislation to ensure that Arizona universities could perform medical marijuana research on campus," said university spokesperson Humphrey in his statement.
But Dr. Sisley states that this legislation was actually unnecessary. She said she and several lawyers informed the UA about this fact. This process, she said, contributed to further research delays. Even after the bill passed, a study location was still never selected by the university.
Right-Wing Pressure
In March of this year, the PHS finally gave consent for the study. But the following month, Dr. Sisley says she was asked to explain her political activity in a written summary to the university.
Although the use of medical marijuana for certain conditions was approved in Arizona in 2010, PTSD was not on that list of covered conditions. In addition, "certain legislators are still deeply resentful of this law," said Dr. Sisley. She added that many lawmakers are also against marijuana research because they think this will lead to full legalization of the product.
In letters dated between June 24 and June 27, representatives from the university let Dr. Sisley know that her nontenured positions as a professor of psychiatry, assistant director in the Arizona Telemedicine Program, and coordinator of special projects in research administration at the College of Medicine–Phoenix Campus were not being renewed. However, she would technically still be on staff through September 26.
Medscape Medical News was granted access to copies of the letters, which state that, in accordance with Arizona Board of Regents policies, the decisions are final and "not subject to further administrative review."
The University of Arizona's administration "buckled under pressure from right-wing legislators who control the university budget," said Dr. Sisley.
"I was constantly talking to anyone who would listen, whether it was a janitor or an elected official, about the barriers to marijuana research. I felt that was my duty ― to mainstream the discussion and shed light on this."
For now, she has hired a lawyer, and she will be filing an appeal for reinstatement.
New Principal Investigator
An online petition also advocating for Dr. Sisley's reinstatement was circulated last week by Ricardo Pereyda, an Iraq War veteran and alumnus of the University of Arizona who reports that he has been diagnosed with PTSD. At the time of this writing, the petition has more than 33,127 signatures.
"I was ecstatic my school was going to house Dr. Sisley's study and find out just how marijuana works to alleviate PTSD symptoms. That was until I learned...the only person in the country who has federal approval to work with veterans and medical marijuana sourced from the federal government was shown the door," said Pereyda in an introduction to the petition.
"They let politics trump science, education, and veterans like me. Our nation's veterans are committing suicide at astonishing rates...and the University of Arizona is blocking research to help them?"
If Dr. Sisley is not reinstated by the university, she and her lawyer will litigate.
"I am heartbroken that over the 3 years since our FDA approval that our study has been suppressed, over 20,000 veterans killed themselves in this country. And I suspect that some of them may have benefitted from marijuana," she said. "If they don't reinstate me, then we'll be moving the study to another university."
Interestingly, the University of Arizona said it plans to move forward with the study ― but with a new principal investigator.
"We've been in contact with [MAPS], the organization that is sponsoring the study, and we are working with them to bring the clinical trial to fruition," Humphrey told Medscape Medical News in his statement.
Support From MAPS
However, in a public letter to the University released July 11, MAPS officials said that the organization "adds our appeal" to reconsider and reinstate Dr. Sisley to her positions at the University.
"But for the efforts of Dr. Sue Sisley over more than a 4-year period, this research would not even exist and would not have been approved," said Rick Doblin, PhD, founder and executive director of MAPS, in the letter.
"MAPS will continue to partner with Dr. Sisley through our next challenge to secure a supportive home for this crucial work, ideally still at the University of Arizona," he added.
Dr. Sisley stresses that she still loves the University. "Everybody there treats me with such kindness. The people who do the good work and who are in the trenches day to day are committed. This is not their choice. My colleagues all support this work," she said.
"It's a few shortsighted administrators at the top that made this decision, not the people at the medical school where I work," she said.
"My sponsor and I are prepared to fight, because this is a fight for scientific freedom. It's not just about reinstating Sue Sisley. It's a much larger issue."
Medscape Medical News © 2014 WebMD, LLC

Send comments and news tips to news@medscape.net.
Cite this: Psychiatrist Fired as 'Payback' for Marijuana Research? - Medscape - Jul 21, 2014.