Taking Prevention to Heart
The goal is simple, admirable, and attention-grabbing. Prevent 1 million heart attacks and strokes within 5 years. Certainly, as the first and fourth leading causes of death, respectively, in the United States, there is no shortage of heart attacks and strokes to prevent. Such an ambitious goal might not have been within reach a decade ago, but the explosion of social media and the actualization of electronic health records (EHRs) have offered an unprecedented opportunity to engage the public in personal health-related goals and to keep track of their communal progress.
The Million Hearts® initiative, which launched in 2011, is co-led by the Centers for Medicare and Medicaid Services (CMS) and the Centers for Disease Control and Prevention (CDC), with a backbone of support among such agencies as the US Department of Health and Human Services, the Administration on Aging, the National Heart, Lung, and Blood Institute, the Indian Health Service, and the Department of Veteran's Affairs. The list of state, local, and private sector agencies and organizations that are partners in this initiative is even longer.
Million Hearts aims to accomplish its 5-year goal of preventing 1 million heart attacks and strokes by improving access to effective care, focusing clinical attention on preventing these events, encouraging people to adopt heart-healthy lifestyles, and improving the quality of care and adherence to the ABCS:
• A: Aspirin when appropriate
• B: Blood pressure control
• C: Cholesterol management
• S: Smoking cessation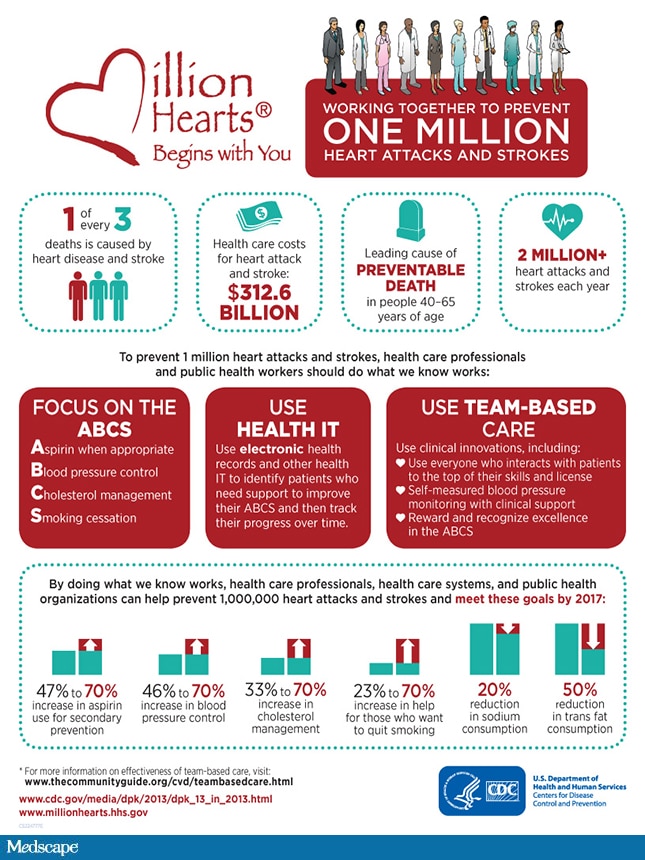 Figure. Infographic: the Million Hearts initiative.
Medscape Family Medicine © 2014  WebMD, LLC

Cite this: The Million Hearts® Campaign: Best Practices for Primary Care - Medscape - Aug 11, 2014.