COPENHAGEN, Denmark — Two novel, noninvasive, and relatively simple eye tests show promise as potential screening tools for early Alzheimer's disease (AD).
Preliminary results from 2 studies presented here at the Alzheimer's Association International Conference (AAIC) 2014 show that beta-amyloid detected in the eyes significantly correlated with the burden of beta-amyloid in the brain, allowing investigators to accurately identify individuals with AD.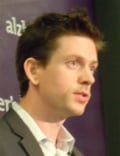 In the first study, researchers at the Commonwealth Scientific and Industrial Research Organization (CSIRO), Australia's national science agency, used curcumin fluorescence imaging to highlight beta-amyloid in the retina and correlated these results using Pittsburgh compound B (PiB) positron emission tomography (PET) imaging findings in the brain.
"Every single person who tested positive with high levels of plaque in the brain tested positive to the retinal test as well, so we had 100% sensitivity and no false negatives, which is a crucial component on a screen for Alzheimer's disease because we don't want to leave anyone behind when it comes to the early signs," lead investigator Sean Frost said at a press briefing here.
The investigators note that although AD-related pathology in the brain is well documented, the disease has also been reported to affect the retina, a developmental outgrowth of the brain that is more accessible for imaging.
The primary substance in the Asian spice turmeric, curcumin has several properties that make it a good contrast medium ― it binds with high affinity to beta-amyloid, and it has fluorescent properties that enable amyloid plaques to be imaged in the retina. In addition, said Frost, it is safe.
Study participants included individuals with AD, individuals with mild cognitive impairment, and healthy control participants from the Australian Imaging, Biomarker and Lifestyle Flagship Study of Ageing (AIBL) study.
In addition to undergoing PiB PET imaging, participants made 2 visits for retinal fluorescence imaging. During the first visit, they drank a proprietary curcumin supplement. On the second visit, they underwent retinal amyloid imaging (RAI).
Preliminary data from the first 40 participants showed that amyloid levels detected in the retina were significantly correlated with brain amyloid levels, as shown by PiB PET imaging. In addition, RAI differentiated participants with AD from those without AD with 100% sensitivity and 80.6% specificity.
Furthermore, said Frost, longitudinal data showed an average increase of 3.5% in retinal amyloid during a 3.5-month period, suggesting that the technique may be used as a means of monitoring response to therapy.
If these early findings bear out, Frost said, this technology could be used as an initial screen for AD that could potentially be part of regular eye examinations.
"One day we hope there's going to be better treatments available, and this will definitely provide a frontline screening tool to detect it in the early stages, before cognitive decline, and hopefully change the course of Alzheimer's disease," he said.
The full study is expected to be completed later this year.
On-the-Spot Results
In the second study, investigators from Cognoptix Inc, in Acton, Massachusetts, reported findings showing that a novel fluorescent ligand eye scanning (FLES) system that detects beta-amyloid in the lens of the eye also accurately detects amyloid burden and correlates with florbetapir PET brain imaging.
This phase 2 study included 20 individuals with probable mild to moderate AD and 20 healthy, age-matched control participants.
For the study, participants had a small molecule applied to the eye in the form of a sterile ophthalmic ointment. The compound is left to diffuse into the eye overnight; the next day, the eye is scanned with the laser and results are computed.
All 40 participants also underwent PET amyloid brain imaging.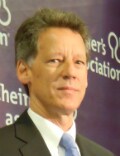 According to Paul D. Hartung, president and CEO of Cognoptix Inc, who presented the findings, the study showed that the test was able to differentiate individuals with Alzheimer's from healthy control participants with 85% sensitivity and 95% specificity (P < .001). In addition, amyloid levels in the lens significantly correlated with PET imaging results.
Hartung pointed out that at approximately $300, the test is about 10 times less expensive than PET imaging and much less invasive than cerebrospinal fluid testing.
In addition, he said, a single scan takes less than a second, and the instrument can compute a score, known as a fluorescence uptake value, in less than 5 minutes.
Furthermore, he said, the technology requires minimal training and has the potential to be used by general practitioners, nurses, and other healthcare practitioners in clinics and offices. It is also safe and could be administered on a regular basis to track disease progression and to monitor treatment.
"Early detection is critical. We are hoping the treatments that are being developed will be more effective if they are administered earlier, and we need something that can be made accessible to doctors everywhere," he said.
With principal investigator Pierre Tariot, MD, director of the Banner Alzheimer's Institute, Phoenix, Arizona, Hartung said the investigators are currently conducting a pivotal phase 3, multicenter, US-based study to support US Food and Drug Administration approval of the FLES system as an aid in the diagnosis of probable AD.
Exciting Findings
Commenting on the studies for Medscape Medical News, David Knopman, MD, professor of neurology at the Mayo Clinic College of Medicine, consultant in neurology at the Mayo Clinic in Rochester, Minnesota, and a member of the Alzheimer's Association Medical and Scientific Advisory Council, who moderated a press conference on this topic, said he was "very impressed" by both papers and particularly the retina paper.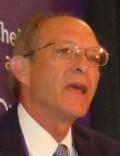 "I thought the data were very interesting, and if it is the case that the amyloid in the retina parallels the amyloid in the brain ― and that's what they were showing ― that's really an exciting finding.
"I think that brain amyloid imaging at this point has been of tremendous scientific value in allowing us to understand who is either at risk, or who actually has the pathology of Alzheimer's disease in life, but it's so expensive. At my institution, to do an Amyvid [Avid Radiopharmaceuticals, Inc] scan is somewhere between $5000 and $7000.
"The Center for Medicare and Medicaid Services doesn't pay for amyloid imaging. We're looking into that for research purposes, but if this actually could substitute for that, say, in clinical trials or under appropriate circumstances if there were therapies to identify people who would benefit from the therapies, that would be a tremendous advance."
Unfortunately, said Dr. Knopman, at this point, the Alzheimer's field lacks a powerful therapy to prevent the disease or stop it in its tracks.
"At this point, we understand that, but the kind of approaches described here are the kind of approaches we need to have in place when we have those effective therapies," he said.
Paul D. Hartung is president and CEO of Cognoptix Inc. Shaun Frost has disclosed no relevant financial relationships.
Alzheimer's Association International Conference (AAIC) 2014. Abstracts O2-05-05 and O3-13-01. Presented July 13, 2014.
Medscape Medical News © 2014 WebMD, LLC

Send comments and news tips to news@medscape.net.
Cite this: Simple Eye Tests to Detect Alzheimer's Disease in the Works - Medscape - Jul 16, 2014.