What if Clinical Medicine Is No Longer Rewarding?
If you're thinking of quitting clinical medicine, you're not alone. A 2010 survey[1] by The Physicians Foundation found that 40% of doctors planned to drop out of patient care in the next 1-3 years, either by retiring or seeking a nonclinical job.
Doctors who decide to stop seeing patients are usually glad they did -- and in many cases, they're earning as much money as they did in clinical medicine, according to Steve Babitsky. Babitsky is an attorney who runs SEAK Inc., a Falmouth, Massachusetts-based company that trains physicians, including those who want to switch careers.
"Most, if not all, of the doctors who switch to a nonclinical career are happier," Babitsky said, adding that replacing clinical income is easier than you might think. "Look at what you're earning per hour of work," he said. "You may be getting less than plumbers, electricians, and landscapers."
As sobering as that may be, don't take a switch lightly. Finding a new career is a big decision that requires a lot of soul-searching, said Heather Fork, MD, a physician coach at Doctor's Crossing in Austin, Texas. When deciding, "it's important to create some space in one's busy life for something new to come in," she said.
Dr. Fork added that in many nonclinical jobs, it's possible to continue clinical work on a part-time basis. Indeed, some jobs require keeping one foot in clinical medicine. Also, clinical assignments, such as working for a locum tenens agency, can provide extra income as you build up your new career, she said.
Here are 16 options for second careers, but before we get to them, let's first examine what kinds of doctors switch careers -- and for what reasons.
Who Switches, and Why?
Doctors have different reasons for leaving clinical care, depending on the stage of their career, their gender, and their specialty.
Joseph Kim, MD, who runs a Website for doctors called Nonclinical Jobs, said physicians tend to leave clinical medicine at distinct stages in their careers. In the first wave, a small group of young doctors leaves clinical medicine right after medical school or residency, or just when they start practicing.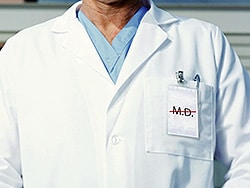 Dr. Kim is one of them. Graduating from an internal medicine residency, he realized that he didn't want to practice. He instead worked for a consumer health company and then for a continuing medical education (CME) company, MCM Education in Newtown, Pennsylvania, rising to his current position of president.
Typically, these doctors didn't plan to leave medicine. "They don't tend to have an entrepreneurial interest," Dr. Kim said, "so they might go into medical writing, medical communications, or pharma at various levels."
On the other hand, another group of newly minted doctors never intended to practice medicine at all. "They might get a dual MD/MBA degree, which has really flourished," Dr. Kim said. "They can be very ambitious and very driven, and are willing to put in long hours." These young doctors might focus on financial careers, such as consulting or raising venture capital.
Most doctors who leave clinical medicine, however, do so in mid-career, when they're in their late 30s or 40s -- the second wave, if you will. "These physicians have been in practice for a number of years and are getting burned out. They tend to be very disenchanted about the changes in healthcare," Dr. Kim said. "They want to find greener grass. They might go into pharma, health insurance, managed care, or health resource utilization."
But the transition into a new career can be very difficult. "They've spent much of their career practicing medicine and haven't been developing other skill sets," he said. "It's hard for these doctors to convince a prospective employer that they have something to offer besides being a clinician."
A third group of doctors switches jobs at or near retirement age. In this case, "someone age 50 or 55 years decides to take on a completely different career," Dr. Kim said. This strategy, called an "encore career," involves something the physician may always have been interested in, such as painting or working outdoors. "This isn't the predominate trend, but it became bigger in the recession," he said.
Career changing also differs by gender. Women are more likely to exit clinical medicine to deal with family responsibilities. They may work part-time or not at all while their children are young. When their children are older, however, they have a chance to rethink their careers and may choose a job outside of clinical practice. A study[2] by the American Medical Group Association found that 44% of female physicians were working part-time in 2011, twice the level of male physicians.
No one has pinpointed which specialties change careers the most, but we do know which specialties report the most burnout, which is a factor in career changes. A 2013 Medscape survey[3] found that the highest incidence of burnout was among physicians in emergency medicine, critical care medicine, anesthesiology, and general surgery, as well as in all major primary care fields except pediatrics.
Specialty can also be an impediment to career change. Primary care physicians with high medical-school debts and low practice income may be less willing to exit clinical care because they can't afford to lose the income. On the other hand, specialists with high incomes are likely to have a harder time finding nonclinical work that matches their current income.
Despite the risks, however, plenty of doctors still decide to make the leap. Are you ready to consider something new? If so, here are the 16 options for second careers.
Medscape Business of Medicine © 2014 WebMD, LLC

Cite this: 'I've Had It With Medicine!' 16 Options for Second Careers - Medscape - Jul 10, 2014.