Case Presentation: A Postoperative Complication
A 75-year-old white woman who had undergone surgical oophorectomy 8 days earlier suddenly experienced impairment of vision, which started in the right eye (OD), lasted 4 days, and then affected both eyes (OU).
In the postoperative period, she experienced a hypotensive crisis (blood pressure approximately 80/50 mm Hg) that lasted for 2 days. She also developed severe edema of the lower extremities 4 days postoperatively, which resolved with diuretic treatment.
Her medical history was significant for stage 3 ovarian cancer and breast cancer 8 months previously, which required surgery. She has had 1 myocardial infarction.
Eye Examination
The following were noted on eye examination:
Best corrected visual acuity: OD 20/30; left eye (OS) 20/40

Pupils equal, round, and reactive to light; no afferent pupillary defect

Extraocular movements: intact

Goldman applanation tonometer: 10 mm Hg OU

Slit-lamp examination: unremarkable except for mild nuclear/cortical lens changes

Maculae and peripheral retinae: clear OU

Dilated fundus examination: see Figure 1

Automated visual field testing: peripheral constriction denser inferiorly OD; superior altitudinal defect in the OS (Figure 2)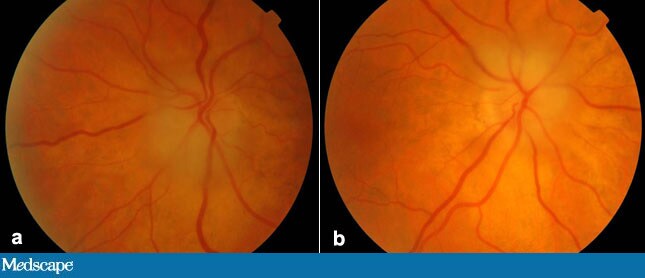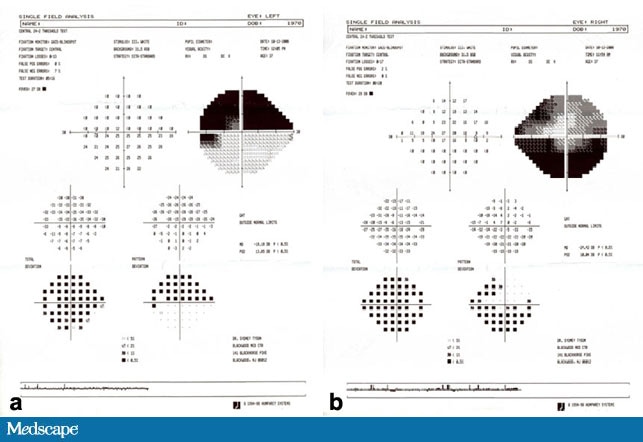 Medscape Optometry © 2014  WebMD, LLC

Cite this: Loss of Vision After Surgery: What's the Cause? - Medscape - Jul 08, 2014.